Blog A complete list of Facebook image and video specifications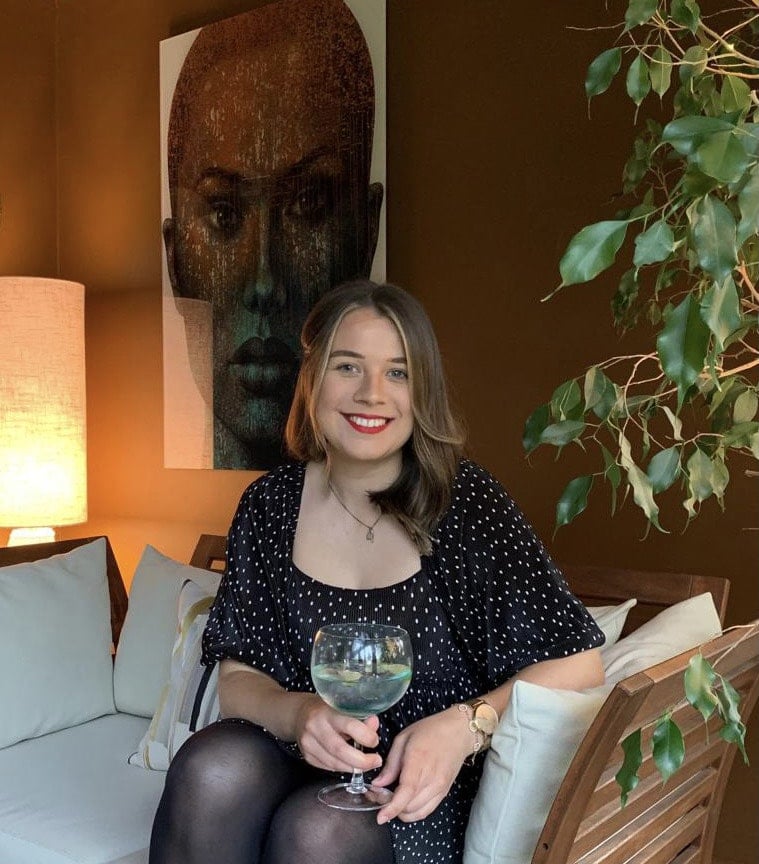 Alex Stuart
October 5, 2022
A complete list of Facebook image and video specifications
Capturing your audience's attention with high-quality, impactful imagery and engaging video content on social media is a must for any nonprofit. When explaining what impact potential donors could make, imagery and video allow you to bring your story to life and will help cut through the clutter of someone's feed. 86.5% of content viewed on Facebook contains no links, meaning that storytelling through imagery and video which remains on-platform has never been more important.
However, knowing all of the different specifications and requirements can be a bit of a minefield. And how frustrating is it when you don't have them all to hand at the exact moment you need them? We've all been there.
Good news. We've done the hard work for you and have collated all of Facebook's latest, need-to-know specifications and requirements (including organic and ad content) into one handy resource.
Why not chuck us a bookmark so you can return to this page when you need it!
Facebook Creative Requirements
Facebook does have a knack for updating image and video size requirements just as you're getting to grips with the current recommendations, so it's important to stay up-to-date and follow the recommended file formats for the best results.
Your Nonprofit's Facebook Page
Profile photo:
Displays at 170 x 170 pixels on desktops and 128 x 128 pixels on smartphones.
Recommend uploading as a PNG, especially if your image contains text or a logo.
Remember that your profile photo will be cropped to a circular shape for ads and posts so make sure that the image you choose works in both formats.
Cover photo:
Recommend using the dimensions of 820 x 360 pixels to cater to both desktop and mobile users, bearing in mind that the far edges of your image will be cropped on mobile.
Facebook suggests using either an sRGB JPG file for fast load speeds or a PNG for high resolution.
Whilst your profile photo is likely to remain the same, you can be creative with your cover photo and update it in line with your campaigns or specific CTAs.
Organic Video Posts
Getting your Facebook video content correct is vital, especially considering that video generates up to 8 billion views a day on the platform.

For video that is shared organically via shared posts in your Facebook feed, follow these recommendations:
Recommended video dimensions of 1280 x 720 pixels for landscape and portrait.
The landscape aspect ratio is 16:9 whilst the portrait aspect ratio is 9:16.
Max file size is 4GB but this will vary if you upload via a third-party scheduling platform.
Recommended video formats are .MP4 and .MOV.
The maximum video length is 240 minutes but in most scenarios, you'll want to keep this much shorter. The average watch time on Facebook for brand videos is only 4.57 seconds!

Organic Image Posts
Whilst video is taking center stage in many areas of social media, the humble image post is still a contender for high engagement. In fact, it came in second place for average engagement rate out of all Facebook page post types after the classic status post, so it's still a key area for connecting with your audience.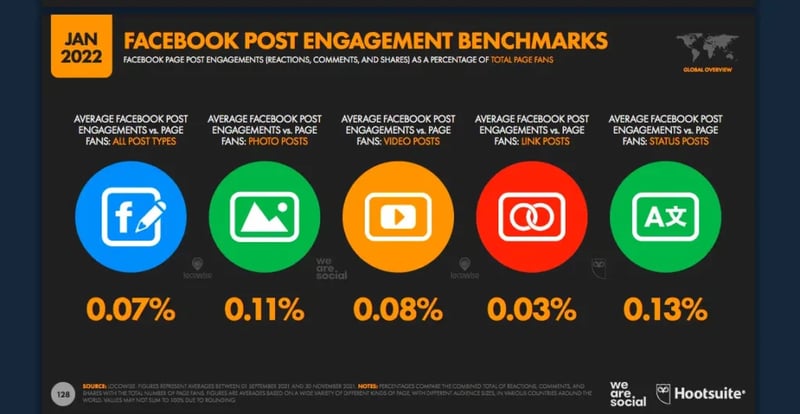 The Facebook recommended image size is 1200 x 630 pixels.
Images can be shared in either landscape, portrait, or square and Facebook will resize them to 500 pixels wide and scale the height accordingly.
We'd recommend uploading a PNG for high resolution and avoiding any stock imagery when trying to connect your audience with your cause.
Facebook Stories
Facebook Stories appear at the top of every Facebook Feed, so they're in a prime position for people to take notice. And the placement is becoming ever more popular. With roughly 500 million people now using Facebook Stories every day, it's a great time for your nonprofit to jump on the trend and tell your story.
You can display a range of content on this placement, including imagery and video and Facebook has a few recommended design options for both.
Image:
The file type should be either JPEG or PNG.
The ratio should be 9:16 (which is the full-screen size of a phone) and the recommended image size is 1080 x 1920 pixels.
If you include text, consider leaving roughly 14% of the top and bottom of the image free to avoid covering with your organization's profile photo or CTA's.
Video:
The file type should be either MP4, MOV, or GIF but other video types are supported.
Like the image, the ratio should be 9:16 and you'll want to create a full-screen experience of 1080 x 1920 pixels.
Video captions and sound are optional but recommended (particularly captions) to ensure your video is accessible to all Facebook users.
Leave the same space free of text or logos as recommended for the image to make sure important information isn't covered.
Fundraisers, Events and Groups
If you're running a Facebook Challenge or a fundraising campaign on Facebook, you'll need to equip yourself with the design information required for each section in order to make the maximum impact.
Facebook Event/Fundraisers:
Facebook Group:
Recommended size is 1640 x 856 pixels (or 1.91:1 ratio).
You'll want to avoid putting any important information at the very top and bottom of the image as these areas may be cropped when viewed on mobile.
Facebook provides a step-by-step guide alongside a diagram of dimensions in the Facebook Help Center.
Image Ads
By far the most popular ad type on Facebook, image ads offer a low-cost, low-effort way to reach new supporters on the platform. But there are a few things you should consider when choosing which image to use for your ads. For image ads in the Facebook Feed, here are some tips.
The minimum resolution is 1080 x 1080 for a 1:1 image however you are encouraged to upload the highest quality image and there is no maximum resolution.
Use file format of either JPEG or PNG with a maximum file size of 30MB.
Images that were text-heavy used to be punished with reduced delivery by Facebook, however their latest guidance notes that there is no longer a limit on the amount of text that can exist in your ad image. Despite this, it would still be worth testing which performs better for your nonprofit by running a mix of images with text and without.
Despite the warnings of high-quality photography, don't be scared to create using just your phone! Meta's own Blueprint lesson on creating compelling ad visuals encourages you to take your own photos and videos.
Here's a further quick breakdown of the resolutions required for each Facebook ad placement:
Right Column ads: At least 1080 x 1080 pixels. Ratio 1:1.
Instant Articles: At least 1080 x1080 pixels. Ratio 1.91:1 to 1:1.
Marketplace ads: At least 1080 x 1080 pixels. Ratio 1:1.
Search: At least 1080 × 1080 pixels. Ratio 1.91:1 to 1:1.
Sponsored Messages: At least 1080 x 1080 pixels.Ratio 1.91:1
Messenger inbox ads: At least 1080 x1080 pixels. Ratio 1:1.
Messenger Stories ads At least 1080 x1080 pixels. Ratio 9:16
Carousel Ads
Carousel ads allow you to share between 2 and 10 cards with images or video at any one time which means it's an awesome option for telling a story or showcasing products. Like the other ad types, specifications vary per placement but we've listed the recommendations for Facebook's Feed below.
The image file type should be either JPG or PNG.
Video file type can be either MP4, MOV, or GIF.
Ratio: 1:1.
Your cards need to have a resolution of at least 1080 x 1080 pixels with a ratio of 1:1 but like other posts, try to go for as high quality as possible.
Facebook's top tips for carousel ads include providing a variety of links and showing the best-performing card first.
Video Ads
These are the paid equivalent of the Facebook organic video posts and they follow similar guidelines.
The recommended resolution is 1080 x 1080 pixels and you are recommended to upload the highest resolution possible.
There are a few aspect ratios to choose from:

Horizontal - 16:9
Square – 1:1
Vertical – 4:5 or 2:3
Full Portrait – 9:16

Recommended video formats are MP4, MOV, or GIF, and the max video file size is 4GB.
Much like the organic video, the max video length is 240 minutes but you might want to keep it a little shorter (and when we say little, we really mean a lot).
Video captions and sound are both optional but recommended and the former is worth spending time on to make sure your video is accessible for your whole audience.
Whilst the Facebook Feed might work as the best placement, you may also find yourself testing your video ads across the Facebook platform. Check Facebook's guide for varying requirements across placements.
Keep up to date!
Facebook likes to keep things interesting and may update their image and video specifications at any time! In order to keep up to date and to ensure your content is as impactful as possible, make sure to check Facebook's Help Center for the latest updates and advice.