Blog When to use Facebook's donate button vs a page fundraiser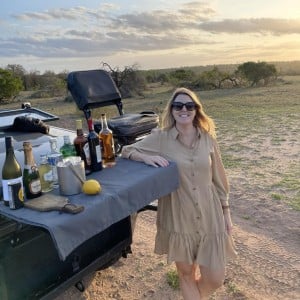 Kirsty Marrins
September 10, 2019
When to use Facebook's donate button vs a page fundraiser
If you're starting out with Facebook's Giving Tools, how do you know when to add a Donate button to posts or when to start a fundraiser?
We spoke to Wendy Ahl, UK Operations Director at Safe Haven for Donkeys in the Holy Land, who gave us some insights into how their nonprofit uses Facebook's Giving Tools and what works for them.
When would you add a donate button and when would you create a page fundraiser?
For us, the donate button is great for ongoing general income which is why, as a charity, we put donate buttons on most of our daily posts. We create a page fundraiser when there is a defined project that we desperately need funds for in a short period of time. For example, one of our donkeys, Marco Polo, needed a very expensive emergency operation so we created a fundraiser, pinned it to the top of our Facebook page and within a few hours we had raised several hundreds of pounds.
It's very important to keep people updated on your fundraiser so that they know that their money has been spent in the way it was intended. After Marco Polo had his operation, we posted to say 'thank you' and so that our supporters could see how their donation had helped.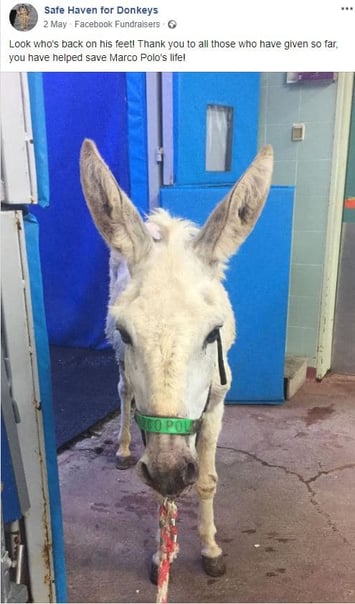 What are the pros and cons of the donate button?
The pro is that it is a quick and easy way for people to donate, without having to leave your Facebook page and donors can even allow you to claim Gift Aid, which helps you to raise more. I honestly can't think of any cons!
What are the pros and cons of a page fundraiser?
The pro is that it is a great way of raising a large sum of money for something in a short period of time. The downside is that – in our experience – people do tend to stop donating to a page fundraiser after a couple of days, whereas when we put a donate button on a post, we might still be receiving donations weeks after the post went up.
Which other charities do you think are doing a great job when it comes to Facebook fundraising?
There are so many charities out there, big and small, that have really got into Facebook fundraising. One of my particular favourites (perhaps because I love animal charities) is Farplace Animal Rescue – they are great at using Facebook fundraising to raise funds for individual animals in their care.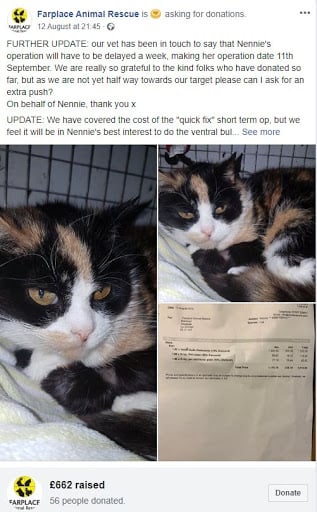 What advice would you give to a charity who wants to launch their first campaign using Facebook's Giving Tools?
I would suggest that they set up a fundraiser, pin it to the top of their page and maybe spend a few pounds boosting it to people who currently like the charity's Facebook page. Just £5 or £10 spent can greatly increase the audience who then sees the post and will hopefully go on to make a donation.
You need a great photo, or a video, and wording which makes the need to give urgent and compelling.
Start with a small target the first time to see what works for your charity – our first fundraiser only had a £500 target which we smashed in just over an hour.
Once you have done one fundraiser, leave it a while and then try another for something different so that you can begin to see what appeals to your supporters.
Above all, just go for it – there is no cost to Facebook fundraising other than your time so you have nothing to lose and potentially a huge new income stream for your charity to gain.