Tell me more...
How GivePanel makes the social fundraising magic happen
Save time and hassle by importing data directly from Facebook to GivePanel using the Facebook Reporting API integration.
Enjoy better data protection, zero human error and no additional hours spent on exporting and uploading your donations reports.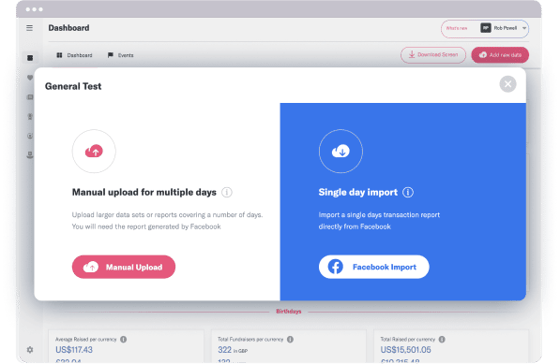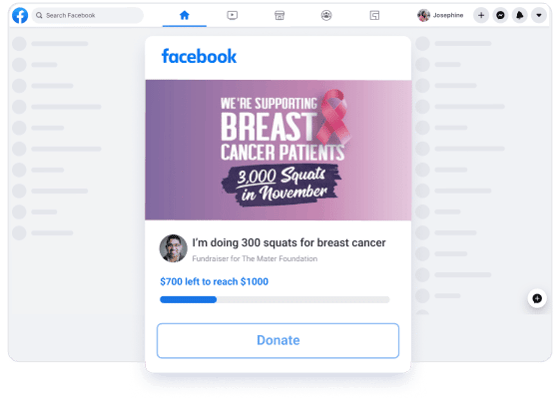 Using the Facebook Fundraiser API integration, your team can design Facebook Fundraisers using custom cover photos, descriptions, titles, targets and end dates with just a few quick clicks of a button.
Deliver a better supporter experience for your next campaign. Achieve higher average gift and improved fundraiser reporting.
JustGiving for Facebook Challenges
Give your supporters the option to register and set up their Challenge fundraiser pages off of the Facebook platform, with our JustGiving integration. View registration and fundraiser records for these supporters from within your GivePanel dashboard, and steward them with ease using our email and SMS tools to maximize the ROI of your event.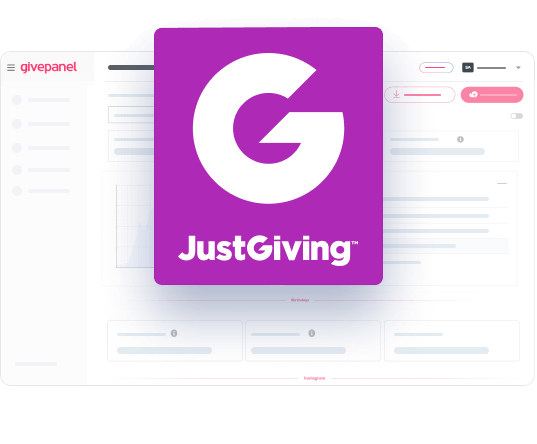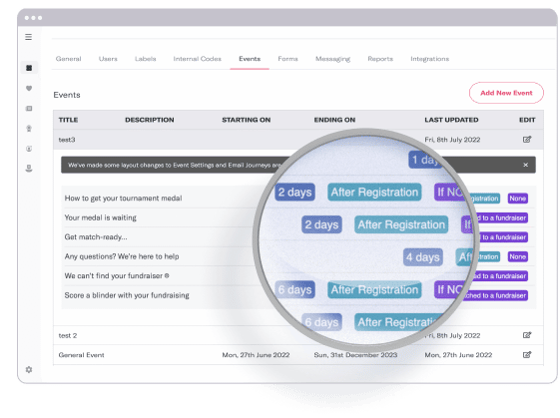 Thanks to our integration with Twilio's Sendgrid API, you can use the world-leading technology for email communication to deliver segmented email journeys for your supporters. Save time and money than using other third party platforms and enjoy fully branded emails and clear reporting.
Build and deliver personalized SMS communications to your supporters with our Twilio SMS integration.
Drive more active fundraisers by giving supporters another way to their fundraiser link with family and friends. Easily segment your communications throughout the supporter journey.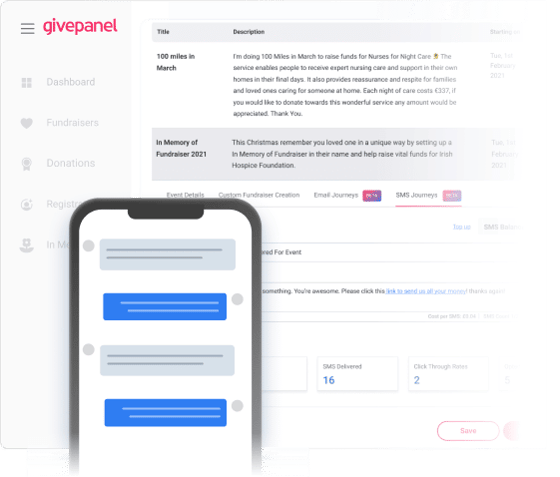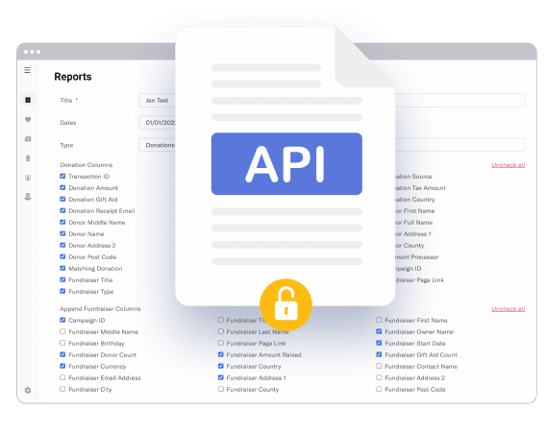 Want to integrate your GivePanel data with your CRM? No problem! Using our custom reporting API, we can work with your IT team to sync all of your supporter contact data from GivePanel with your organization's CRM.
Enrich your CRM data, unlock your "beyond Facebook" journey and grow the lifetime value of all your new fundraisers.
Want to know more?
Frequently asked questions
We LOVE Facebook Giving Tools and they raise a lot for all our charity customers all over the world. But we also believe they can be even better, and our mission is to help you do more with your Facebook fundraising, in less time and with less hassle.
How many nonprofits use GivePanel?
Over 400 nonprofit organizations who pay to use the GivePanel platform in 16 countries around the world. Check out just some of our customer success stories.
How can I get started with GivePanel?
Book a demo with us and we can show you how it all works and answer any questions you have. If you want to go ahead, we can onboard you in no time. GivePanel is ready to go.
How much does GivePanel cost?
Pricing starts at $180 per month and is based on the number of Facebook transactions (donations) you need to manage. We are happy to give you a detailed quote, so book a demo or check out our pricing page for more information.
Can you help us message all our fundraisers?
Yes we can! We do this for nonprofits who have a lot of fundraisers. Find out more about our Managed Services offer.
Do I have to download any software?
No, GivePanel is cloud-based, meaning you simply access it through an internet browser. No need to download software, and your account and data can be accessed by your teams and agencies from multiple locations.
Is GivePanel secure and data compliant?
Your data is of the upmost importance to us. We'd be out of business if it wasn't! Data security is one of our top priorities. We use the latest web security to ensure that your data will never be compromised and are Cyber Essentials qualified.
We know GDPR compliance is a vital importance not just to European charities but organizations worldwide. Luckily, we started building GivePanel after GDPR came in to force, and therefore we have built it to be fully GDPR compliant.
I have lots of other questions, what do I do?
We'd love to hear from you! Just fill in our contact us form. You can also have a look at our blog where we have lots of free articles and resources to help you supercharge your Facebook Fundraising.
But don't just take it from us...
Here's what our customers say
"I was thanking fundraisers manually before and spent most of my time trying to identify who I had already thanked. Now with GivePanel, what previously took hours is taking me 5 minutes. We were also attempting to request fundraisers to share their info with us but not having much luck. It's so much easier and more successful now we are using GivePanel!"

"GivePanel works best for us because personal connection with the donor is what is most important, and GivePanel provides the tools and services to make that happen! I would recommend GivePanel on the fact that they really are the gold standard in terms of personal touches with the donor to engage them and make them feel like they're involved, and not one of many."

"GivePanel was integral. We simply wouldn't be able to do it [Facebook fundraising], if we're being honest. Not from a data capture point of view, not from a fulfillment point of view, not from a stewardship point of view because all of that is linked in with the capability that GivePanel gives us."

"All of our Facebook Fundraising activity is through GivePanel. We've really focused on Challenges, so we've done three of them so far and have learnt from each one. I like that GivePanel presents Facebook in a manageable way and it gives you options that when you look at Facebook, you wouldn't even think are options to begin with."

"GivePanel has absolutely transformed the way we do Facebook Fundraising at Cerebral Palsy Cymru. It has meant digital fundraising now has its own line in our budget, and we can engage with both new and existing supporters via Facebook Fundraising in a way that we didn't even realise was possible before!"

"It's hard to sell that vision (of Facebook Fundraising). As soon as we got GivePanel, everyone was like, "this is awesome, I can see everything that's happening." And that's when everyone started to get truly behind it because they could see what was happening in the background and it was really visual for them. So I think that solved a lot of problems by taking people through that journey."

"Trusted, reliable and it works! The team are also quick to respond and friendly. I wouldn't hesitate in recommending their services - shout out to Jill and Tom for their first-class support."

"GivePanel is easy to use and does the job. It is also well-priced and is always launching new things to make stewardship better and more focused. It's really great how helpful and swift responses are from the team, especially if something goes wrong with Facebook or otherwise. Really great team."

"GivePanel makes Facebook fundraising so much easier and has enabled us new digital fundraising products in the form of virtual challenges which covers a previously untouched market of fundraisers who prefer to take part in challenges on their own, rather than mass-participation. I have recommended GivePanel to many other Hospices!!"