Speak to a social fundraising specialist today to find out how GivePanel could help your nonprofit raise more on social platforms.
Are you failing to meet your Facebook fundraising goals?

Are you worried about the impact of not being able to thank your supporters on Facebook?

Are you frustrated by the lack of supporter details provided to you by Facebook?

Do you want to grow your Facebook income 10x by harnessing the power of Facebook groups?
How American Cancer Society raised over $630,000 by focusing on human connection
Solutions used:
Facebook Challenges
GivePanel Partner
Invested in establishing themselves as the leader of social fundraising in the nonprofit space, American Cancer Society were keen to expand on their already impressive Facebook Challenge success.
The leading health charity for cancer has raised more than $40 million through Facebook Challenges, demonstrating their expertise in social fundraising. However, the team was excited to explore a new approach to engaging their constituents, focusing on the power of the human-to-human connection to drive fundraising.
We spoke with the team at American Cancer Society, to learn more.
Set the scene
Who is American Cancer Society?
American Cancer Society is a leading cancer-fighting organization with a vision to 'end cancer as we know it, for everyone.' With over 130 years experience, they aim to improve the lives of people with cancer and their families by focusing on advocacy, cancer research, patient support, and services. Building a strong peer-to-peer fundraising portfolio is vital to supporting the continuation of their services.
Having recognized a need for alternate virtual fundraising mechanisms during the Covid-19 pandemic, American Cancer Society began their Facebook Challenge journey in 2020 and have since raised over $40 million through Facebook Challenges alone.
While this fast growth has allowed the team to test various Challenge activities and run a number of successful campaigns, the American Cancer Society noted that their results were beginning to plateau. Keen to continue growing, the nonprofit turned to GivePanel to better understand what we had to offer and how our focus on human-to-human connection would resonate with their constituents.
In 2022, alongside GivePanel partner, Nonprofit Megaphone, American Cancer Society launched 62 Miles in August using the GivePanel platform.
What people are saying
The tools make it easier. The API integration in particular that Facebook has makes it easier for us to gather data, to steward these people and have a better experience over several years with the fundraisers that we're able to bring in.
The challenge
62 Miles in August
Firstly, why Facebook? While the American Cancer Society has a strong peer-to-peer fundraising portfolio with event-based programs such as Relay for Life, and engages with other social media platforms to both fundraise and connect with supporters, they note the difference with Facebook fundraising:
"The tools make it easier. The API integration in particular that Facebook has makes it easier for us to gather data, to steward these people and have a better experience over several years with the fundraisers that we're able to bring in.

"The scale and the audience too that's on Facebook is a little bit older and definitely has more revenue opportunity at this point in time. But I do feel like it's very important to stay on top of trends and build the next generation of donors and fundraisers as well."
Key to American Cancer Society's fundraising success on the platform are Facebook Challenges. These are virtual events that run solely on Facebook and leverage the power of social networking through ads, groups, and fundraisers. This means:
Lower acquisition costs

More fundraisers

And a chance to meet supporters where they already are!
The American Cancer Society worked with GivePanel's US Enterprise implementation partner, Nonprofit Megaphone, to make 62 Miles in August come to life without overburdening staff. CEO of Nonprofit Megaphone, Grant, commented:
"The American Cancer Society team is brilliant, passionate, and strategic. They have a 'yes, let's experiment' mindset that allowed us to test and learn from a number of strategies we brought to them in real-time. That collaboration was crucial to making this Facebook Challenge so successful."
This campaign was American Cancer Society's first activity-agnostic Facebook Challenge where participants could earn their miles through any activity of their choice, for example, running or cycling. This approach meant that they could target a varied audience and provide an accessible target for the Challenge activity.
Here are some key things to note about their latest Facebook Challenge:
American Cancer Society used the

62 Miles in August

campaign as a way to trial the GivePanel platform and test a new way of doing things through GivePanel and Nonprofit Megaphone best practice.

They had over 11,700 members in their Facebook Group.

The team included a branded t-shirt as their incentive. In previous Challenges, there has been a $300 fundraising target to receive this; for this Challenge, fundraisers were required to receive a first donation only. This resulted in a high Active Fundraiser conversion rate for the Challenge.

The audience demographic was mainly women aged 45 to 65.

Nonprofit Megaphone supported American Cancer Society through customer support, creative, ads delivery and management, and overall project management of the Facebook Challenge.

The team made use of various communication channels including SMS, email, and on-page messaging.

Though not used in previous Challenges, they found that SMS and email were effective drivers of Fundraiser conversions.
But what set 62 Miles in August apart from their previous Facebook Challenges? One thing was clear: human touch.
The GivePanel difference
Meeting supporters where they are
A key focus for American Cancer Society throughout the Challenge was to emphasize the human touch in their engagement with constituents. At GivePanel, we believe in the power of community and connecting with supporters where they already are. This means that the Facebook Group is our 'secret sauce' when it comes to successful Facebook fundraising.
American Cancer Society noted that previous Facebook Challenge stewardship had been largely automated and they wanted to focus on a human touch with their supporters. But, when you have a group of over 11,700 members, keeping track and connecting with everyone can be tricky! Enter, Challenge Champions:
"The Facebook Group strategy was wonderful, in a really genuine, authentic way, because we have Champions or spokespeople who are ACS volunteers who are really involved in cultivating that sense of community in the Facebook group itself."
American Cancer Society funneled their group engagement through a group of eight volunteers which not only helped to increase group participation but also provided an avenue for engaging volunteers in an accessible way where they could support from the comfort of their own home.
Through this emphasis on group engagement and communication with constituents, the team noted the importance of community. Providing a safe space for supporters to talk about their experiences and be met with kindness and empathy in turn helps to drive fundraising. Placing the community and the Facebook Group as the backbone of the Facebook Challenge, the team noted the difference from previous Challenge experiences:
"We were curious in testing GivePanel's way of doing a lot more of the community management manually and I think that the human touch showed us that people do prefer the authentic, kind of grassroots version more with the results that we saw here."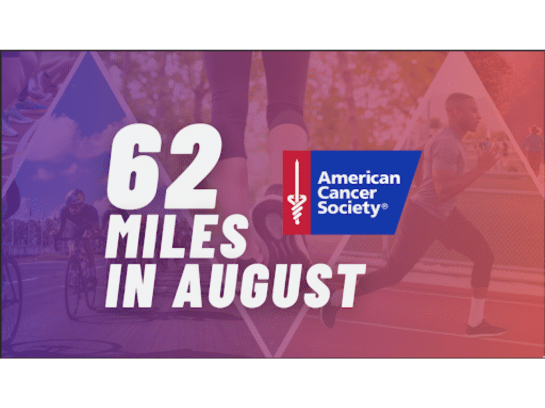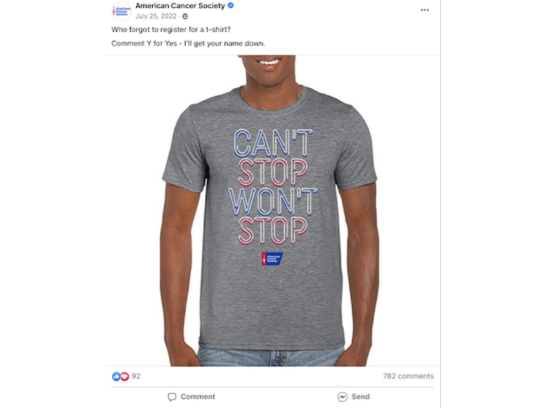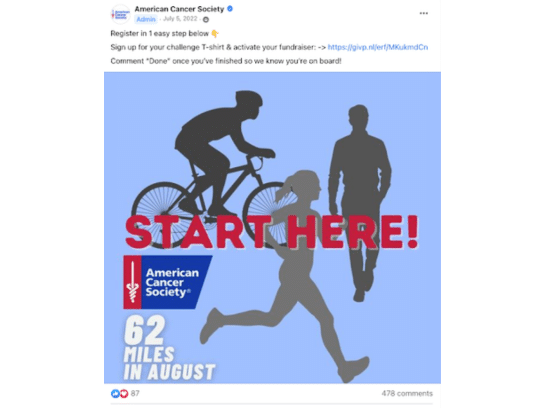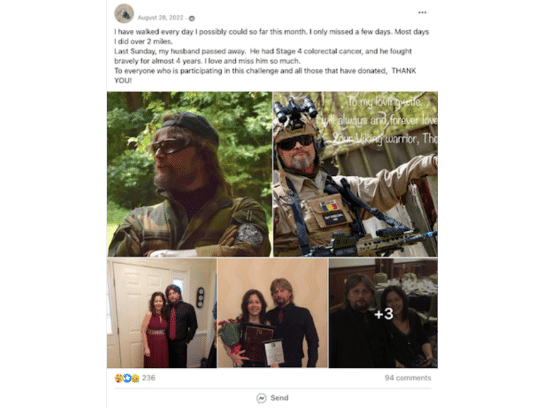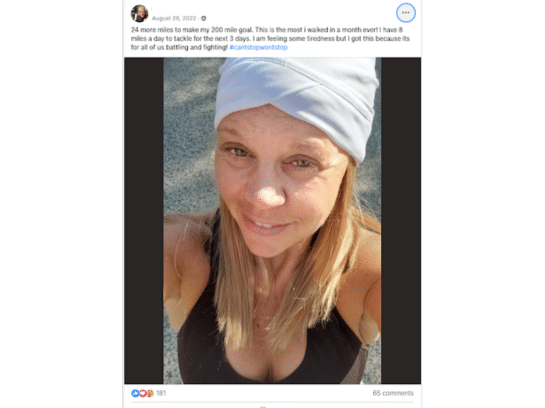 The results
The Challenge in numbers
$202
Average Raised per Active Fundraiser
Final thoughts
Facebook fundraising advice from American Cancer Society
When asked if they would recommend other organizations to try Facebook Challenges, American Cancer Society had the following advice for nonprofits:
Make sure you plan out your strategy and goals in advance of launching your Facebook Challenge. If internal resources are limited, it may not be easy to achieve your expected ROI.

Being genuine and authentic in order to make people feel like they are a part of the community is vital to fundraising success.

Facebook groups are a great way to source content for storytelling, which is important for the nonprofit's mission.
Finally, when asked what impact the GivePanel platform has had on their Facebook fundraising, American Cancer Society responded "it has been really important for building lifetime value with those constituents and really making the investment in Facebook Challenges realized over time."