Speak to a social fundraising specialist today to find out how GivePanel could help your nonprofit raise more on social platforms.
Are you failing to meet your Facebook fundraising goals?

Are you worried about the impact of not being able to thank your supporters on Facebook?

Are you frustrated by the lack of supporter details provided to you by Facebook?

Do you want to grow your Facebook income 10x by harnessing the power of Facebook groups?
How a small team made a big impact through a skipping Facebook fundraising Challenge
Solutions used:
Facebook Challenges
GivePanel Partner
Stroke Association, a prominent charity in the UK dedicated to supporting stroke survivors and advocating for quality care, took their fundraising efforts to new heights with their Skip for Stroke Facebook Challenge in February 2023.
As a small team, they faced challenges both internally and externally but their dedication to innovation and community building resulted in an incredible amount raised. We caught up with Emily Higgins, New Product Development Manager for Stroke Association, to find out how they make Facebook Challenges work for them.
Set the scene
Who is Stroke Association?
Stroke Association is a prominent charity in the UK that provides comprehensive support to stroke survivors, advocating for quality care and investing in crucial research to help those affected rebuild their lives and access the best possible support.
The team joined GivePanel in 2021 and keen to waste no time in their efforts to build a fundraising revenue stream, launched their first Facebook Challenge the following day.
As a medium-sized charity with limited resources for digital fundraising, the Stroke Association had been primarily focused on in-person physical events. However, they had been trialing Facebook fundraising tests for about two years, gaining momentum internally to allocate more budget for digital fundraising. When it came to light (through using the GivePanel platform) that organic birthday fundraisers were raising approximately £100k annually, the team had a strong case for the platform to become a viable income stream.
Having run a number of successful Facebook Challenges since 2021, including two previous Skip for Stroke campaigns, and feeling confident that there was still appetite for a skipping Challenge in their audience, the team were ready to launch a new campaign and put their learnings to the test.
What people are saying
It's really amazing because we've basically gone from thinking of digital fundraising as kind of a platform to digital fundraising as a very viable income stream. And that's a huge culture shift internally and an exciting prospect.
The challenge
Skip for Stroke 2023
A Facebook Challenge is a virtual event that runs solely on Facebook and leverages the power of social networking through ads, groups and fundraisers. This means:
Lower acquisition costs

More fundraisers

And no fundraising platform costs!
Stroke Association were keen to continue with skipping based Facebook Challenges after reflecting on previous successes and feedback from participants. They welcomed a new digital officer to the team who brought fresh ideas and a willingness to shake up their advertising strategies, and were ready to launch Skip for Stroke 2023.
Here's five things you need to know about their Facebook Challenge:
Cost of living – Stroke Association acknowledged the challenges they might face with recruitment due to the current climate and cost of living crisis in the UK. To combat this, the team managed expectations internally and devised a new advertising strategy that focused on community building rather than just fundraising.
Timing – The team chose a February start date for their Challenge so as to capitalize on the new year resolution thinking and the nostalgia associated with the festive season that provides a strong tie-in for the skipping activity. A key success was their decision to begin advertising at the end of December where they saw a marked increase in leads joining the group.
Advertising – For their Facebook ads, Stroke Association used incentive-led imagery and cause-led copy, and found that a standard image of shoes alongside the Facebook Challenge incentive performed best. In addition, they tested removing their logo from all creative and this resulted in better performing ads whilst the change from high to broad targeting resulted in similar demographics joining the Facebook Challenge.
Group engagement – Partnering with group moderation experts, Alderson Fundraising, Stroke Association were able to build a strong community within their fundraising group who were dedicated to not only participating in the Challenge, but fundraising as well. Participant feedback responses also doubled compared to the previous year, which Emily credits Alderson Fundraising with, commenting on their ability to increase engagement, produce relevant content and form close relationships with supporters.
Incentive – By providing every registration with a skipping rope as an incentive, the team reduced the barriers to participation (though they admit to running out of ropes earlier than expected!). In addition to the registration incentive, Stroke Association also provided every Fundraiser who reached a certain fundraising target with a medal of achievement. By announcing these halfway through the Challenge, the team noticed a visible increase in fundraising as supporters aimed to reach the medal target.
Stroke Association's Skip for Stroke Facebook Challenge in 2023 was a culmination of their past campaigns as they incorporated innovative tests and adopted new strategies to optimize their resources and prioritize community engagement. Whilst the results speak for themselves, how did GivePanel support?
The GivePanel difference
Meeting supporters where they are
Stroke Association utilized GivePanel to transform their Facebook fundraising efforts and achieve remarkable results. By leveraging GivePanel's features, Stroke Association were able to enhance their data capture and fundraising strategies, helping to position Facebook as a positive revenue income stream for the charity.
One of the major achievements Stroke Association experienced with GivePanel was a significant increase in consent sign-ups through Facebook birthday fundraising. Previously, their consent sign-ups were at a modest 3% however, with GivePanel's data capture capabilities, this number skyrocketed to an impressive 35%. This allowed Stroke Association to gather valuable data and engage with supporters in a more targeted and personalized manner, gaining approximately 3000 new supporters that wouldn't have otherwise been reached.
When it came to their Skip for Stroke Facebook Challenge, the team utilized a number of GivePanel features including:
By using GivePanel, the small team have been able to effectively resource a Facebook Challenge, as Emily notes:
"For any other charity who's out there thinking they don't quite have capacity for it, I'm a one person team that manages all of this – with gracious support from our Product Officer, Julia, when fulfillment time comes around. We've grown it with just one person so it's completely doable. And if you were looking for the best way to spend some money to make money quickly, I would say GivePanel would be without a doubt where I'd be focusing."
And if that wasn't enough, the team recently celebrated raising over one million pounds through Facebook fundraising since joining GivePanel. The significant milestone is testament to their success with Facebook Challenges, including Skip for Stroke 2023.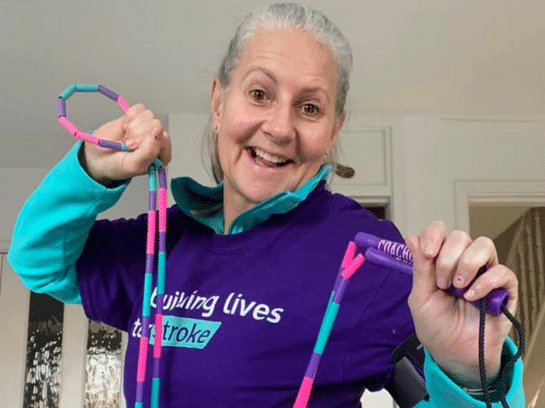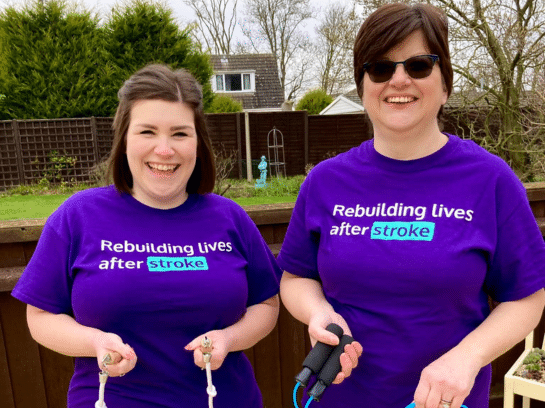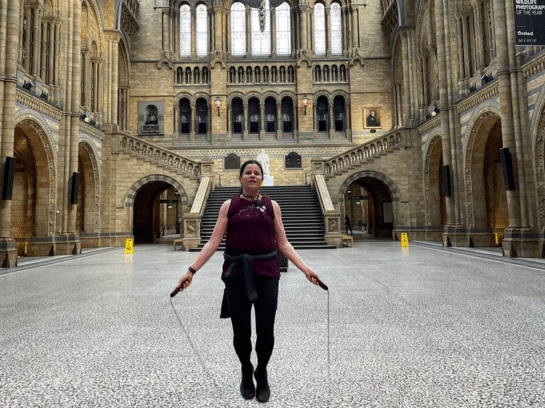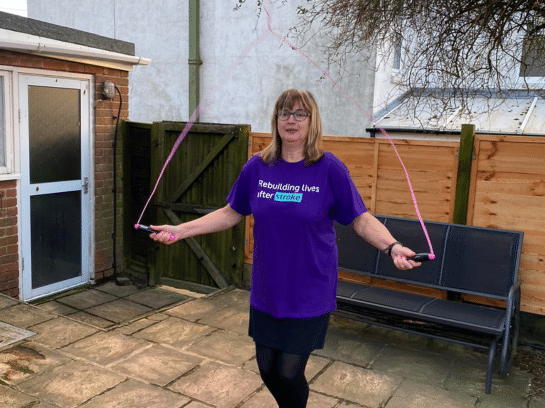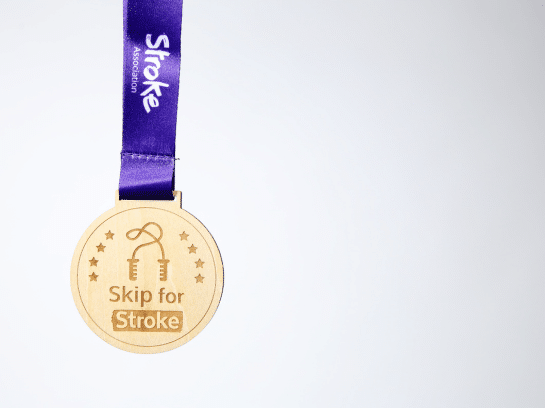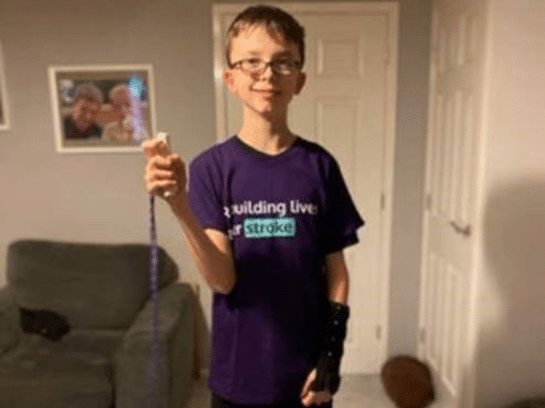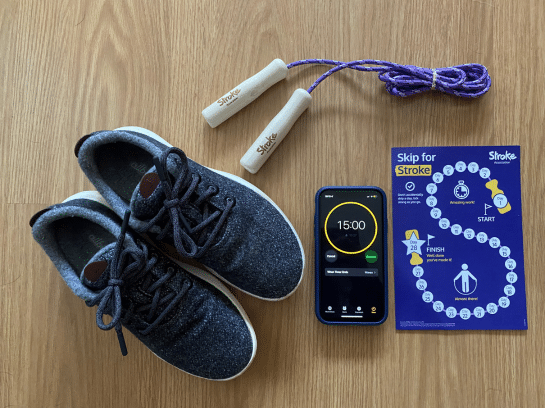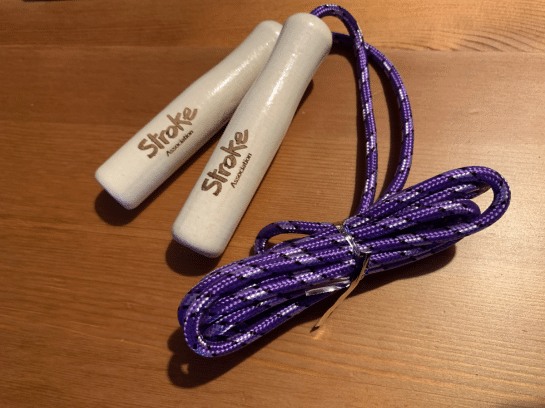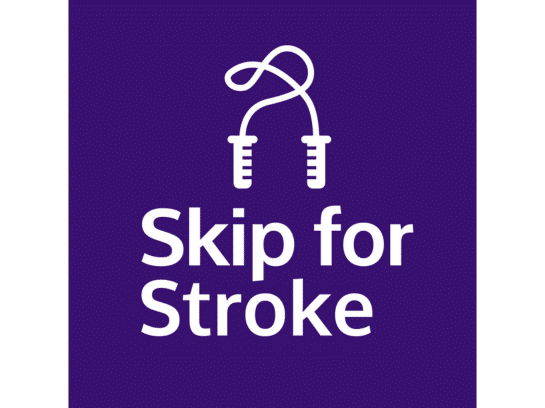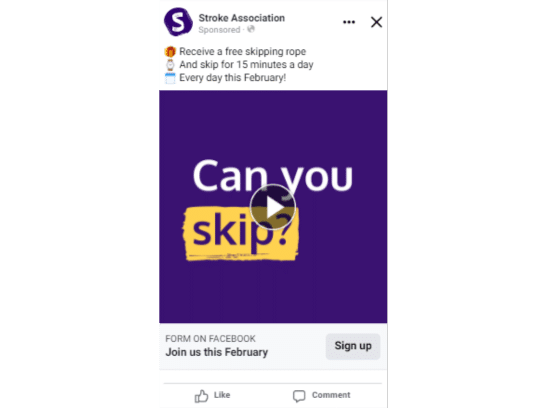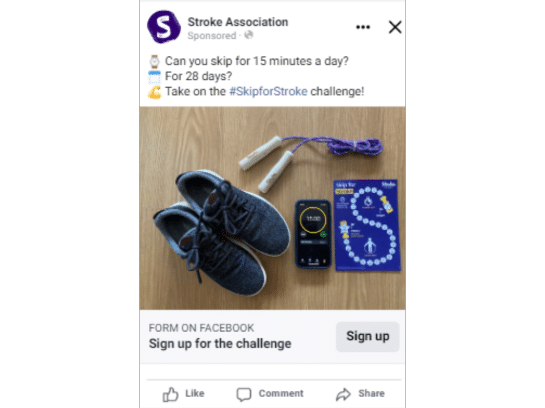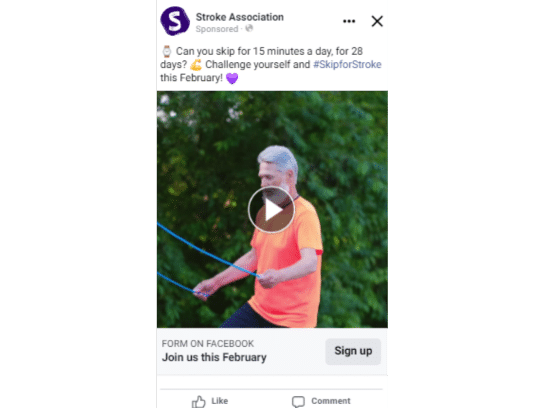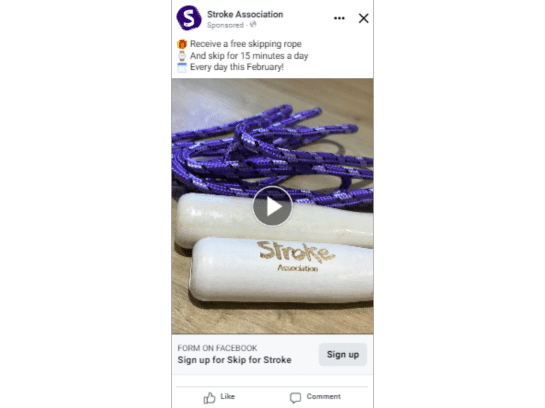 The results
The Challenge in numbers
Final thoughts
Testing in the Facebook fundraising world
Unsurprisingly, Stroke Association is continuing with Facebook fundraising and Challenges and the team are excited to explore new opportunities for innovation. Their plans for testing new ideas and features include:
SMS

as an additional communication channel

New Challenge activities including running and hula-hooping

The inclusion of an achievement certificate for every Fundraiser
And when asked if charities should invest in Facebook Challenges, Emily responds:
"For smaller charities who haven't got as much budget to spend, if you've got the kind of dedication to put behind and make a good engaging group, then I would recommend that Facebook Challenges are the way forward. We're still managing to grow because where the market says things are dipping, that is at a level that is so much higher than what we're currently at. So there is still room for so much growth."
In just two years, the fundraising team at Stroke Association has transformed a social media platform into a viable income stream for the nonprofit. Their dedication to innovation and supporter engagement means that they can continue to test, grow their community and raise vital funds for the organization.