Blog New GivePanel Feature: SMS for Facebook Fundraising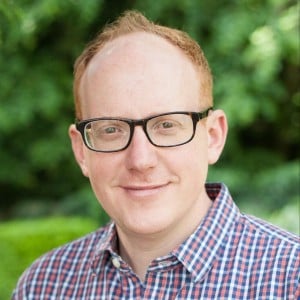 Nick Burne
November 17, 2022
New GivePanel Feature: SMS for Facebook Fundraising
What would your social fundraising look like if you could reach almost all of your supporters and communicate with them on a platform that offers an almost 100% open rate?
With our latest feature release, that idea is a reality. Enter, GivePanel SMS for Facebook Fundraising.
It's hot off the press and I'm so excited to share with you a tool that can transform your relationship with supporters and uplift your fundraising income to new heights.
In our GivePanel SMS Product Launch webinar, I was joined by David Burns, GivePanel's Product Manager, Jodi Kubit from Nonprofit Megaphone, Luke Bridges from Conversr, and Nicola Knight from Sands to discuss the impact SMS is already having, plus a full discovery of GivePanel's latest feature release.
Watch the webinar
Whether you're catching up or looking for a recap, you can watch the full webinar below to find out why GivePanel SMS for Facebook Fundraising is such a game changer, or continue reading for my take on the hot topic!
Why SMS?
Let's kick things off by covering four reasons why I am so excited to have SMS as a new feature of the GivePanel app.
Reason number one, it has a huge reach. I mean, huge. Around two-thirds of the world's population have a mobile phone and access to SMS. And it's still growing because as of next year, it's predicted that about 80% of people worldwide will be using smartphones.
Reason number two – you have instant access to potential supporters. On an average day, users check their SMS messages more than any other app on their phones. In fact, 1 in 3 check their notifications within one minute of receiving an SMS. Compare that to email's 90-minute average, and you can see why SMS is grabbing our attention.
Reason number three – you receive much higher engagement on average with SMS. Text messages get a 12x higher response rate on average than phone calls and emails. And SMS has a 95%+ average open rate, compared to 18% for email. You can't argue with those numbers.
Reason number four – unlike many other communication channels, SMS is an owned media channel. This means that you have more control (similar to email) and you are less reliant on 3rd party platforms like Facebook.
So now that you are fully aboard the SMS train, let's explore GivePanel's newest feature: SMS for Facebook Fundraising.
GivePanel SMS for Facebook Fundraising
Before I get into the nitty gritty, I just wanted to put all of my cards on the table and say that SMS for Facebook Fundraising is awesome. If you take anything away from this blog, it should be these three points:
SMS results in a 75% increase in average gift. A/B tests show participants who received 4 x SMS raised 75% more than the control group.
SMS increases fundraiser creation. Campaigns incorporating SMS have seen 40% of fundraisers created from welcome texts.
SMS is an owned media channel. I believe it's a great idea for nonprofits to add another channel to your supporter journey that relies less on 3rd party platforms. Text is a great way to convert supporters into regular givers at a later date, increasing lifetime value and growing those all-important relationships.
Well, this all sounds pretty exciting Nick, I hear you say, but how does it actually work?
To help get you started, we've put together a step-by-step walkthrough of this feature within the GivePanel app.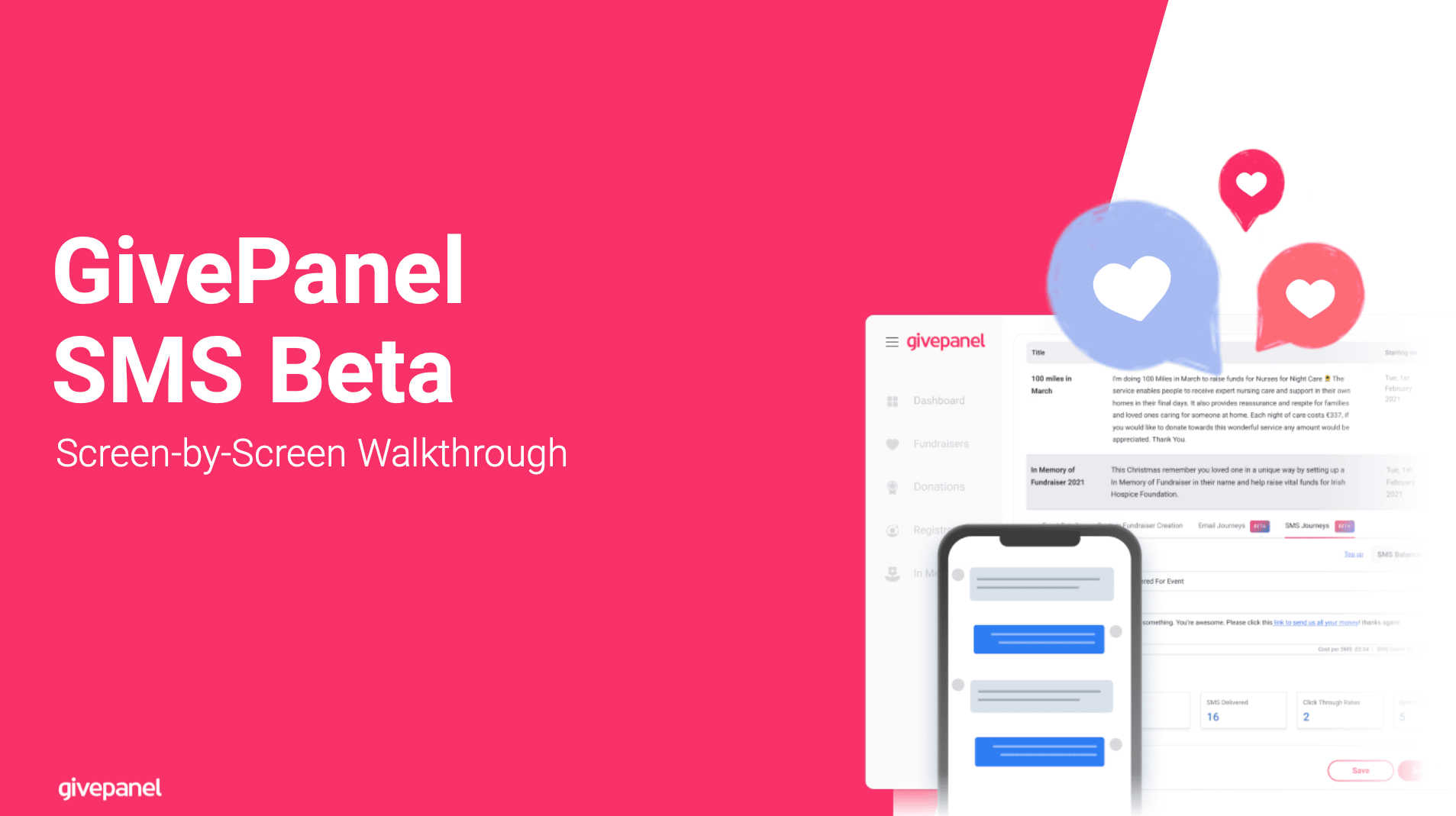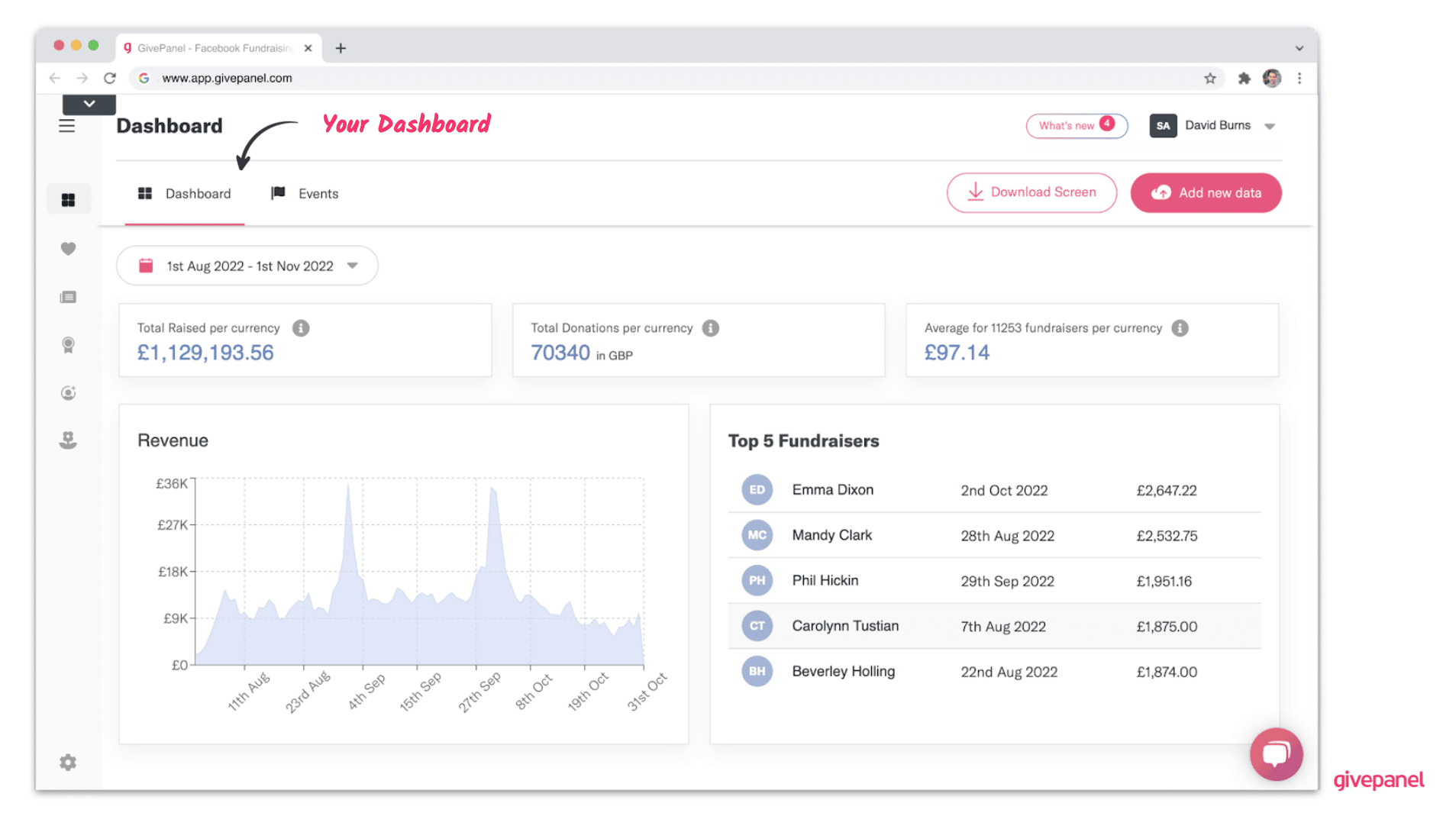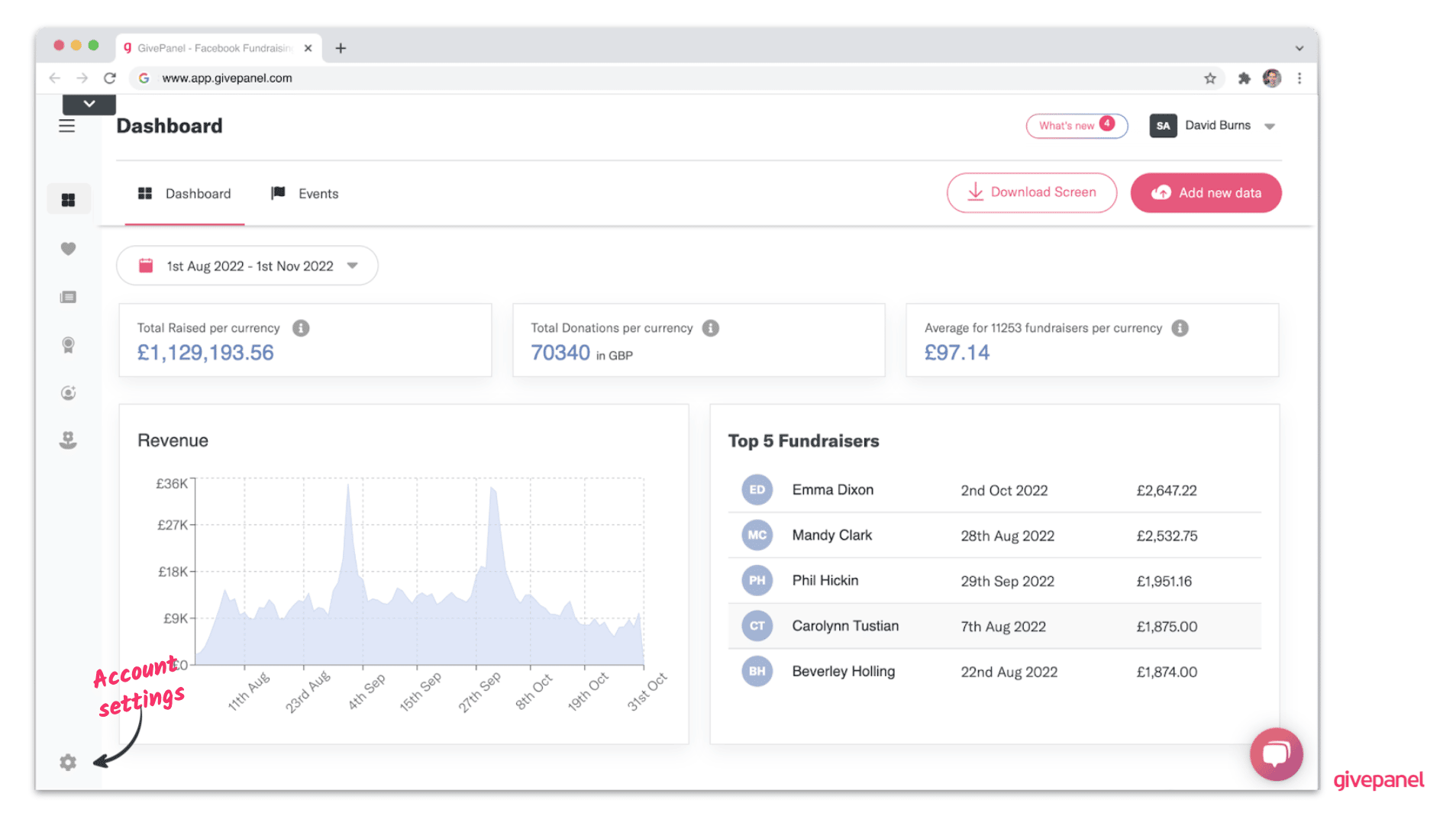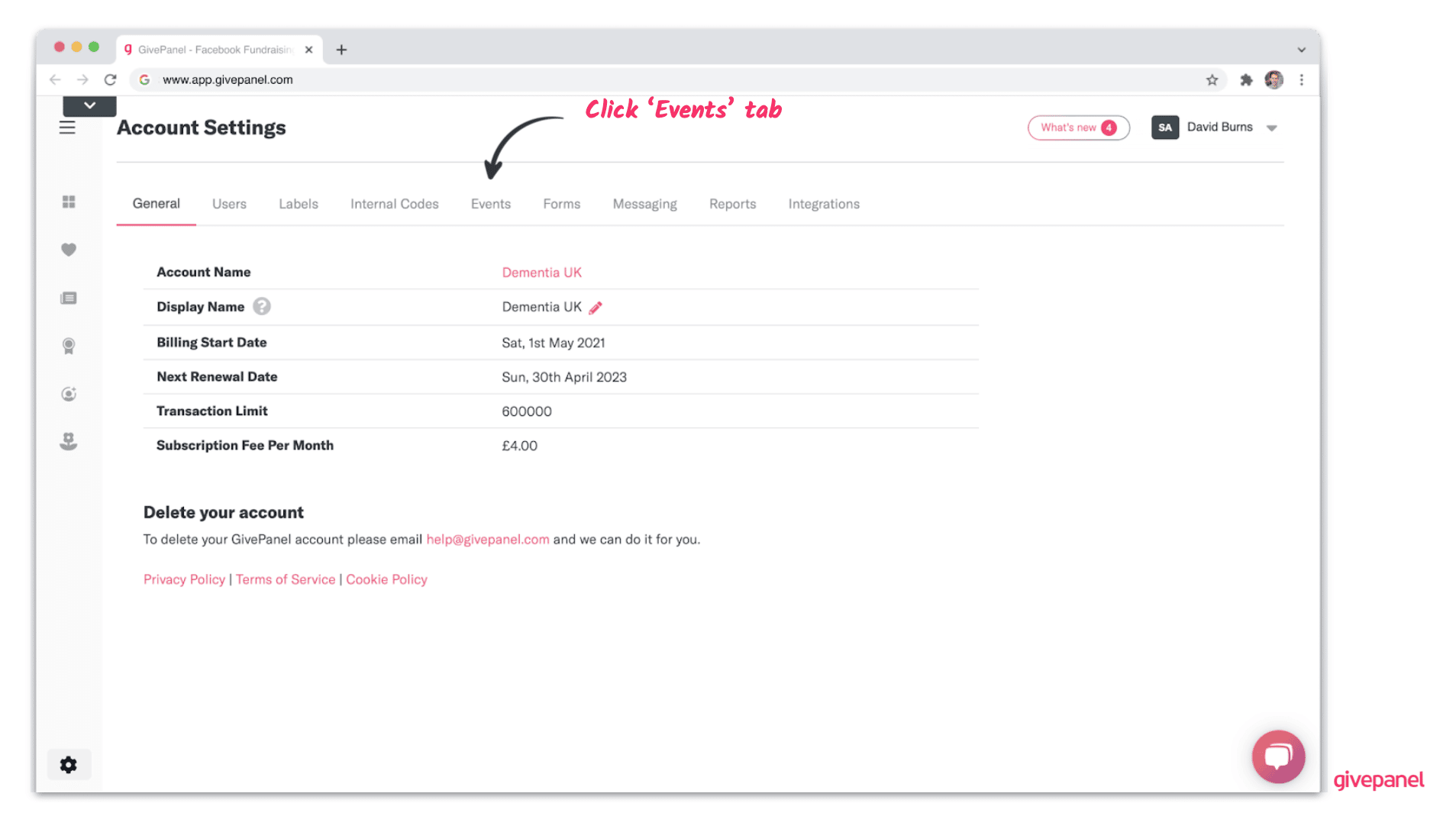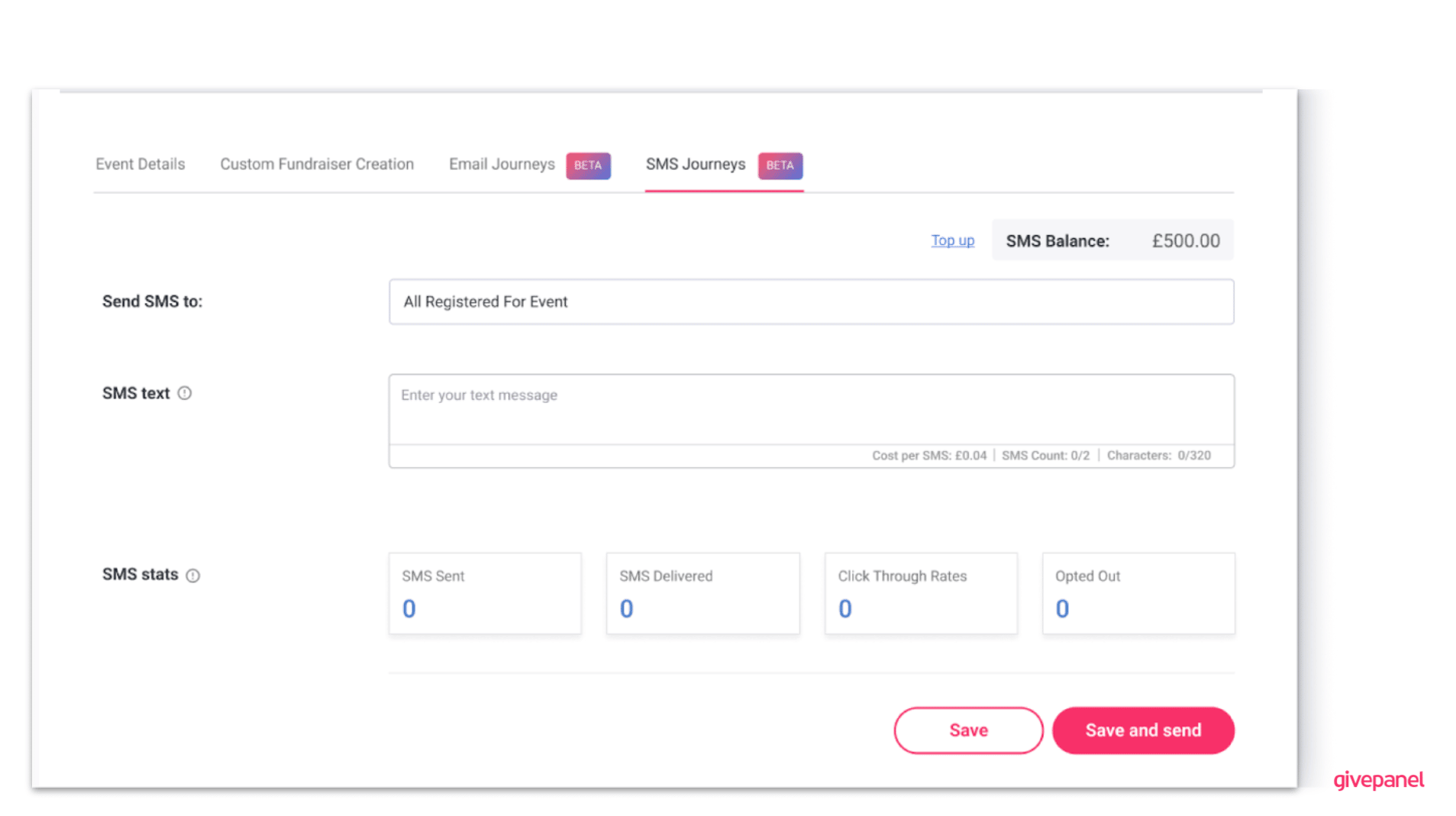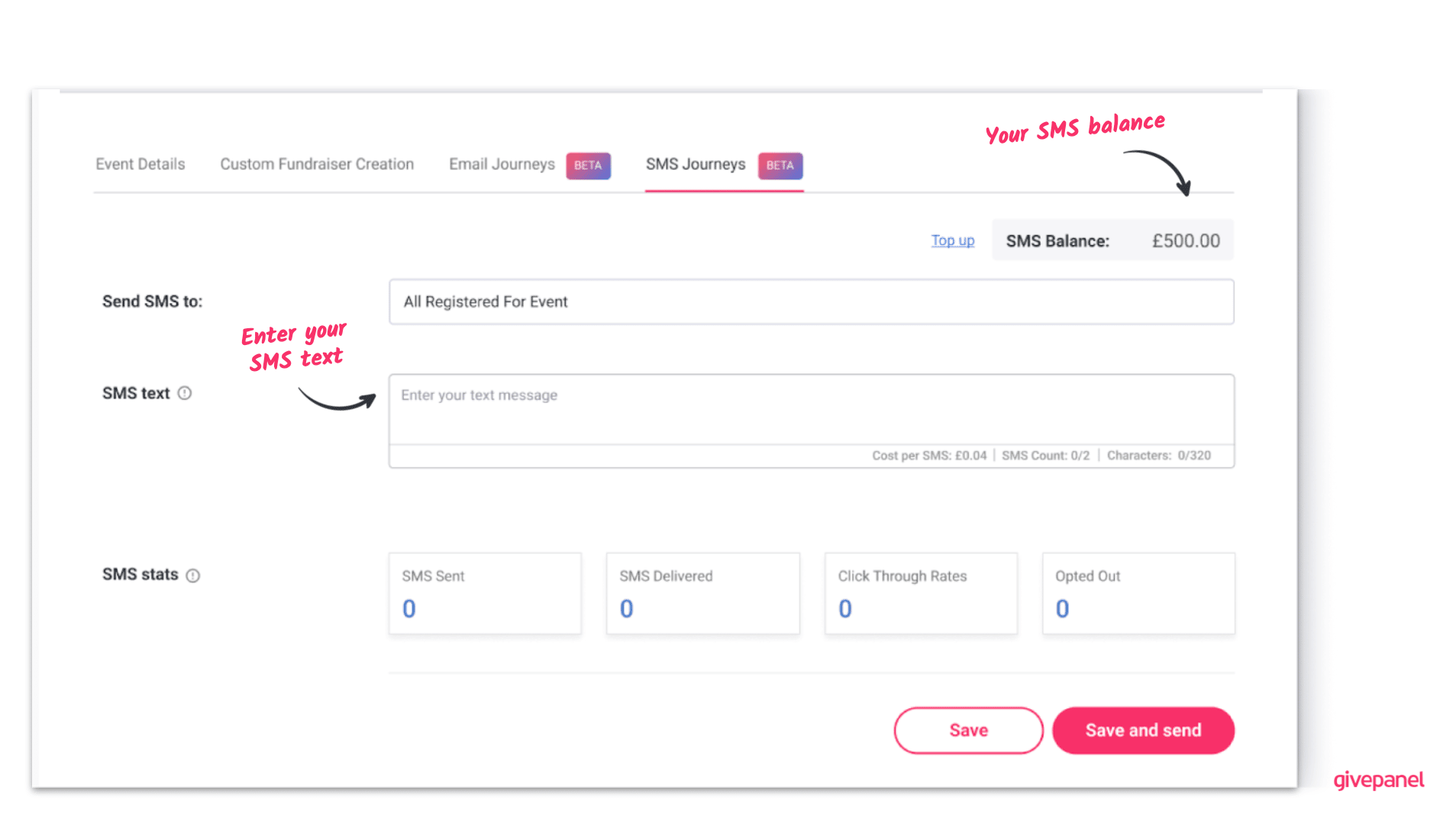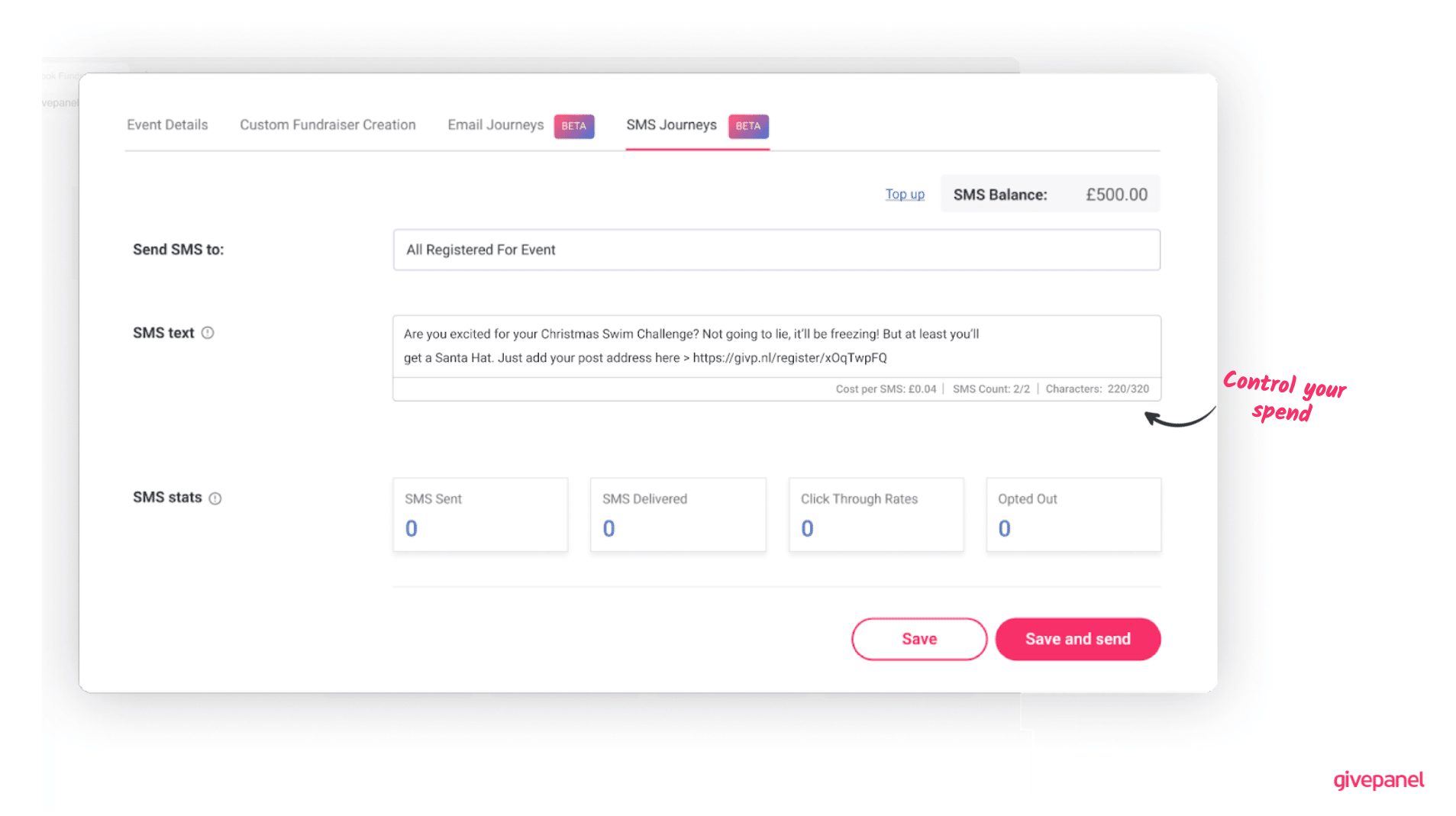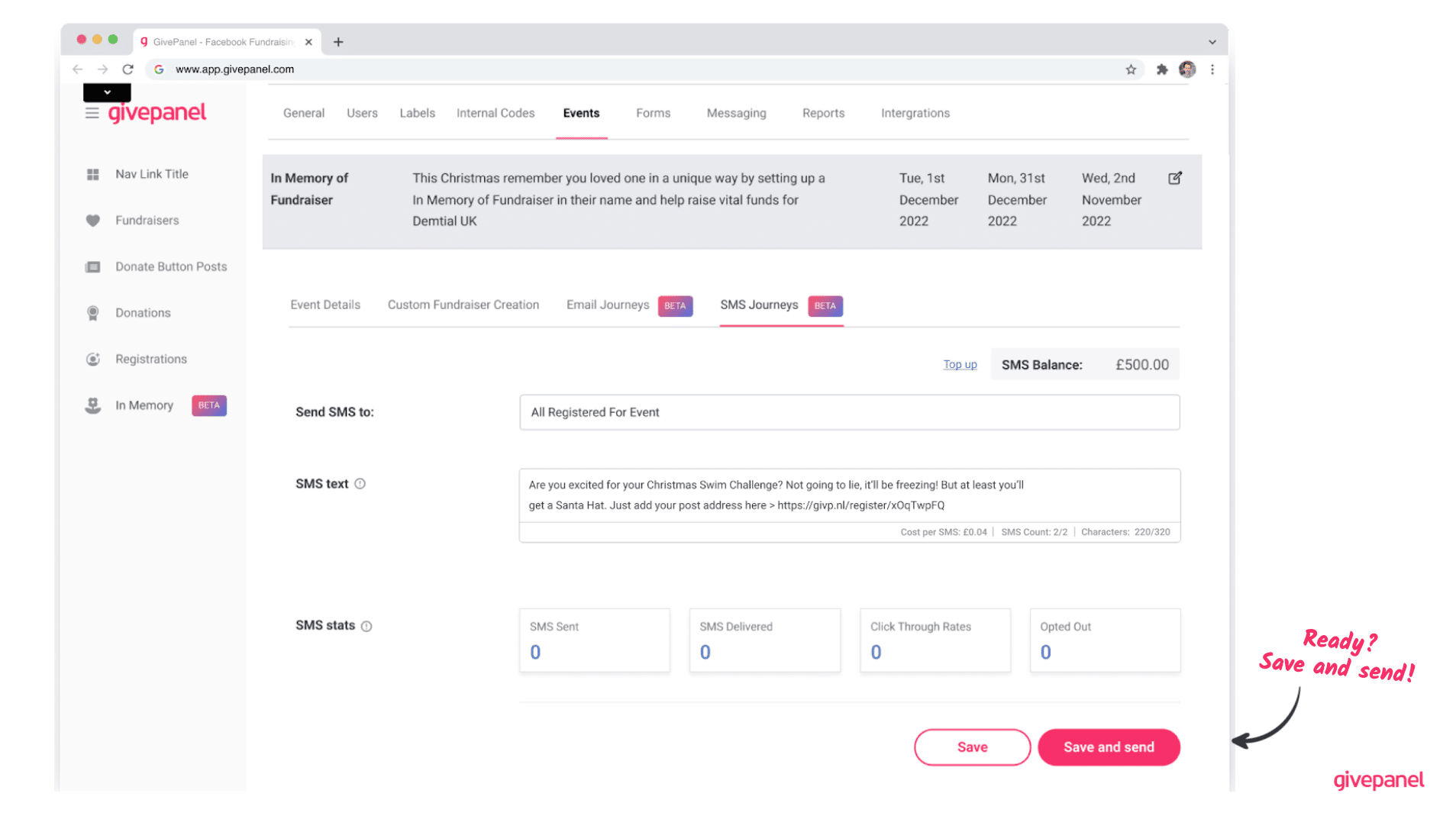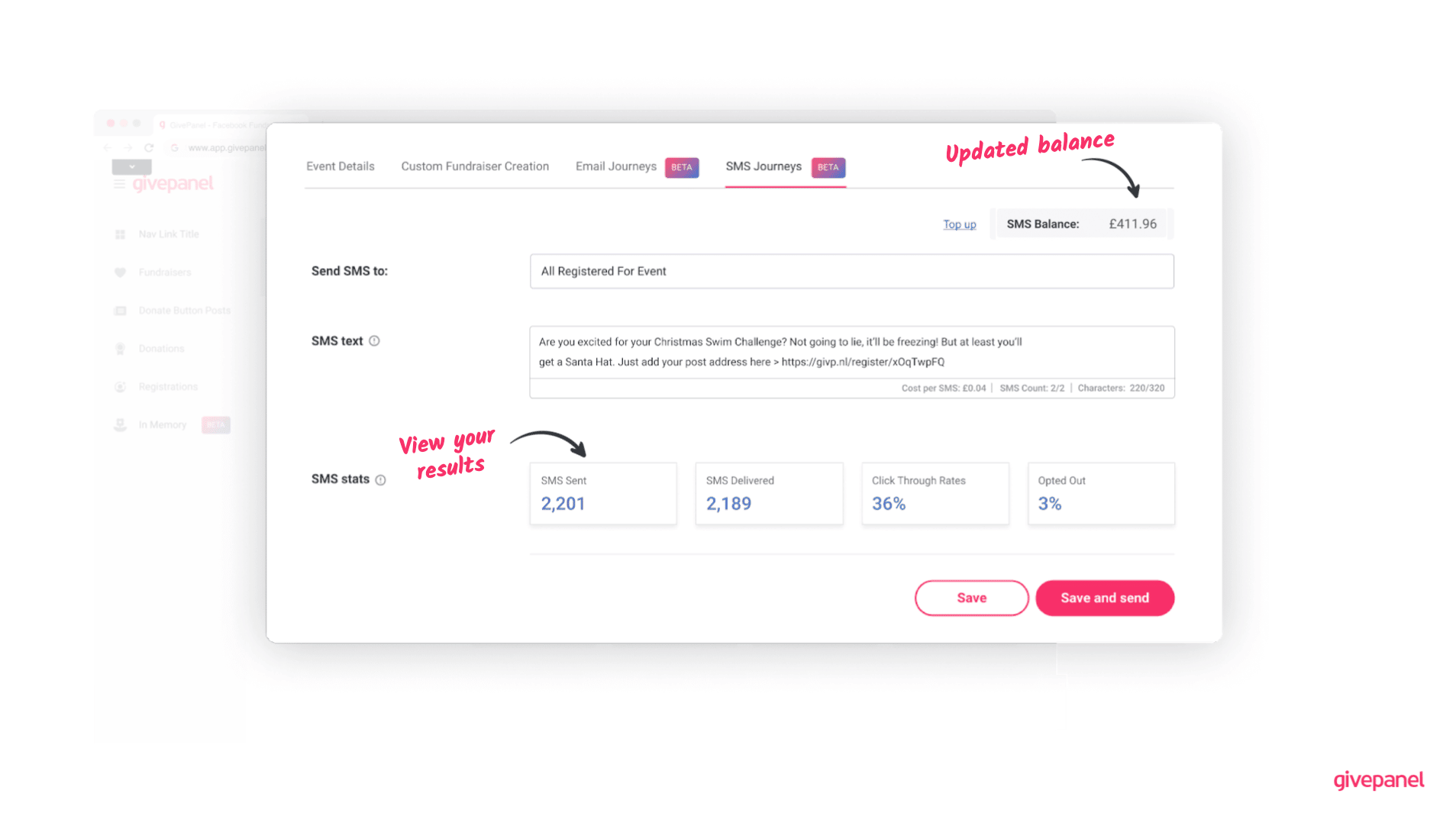 Capabilities
Now, let's dive a little deeper into the detail of GivePanel SMS. Here are some key capabilities that you're going to want to pay close attention to:
Balance
As a prerequisite to using GivePanel SMS, you will need to have a prepaid SMS balance. The reason for this is that SMS comes with a cost due to the varying mobile carrier rates. So, when you set hearts ablaze within your nonprofit on the benefits of SMS, make sure you also secure a budget to credit your account with otherwise those hearts could be very quickly broken.
Your balance will show on the SMS feature and will update automatically after you send a batch of text messages.
Character Count
Remember the old days when the Twitter character count was only 140? Well, get ready to dust off those concise writing skills, because SMS messages are limited to 160 characters.
Within the GivePanel app, we're limiting this overall to roughly 320 characters because we believe one or two text messages works best and avoids frustrating your supporters and overwhelming them with information. The character count on GivePanel SMS will update automatically when you go beyond 160 characters and will provide an indicative cost per SMS, dependent on mobile carrier rates.
In other words, get your point across in as few words as possible, using only one to two text messages at a time.
SMS sent versus SMS delivered
Flour and flower. They sound the same but you'd only want to put one in your cake batter, right? Well, it's similar for SMS sent and SMS delivered.
'SMS sent' is the total number of SMS messages that you have sent – this will directly relate to the cost that you have paid to send. 'SMS delivered' is the number of SMSes that have successfully been received and will appear on the recipient's phone. There are a number of reasons why delivery won't always be successful so this will likely vary per SMS sent.
For the time being, you can only send an SMS to people registered for your event. Why did we choose to target these people first? Well, we'll cover some incredible figures as a result of tests run by Nonprofit Megaphone later on but for now, it's simple. Our mission at GivePanel is to help nonprofits raise more, and this initial segmentation is how we felt we could best achieve that.
Opt-out rate
We know that it's few and far between, those people that don't want to hear from our awesome nonprofit customers, but if it is the case, we'll handle it.
All opt-outs will be handled automatically by our SMS feature. If users text back the words, STOP, CANCEL, or UNSUBSCRIBE, they will automatically be opted out and you'll receive a tally of these in your dashboard.
Click-through rate
This one is a little trickier, admittedly. Click-through rate is in development as there are a few more hurdles than the other features to overcome in order to gather how many people click on a link from an SMS message.
What I can say is, like all good things, it'll be worth the wait.
Why is GivePanel SMS in BETA?
At GivePanel, we're super passionate about building tools that our customers actually need and want. With this in mind, it wouldn't be too savvy of us to deliver an end package, complete with bells and whistles, that didn't actually fit with what nonprofits wanted.
Instead, we believe that bringing customers along on the journey and allowing you to input your own experiences with the feature, is key to making everyone happy. As the saying goes, happy customers, happy GivePanellers. Or something like that…
But that's not to say we haven't done our research first as to why SMS is a game changer for nonprofits fundraising on Facebook, and that's where Nonprofit Megaphone comes in.
Broadcast 1-way SMS Journeys
Introducing Nonprofit Megaphone, an organization that works closely with GivePanel to help nonprofits in North America raise millions of dollars through Facebook Challenges. If you're a nonprofit in North America and you haven't heard of them, now is your chance to find out why we're such big fans. As well as delivering first-class support in Challenge delivery, ad management, and group engagement, the team at Nonprofit Megaphone have been making waves with SMS testing with incredible results.
They introduced SMS to Facebook Challenges as they believed that SMS would have an even higher engagement rate than email, and could be used to remind people to register and set up their fundraiser. They were also of the opinion that texting could be a great way to keep supporters engaged during a Challenge, whilst also reminding them about the mission of the nonprofit they are supporting.
Nonprofit Megaphone used two equal-sized groups taking part in the same Challenge with the same level of fundraising. Over a two-week period, one group was sent four SMS messages whilst the other didn't receive any. Incredibly, the group receiving the text messages raised 75% more during the period the messages were sent, compared to the control group.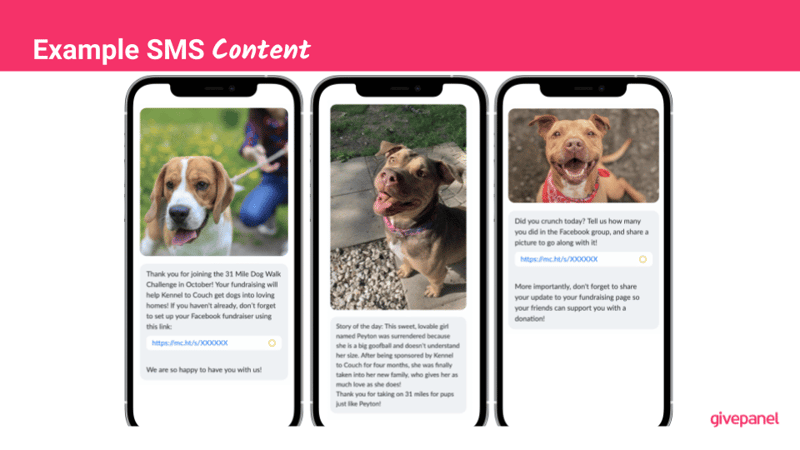 Their experimenting resulted in some key insights for the team:
SMS drives fundraiser creation with roughly 40% of fundraisers being created from the initial welcome text.
SMS during the activity month drives revenue with a 75% uplift during the Challenge month.
SMS provides the ability for nonprofits to share their mission and key information as they are seen by almost everyone in the Challenge compared to the Facebook Group.
SMS provides a platform to answer questions in advance so supporters can concentrate on what's important – fundraising!
Conversational 2-way SMS with Conversr
So if you thought that was exciting, let's take it a step further.
Tackling the future of conversational 2-way SMS is Conversr, an AI-powered supporter experience platform that allows you to have human-like SMS conversations with your fundraisers at scale. Importantly, they believe that SMS can help nonprofits develop goodwill over time, and grow supporter loyalty and lifetime value. The platform works by tapping into the science of behavioral economics, curating engagement programs to develop a human connection, and positively influence behavior, without ever asking. Mind blown.
But the proof is in the pudding, right? Conversr worked with Sands, a baby loss charity based in the UK, on a week-long Facebook Challenge event. Using Holly, Sand's Community Engagement and Events Officer, as a single point of contact, the team were able to develop and nurture one-to-one relationships at scale, offer bereavement support and maximize engagement.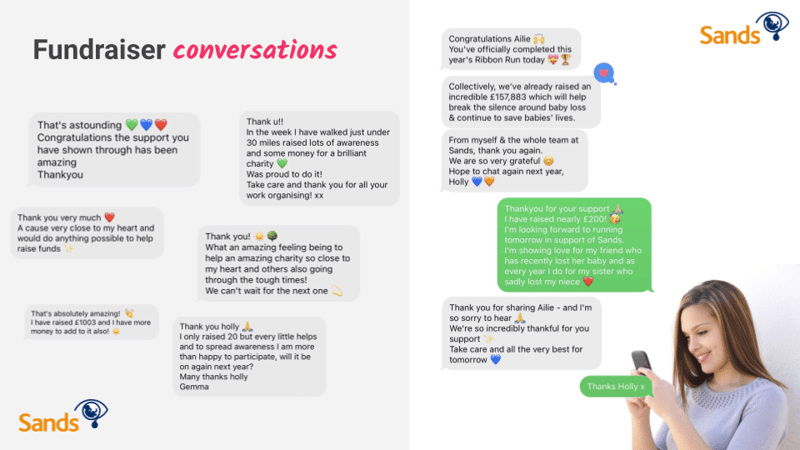 And the results speak for themselves. Of those contacted via SMS, 74% of supporters engaged with the journey with a 41% increase in fundraiser activation. The team also increased the average raised per fundraiser by 22%, finding a strong correlation between engagement and revenue.
So whether it's broadcast or conversational, we believe SMS is the future for social fundraising and I am super excited to see our customers raise more via this latest feature.
Next steps
Want more info? Check out our Knowledge Base article for all of the details.
If you're a GivePanel customer and are interested in applying for SMS Beta, get in touch with your Customer Success Manager who can provide you with the form to apply. Not sure how to get in touch with your Customer Success Manager directly? Don't worry! You can use our contact form.
Got FOMO and want GivePanel to support your nonprofit's Facebook fundraising? Get a demo with one of our fundraising specialists and start connecting with your supporters on social today.
Related Resources