Speak to a social fundraising specialist today to find out how GivePanel could help your nonprofit raise more on social platforms.
Are you failing to meet your Facebook fundraising goals?

Are you worried about the impact of not being able to thank your supporters on Facebook?

Are you frustrated by the lack of supporter details provided to you by Facebook?

Do you want to grow your Facebook income 10x by harnessing the power of Facebook groups?
How Heart Foundation used GivePanel to collaborate on a Facebook Challenge and raise over AU$110,000
Solutions used:
Facebook Challenges
Data Management
Heart Foundation in Australia raised over AU$110,000 in its first Facebook Challenge by finding a Challenge format that worked for them and activating the nonprofit's campaign through the Facebook community.
Having seen the success other charities had had with Facebook fundraising, the team were eager to take on the challenge themselves but were also keen to keep costs low and resource internally. Here's how they did it.
Set the scene
Who is Heart Foundation?
Heart Foundation is an Australian nonprofit that for more than 60 years has been working to improve the lives of those with heart disease through prevention, research, and support for all Australians. Since 1959 the charity has funded research projects worth over $670+ million.
With a previous focus on website hosted peer-to-peer events, Heart Foundation found there was a disconnect between their website activity and Social Media Fundraisers created by supporters. By joining GivePanel, the team was able to view the data clearly and saw an opportunity to grow Facebook fundraising into a viable income stream.
Jesse Lewis, Social Media Lead at Heart Foundation, spoke to GivePanel about their first Facebook Challenge, 3000 Squats in April 2022.
What people are saying
We want to empower our audiences to fundraise. We thank the fundraiser, they thank their donors. It's their space, it's their energy. And we just wanted to activate that and give them the tools to be able to do that and I think Challenges is the way we need to do it.
The challenge
3000 Squats in April
A Facebook Challenge is a virtual event that runs solely on Facebook and leverages the power of social networking through ads, groups and fundraisers. This means:
Lower acquisition costs
More fundraisers
And the chance to meet supporters where they already are!
Heart Foundation chose squats as their Challenge model after noting that squats were both accessible for their audience and one of the top performing UK Challenge formats. The team ran their own photoshoot for their Facebook ad creative, ensuring that the imagery was 'Challenge-first' but also reflective of their own brand.
They created a content schedule and used the photoshoot to gather content that would last throughout the Challenge and help keep supporters engaged, including Instagram reels and informative posts.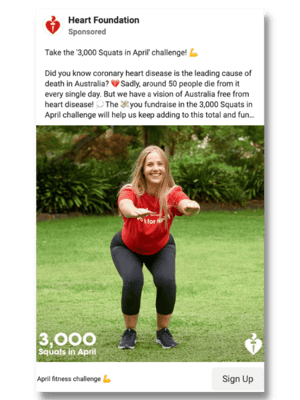 Heart Foundation enlisted the support of five volunteers to support the fulfilment of their Facebook Challenge t-shirt incentive. This allowed the team to focus on quality group engagement whilst also utilizing the organization's volunteers in a meaningful way with the ability to feedback on the impact their support had made.
Rather than sourcing Champions prior to the event starting, the team found their Group Champions organically throughout the Facebook Challenge and onboarded them after seeing their enthusiasm for taking part. These Champions posted engaging content in the group, supported others on their journey, and set the tone for a high-energy event.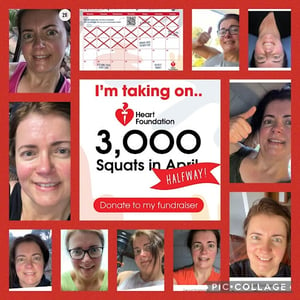 From start to finish, Heart Foundation managed their 3,000 Squats in April Facebook Challenge entirely by themselves through a team of six staff and five volunteers.
Here's what the team looked like:
One Digital Lead – working as the Project Manager to oversee the Facebook Challenge campaign.
Two Social Media Team Members – managing advertising, group content, comment moderation, and creatives for the promotion of the Facebook Challenge. Responsible for the initial set-up within GivePanel including messaging and custom fundraiser links.
Three Community Fundraising Team Members – one lead, one manager and one coordinator managing group participation and stewardship of fundraisers.
Five Volunteers – responsible for the packing and sending of the Facebook Challenge incentives.
The GivePanel difference
Meeting supporters where they are
Heart Foundation joined GivePanel in 2021 in the wake of activating their Facebook Fundraising Tools. The charity felt that they needed a clear and understandable way to view their Facebook fundraising data across their teams and have a platform that allowed them to all interact with and manage the same campaign.
Additionally, the team also needed a method of stewarding their supporters and ensuring they could connect with their fundraisers throughout their journey with the charity. Here's what Jesse had to say about what he found GivePanel useful for with Facebook fundraising and in the running of 3000 Squats in April:
"It's hard to sell that vision (of Facebook fundraising). I think as soon as we got GivePanel, everyone was like, "This is awesome, I can see everything that's happening." And that's when, as an organization, everyone started to get truly behind it because they could see what was happening in the background, it was really visual for them. So I think that solved a lot of not just platform and implementation problems, but behavioral problems (by) taking people through that journey.
"It's tools like GivePanel that enable us to tell that story more effectively, and make better decisions as an organization."
The results
The Challenge in numbers
AU$12.70
Cost per Active Fundraiser
Final thoughts
What's next for Heart Foundation?
Whilst 3000 Squats in April was an incredible success for Heart Foundation, the team note the importance of treating Facebook Challenges as a large campaign and resourcing them properly.
Their attention on quality Facebook ad recruitment meant they required less budget for their ads than originally planned and were able to allocate more to the cost of incentives.
Before committing to a second Facebook Challenge, Heart Foundation are keen to reflect and evolve their offering to their supporters to ensure they are meeting their needs and interests.