Birthday Thanking Data Capture Rate
Speak to a social fundraising specialist today to find out how GivePanel could help your nonprofit raise more on social platforms.
Are you failing to meet your Facebook fundraising goals?

Are you worried about the impact of not being able to thank your supporters on Facebook?

Are you frustrated by the lack of supporter details provided to you by Facebook?

Do you want to grow your Facebook income 10x by harnessing the power of Facebook groups?
How using GivePanel gave one charity the power to thank their fundraisers and successfully launch Facebook Challenges ​
Solutions used:
Facebook Challenges
Stewardship
Lifeline launched their first Challenge in 2022 with 10,000 Steps a Day in May to raise funds for their crisis support and suicide prevention services to help save lives.
As a new space in the Australian fundraising market, they were open to trialing new ways of reaching their supporter-base and acquiring new people to support their work.
We caught up with their Marketing Specialist, Johanna Packham, to find out more about why they chose to join GivePanel.
Set the scene
Who is Lifeline?
For 59 years, Lifeline has been connecting with Australians in need through crisis support and suicide prevention services – bringing hope and help to people anytime, anywhere. Through phone, text and online chat, Lifeline is available 24 hours a day, seven days a week to listen without judgement to any person in Australia who is feeling overwhelmed, experiencing crisis or longs to be heard. The Lifeline network includes 41 Centres in metropolitan, rural and remote areas across the nation. There are over 10,000 volunteers and 1,000 employees working to ensure that no person in Australia has to face their darkest moments alone. Lifeline centers also deliver accredited education and training programs focusing on suicide awareness and prevention as well as community-based suicide prevention initiatives, including support services for those impacted by suicide. Lifeline is available to help.
So why do a Facebook Challenge? Prior to joining GivePanel, Lifeline had not undertaken any kind of Facebook Challenge event. By launching 10,000 Steps a Day in May, the team has been able to:
Increase their Facebook fundraising income
Connect with current supporters regardless of geographic location
Acquire and engage new supporters to their cause
Collect contact details for future stewardship
Diversify their fundraising income streams
Run a cost-effective and engaging event without the hassle and cost of an in-person event
What people are saying
The data and connection GivePanel provide is a game changer and allows us to build long term relationships.
The challenge
10,000 Steps a Day in May
A Facebook Challenge is a virtual event that runs solely on Facebook and leverages the power of social networking through ads, groups and fundraisers. This means:
Lower acquisition costs
More fundraisers
And no fundraising platform costs!
Keen to trial a new income stream and develop their Facebook fundraising strategy, Lifeline launched their pilot Facebook Challenge with digital agency, Elevate Fundraising, in April 2022.
The Facebook Challenge model was a natural fit for the nonprofit as they have a strong and recognizable brand and a cause that affects many people personally.
Elevate Fundraising guided them through this, producing their Facebook Challenge and looking after the campaign concept, Facebook leads acquisition, t-shirt design and fulfilment, community management, email marketing, SMS and on-page messages to Fundraisers via GivePanel.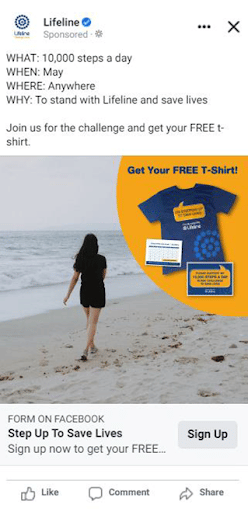 The GivePanel difference
Meeting supporters where they are
Lifeline sought the ability to have meaningful communication with their donors and, as well as using the GivePanel platform, outsourced thanking and stewardship to us. Their focus on joining was about getting the basics right, including:
Stewardship of Facebook birthday fundraisers
Thanking and reinforcing donor impact
Inviting donors to engage in other ways
"We have a gateway to communicate with our fundraisers in real time – this is incredibly valuable in creating connection to the cause but also encourage help seeking behaviour to a wider community."
So what was achieved?
Message testing resulted in optimal thank you messages to Birthday Fundraisers, which now successfully results in 40% of supporter data capture.
Over 1000 Birthday and In-Memory Fundraisers thanked in first 6 months on contract.
Collectively they raised just under $500k.
After successful results, Lifeline then piloted the GivePanel team to also manage all Facebook Challenge fundraiser on-page messaging strategy and stewardship.
The results
The Challenge in numbers
Final thoughts
Top tips from Lifeline
Resource for the Facebook Challenge appropriately and partner with an agency like Elevate Fundraising for support with acquisition, group moderation and incentive fulfilment.
Choose a Challenge format that is easy to understand, accessible, and doable whilst still having that Challenge-worthy edge.
Make the most of the GivePanel dashboard to thank your supporters and gain insight into event data for a clear picture of your Challenge.