Blog 5 considerations for your nonprofit's Instagram fundraising strategy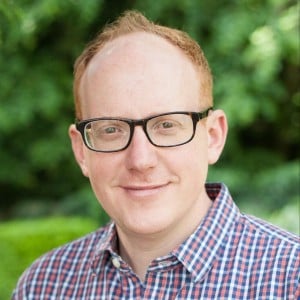 Nick Burne
September 28, 2022
5 considerations for your nonprofit's Instagram fundraising strategy
I was recently invited to take part in a fireside chat with the Instagram Product Marketing Director for EMEA, Kira Wong O'Connor, at the Meta Nonprofit Education Conference to discuss the topic of Instagram: The New Frontier of Fundraising. If you missed it, you can watch the session back on demand.
There are several ways to fundraise on Instagram, and it's safe to say that those nonprofits around the world who are innovating early are starting to see success on the platform. You can:
Create a fundraiser and add it to a post, stories, or live.
Add a support button to your profile.
Add a donation sticker to stories.
Create a Group Fundraiser and encourage supporters to raise money on your behalf.
Use reels to create and promote short, entertaining videos related to your fundraiser.
Before we go any further, you may be wondering what the requirements are to raise money for your organization on Instagram. To raise money on Instagram, your nonprofit must:
Enroll and be approved to use Facebook charitable giving tools.
Switch to an Instagram business account, if you haven't already.
Link your charity's Instagram business account with your charity's verified Facebook Page.
There's more guidance and support in the Instagram Help Center, where you can also find the up-to-date list of the countries where charity fundraising tools are available.
So, now you are brought into the idea of dipping your toe into Instagram fundraising, here are my top 5 key considerations to help you get off on the right foot.
1. Accept that Instagram is a completely different culture to Facebook.
"We're not in Kansas anymore, Toto". Whilst Instagram and Facebook are part of the same Meta family, we have to first acknowledge that the platforms are completely different and therefore draw in different audiences with different behaviors, interests and desires.
Think of them as separate countries. If your charity was going to expand geographically to a new market, you'd be ready to engage with new people, in a different language and culture, where things are quite different to where you've been before. Hashtags are a good example of this. They make sense and are widely used on Instagram, but they are not used at all on Facebook.
I see nonprofits create content for Facebook that then gets "re-formatted" for Instagram without much thought. Instagram is now too important for being just a Facebook add-on. Nonprofits can't afford to be lazy anymore. One size most certainly does not fit all. This is a good rule for any new network or platform. They all have their different sub-cultures. By really understanding who is on the platform, why those people are there, and what they are doing, you can design your fundraising to fit in.
And don't forget, in the early stages of planning your Instagram strategy, to pay attention to the demographics. According to Sprout Social, Instagram tends to pull in a younger audience, with around 62% of users aged between 18-34; compared to Facebook where 18-34-year-olds account for only 53% for users.
2. Creators are increasingly important.
Instagram is changing from being a place where you see your friend's and family's photos, to a place where you are served engaging, short-form content based on your interests. In other words, most viewed content on Instagram is now coming from creators you don't know – not your social connections.
This has upset a lot of Instagram users – so much so there was a petition to "Make Instagram Instagram Again".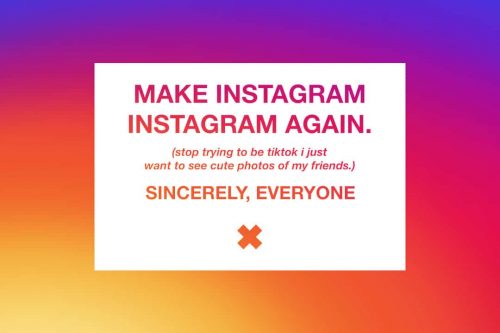 But our actual usage of the platform doesn't lie. We engage more with more engaging content, and that content is coming from those people who put a lot more effort into their content curation than my close friends and family. You may know them as "influencers", but we now call these people "creators".
The creator economy is already massive and growing rapidly. Over 50 million people are now "creators" and 4% of those have made it their career. Studies show that most kids want to be YouTubers when they grow up (I'm a parent of 2 daughters, so don't get me started!). This is the new world we are living in.
The way Meta is thinking about Instagram fundraising is empowering creators with tools to fundraise for your nonprofit – not just giving the nonprofit the tools. For example, they recently released fundraising for reels – Instagram's short form video format.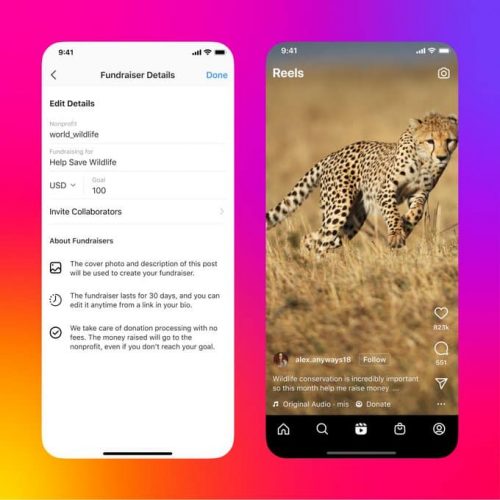 If nonprofits want to get serious about Instagram fundraising, you need to understand how to work with creators. Alyssa Sweetman, an expert in influencer fundraising, did a great session at our Social Fundraising Summit in March 2022 and one of the key takeaways was that nonprofits need to prepare to better resource content creators and speak their language.
If a creator googled your nonprofit and wanted to find information and resources to fundraise for you, what would their experience be like? Would they find a clear section on your website where they could get information and resources to fundraise for you as a creator? Would it speak to them? Most nonprofits would not have even considered them as a key audience for their website.
What about clear policies for creators? Nonprofits can get really nervous when a third party starts talking to them. But if you want to get serious about Instagram (and other platforms like TikTok and YouTube) you're going to have to invest in this area. You can find more tips and advice on how to build connections with creators and use collabs on Meta's Social Impact website.
3. You need a "short-form video first" strategy.
Meta says that 20% of all user time on Instagram is now spent viewing Reels. My prediction is that this will be over 50% VERY soon. So, if you're not already, it's time to get REALLY good at telling your stories in short-form video. This won't just pay dividends on Instagram but also TikTok, Facebook and YouTube.
When mobile usurped desktop, a lot of organizations went through a phase of pushing "mobile-first" strategies to make sure they made the transition fast enough. It's the same with short-form video. This is going to be the trend for the next 3 years at least. You need to chuck out your existing content strategy and go short-form video first.
Simply put, this is about getting really good at telling engaging stories about your nonprofit in very short length videos. The only way to do this, is to do it. Push out a video and study it. Understand where the engagement drops off. Then make another video and study it. Over and over. One of the key things I've learned is just how quickly people decide to move on from short videos and how you have to "hook" them in in the first second. Still, most nonprofit attempts I see take at least 3 seconds to really get into the story. Don't underestimate the power of that first second.
"Not another new format", I hear some of you groan. Yes – but here's the good news:
You can stop doing so much of the stuff you were doing before. Do less "Stories" and do more short-form video. Go where the eyeballs are going.
For nonprofits who are honest that they suck at content, this is a great opportunity to "leapfrog" over nonprofits who 18 months ago were ahead of them.
Top tip: You need people in your organization (or freelancers that are part of your team) who get short-form video. These "natives" will pay dividends over the next few years as your organization transitions to this new format.
4. Ads will still be a big part of any Instagram strategy (and that's a good thing).
One of the issues with Instagram is that the algorithm driven by Artificial Intelligence (AI) is just so good at serving up the content that we each individually find interesting.
"Why is this an issue?" I hear you ask. Well, it is when nonprofits are competing with cute animals and the latest dance craze for space in people's feeds. Who really wants to engage with difficult issues like hunger, cancer and animal cruelty when they can just watch cute ducklings riding on the back of even cuter puppies?
This is where the power of ads comes in. Ads are great because you can target who you want to reach, and control the message. You can override the algorithm. You still have to think about what users find engaging, but you now have the chance to get in front of them and tell them about your mission. The reality these days is that you just don't have this with organic content.
You can also control the scale at which you do this. For example, you can run a really small test to find out if something works, or you can scale up a campaign that's working to reach millions of people. Media spend in this way allows nonprofits to be strategic with their plans and not just "hope" on content to get viral engagement. You can test and plan out how much you are going to spend and what the results will be from that spend.
Another good thing here is that we are talking about using the same tools (rebranded to Meta Business Suite) as we've been using for Facebook Ads for a long time. So although Facebook and Instagram are different platforms, it's the same infrastructure for ads, with the same model of CPL, CPA etc.
5. Being early to the game will pay dividends in the future.
I think it's fair to say that Instagram is still missing that "killer feature" that really makes nonprofit fundraising take off. Facebook fundraising really took off when Facebook tested and saw the success of birthday fundraising. That was a multi billion dollar result, and it was the nonprofits that had an existing and engaged community on Facebook that reaped the results.
Instagram's big fundraising moment hasn't happened yet. But you know it will. Something will get big and get big quick. Having a strong Instagram presence before fundraising takes off will mean you raise much more money than if you had not invested already. And it's easier than it sounds as you can start straight away by inviting all of your Facebook connections to follow you on Instagram – so you'll have an engaged audience right from the get-go! Check out Nonprofit Megaphone's master checklist for more tips to start building your nonprofit's Instagram presence.
As George Michael said, "You just gotta have faith!"
Raise more money on social with GivePanel
Do you want to know how your organization can use Facebook Giving Tools to raise repeatable, scalable income? Book your 30 minute intro with one of our social fundraising specialists today.