Blog Facebook Birthday Fundraisers: How do they work and can you get more of them?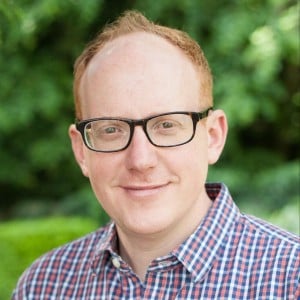 Facebook Birthday Fundraisers: How do they work and can you get more of them?
If your donors are anything like the rest of us, they don't need more stuff for their birthdays. A lot of us have too much as it is and believe it or not, we don't actually need another five pairs of novelty socks.
But what if there was an option for your donors to change their birthday from being about getting stuff to giving instead? That's where Facebook birthday fundraisers come in.
So, why should your charity care about Facebook birthday fundraisers, how does birthday fundraising work on Facebook and what can your nonprofit do to get more birthday fundraisers – and ultimately, more donations for your cause?
Over USD $1 billion raised from Facebook birthday fundraisers
Facebook birthday fundraising has been around for a while now but Facebook really cracked the fundraising code when they changed their messaging around birthdays to be about "giving" instead of "getting".
In fact, their messaging worked so well that it resulted in nonprofits raising over USD $1 billion from Facebook birthday fundraising as of September 2019. And now? We think it could be around the 2 billion US dollar mark even with an apparent recent decline in growth.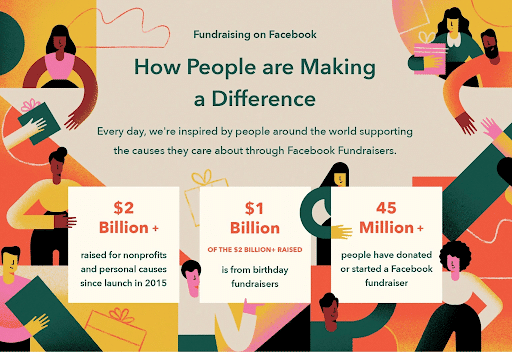 Many of our customers see Facebook birthday fundraising as a significant proportion of their income, with some customers raising millions of dollars, pounds, and euros from birthday fundraising.
However, in our recent 2021 Facebook Fundraising Benchmark Report, we found that between 2020 and 2021, birthday fundraising decreased in volume by 12%. This, combined with a 13% drop in the average raised, resulted in a meaningful drop in income from birthday fundraising.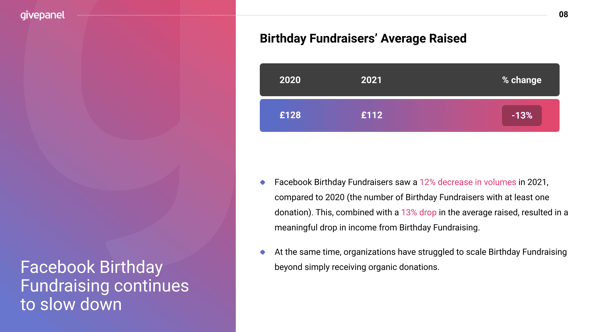 So, what does that mean for your nonprofit and what can you do to help generate more Facebook birthday fundraisers?
More Facebook Birthday Fundraising = more amazing supporters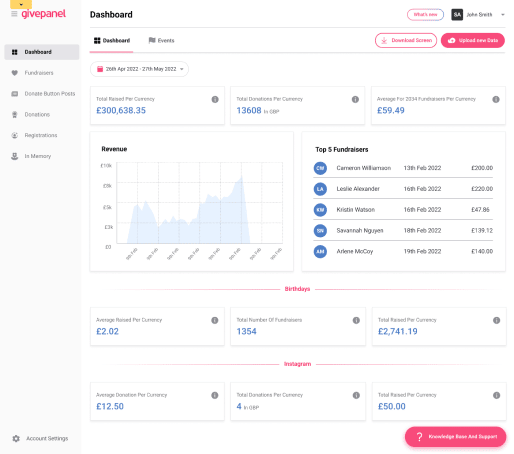 Despite the recent decline in income, birthday fundraising can still form a core part of your Facebook fundraising strategy and here's why. At GivePanel we see that a lot of these birthday fundraisers are not started by people who might be already supporting your charity, but by people who are not on your supporter database.
It's no surprise that those who donate their birthdays are amazing supporters as donating your special day can be a personal thing to do (and you only get one per year!) but how many supporters are actually choosing to do so?
Less than 1% of Facebook users have set up a birthday fundraiser
Facebook has stated that 45 million people have either donated or set up a Facebook birthday fundraiser, which only means one thing. There are a lot of people on Facebook that have not yet created a birthday fundraiser! In fact, we estimate that less than 1% of Facebook users actually have.
It's likely that if you ask the average person on the street, they probably have a Facebook account already set up but our guess is that they haven't done a Facebook birthday fundraiser. Even when we talk at fundraising conferences, we ask people to raise their hands if they've done a Facebook birthday fundraiser before and despite being in a room full of professional fundraisers, usually, not many hands go up.
How do birthday fundraisers work on Facebook?
Luckily, if you're a nonprofit, Facebook does a lot of the hard work for you. Firstly, they notify your supporters that they have a birthday coming up and prompt them to set up a birthday fundraiser – hello free advertising!
Next, the person clicks on that notification and is shown a drop-down list of charities from which to choose. From there, it's only a couple of taps before they have set up their birthday fundraiser which appears on their newsfeed and invites their friends and family to donate to that fundraiser. Here's a view of what this looks like from the Meta website: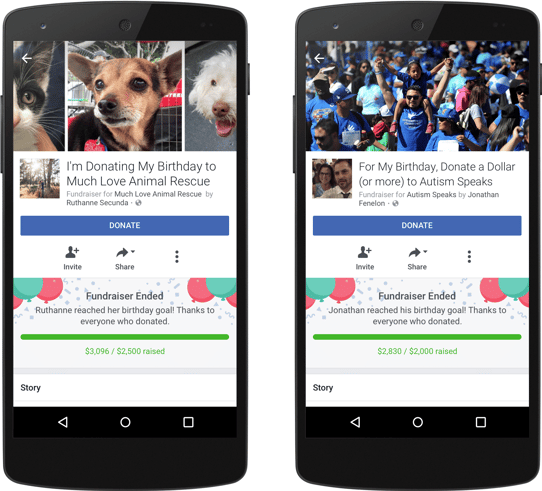 Facebook is a social network, and as a platform, has a tradition of celebrating birthdays. So as your friends and family prepare to wish you a happy birthday on Facebook, they're simultaneously invited to support your fundraiser. This makes it super easy for people to connect and raise money for your cause.
So, how do you get even more people to take this action, and pick you as their birthday fundraiser beneficiary?
How to get more people to set up Facebook birthday fundraisers
As birthday fundraising forms a core part of the Facebook fundraising mix for many charities, you'll naturally want more people to set one up for your cause. But how do you encourage this generous act?
We're going to look at 3 key steps to getting more Facebook birthday fundraisers for your charity.
Step 1 – Rank higher in the list of charities on Facebook
Here you can see a sample list of charities that Facebook provides to someone about to set up a birthday fundraiser: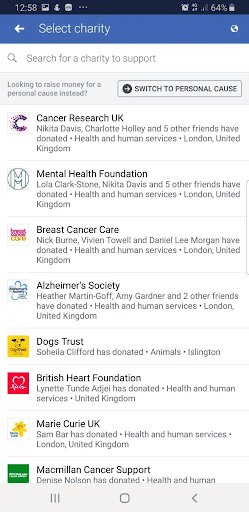 This list will look different for everyone. The charity ranking on Facebook varies per user. How high you rank for an individual depends on whether that person or their friends have engaged with your charity alongside other factors, such as whether Facebook is promoting your cause because of an emergency crisis.
But the main takeaway is that you will see a different list of charities than I would see on Facebook because it's contextualised to the user.
You can drive up your ranking for a wider pool of users, and get more birthday fundraisers, with a two pronged approach. First, focus on increasing engagement with your audience on Facebook by creating Facebook posts that get reactions and comments. It's as simple as it sounds:
Collect and consistently share moving stories that prompt reactions.
Take short videos of positive change that prompt happy, surprised comments.
Create a dialogue by asking for input on important decisions.
Every comment or reaction directly increases your ranking and, in turn, will directly increase the number of people who will see you on that list of charities to pick for their birthday fundraiser. Because if your friends, or friends of your friends, have donated to a charity in the past, then it's more likely to appear in your birthday fundraising list. The more people in my network that donate to a charity on Facebook, the higher it ranks for me.
If you look back at the screenshot above, you can see that the top charity listed is Cancer Research UK. Look a little closer and you'll notice that seven friends have donated to that charity. For that reason, it's at the top of the list. What this means is that driving more people to donate to your charity through Facebook is going to get you higher up the birthday fundraising list, which in turn is going to get you more fundraisers and ultimately, more people donating to your charity.
The second thing is to include Facebook as a donation platform for all of your appeals and campaigns. Make sure that you ask for donations on Facebook by building it into all of your fundraising mix.
One guaranteed way to drive up donations and fundraisers on Facebook is a Facebook Challenge. These virtual fundraising events, run entirely on Facebook, are a great way to acquire new fundraisers and raise serious cash for your nonprofit. In fact, in 2021 we found that Facebook Challenges were a key driver of Facebook income, with an average ROI of 4.2.
So to summarise, rank higher on Facebook's list of charities for birthday fundraisers with a two-pronged approach. Focus on increasing engagement with your charity's Facebook page, and always include Facebook as a donations platform in your fundraising mix.
Step 2 – Ask your ambassadors and supporters
It sounds obvious, but it's absolutely amazing how many charities aren't doing it. Appealing directly to people likely to support your cause will increase your number of birthday fundraisers.
Nothing But Nets, a charitable organization tackling malaria, is a great case study for this approach. They approached their ambassador Steve Curry, an NBA star, to try and raise $30,000 for his 30th birthday. How did they do? They smashed it, raising nearly $40,000 instead.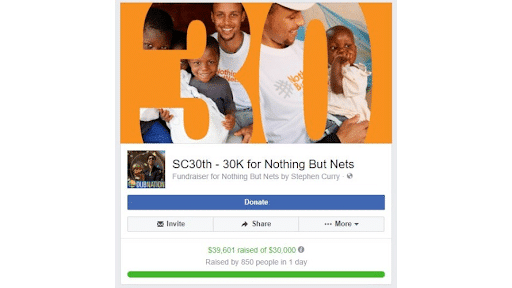 But you don't need an NBA star to succeed. You can work with any profile of influencer or ambassador connected to your cause. Ultimately, this is a chance for you to celebrate their big day and showcase their ability to lead positive change. You can approach them with a tangible need, a promotions plan, and the reassurance that Facebook birthday fundraisers are incredibly tried and tested as a fundraising vehicle.
Another more grassroots approach is to appeal to your warm supporters. You might have marked some of their birthdays in the notes or bio section of your database. But even if you haven't, you can include a very happy photo of a service user celebrating their birthday in your newsletters or emails along with a simple message:
"Happiness doesn't result from what we get, but from what we give. This year, give on your birthday with a Facebook birthday fundraiser."
Step 3 – Don't forget about Facebook Ads
Finally, the last step is to plan – right now – to run a paid Facebook birthday fundraising drive. Plan it during an awareness week, an awareness month, or a key time for your cause.
Many charities have awareness weeks or an awareness month around their specific cause. Those are the moments that you're naturally more front of mind. And they make for a great opportunity to run a paid campaign promoting the creation of Facebook birthday fundraisers. The best way to run that paid campaign is through Facebook ads.
We worked with a UK charity called Sands to do this, and they raised £68,000 / $90,000 in one month from Facebook birthday fundraisers alone – with just a £2000 / $2,500 ad spend.
Here's an example of one of their Facebook ads: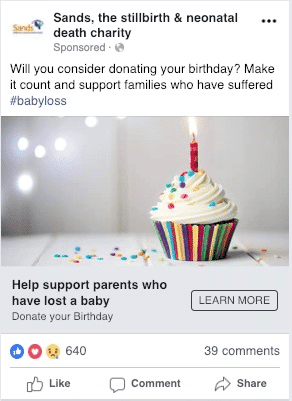 This strategy really works during awareness months and is a strategy you can repeat year after year to get more and more people to fundraise for you.
As a final thought, if your charity needs to scale up its fundraising during an emergency or time of crisis, then you should scale this strategy.
One of our customers saw an incredible 9,100% increase in the number of birthday fundraisers created while providing relief during the invasion of Ukraine.
But more Facebook Birthday Fundraisers is only just the beginning!
You should now be equipped with the 3 steps to get more Facebook birthday fundraisers for your charity. But that's only the beginning!
If someone chooses your charity to benefit from their birthday, then they are showing you a huge level of commitment.
Using GivePanel, you can write an on-page thank you to every single person who makes this choice. And with our tools, you can automate an email journey to them that brings them on board as monthly givers.
So if you have any questions about Facebook birthday fundraisers, and how to get more of these amazing supporters and retain them as monthly givers, do get in touch or start with a GivePanel demo.
Related Resources