Blog Key Findings from the 2021 Facebook Fundraising Benchmark Report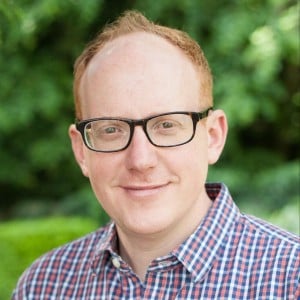 Key Findings from the 2021 Facebook Fundraising Benchmark Report
With data from over 240 GivePanel customers across the UK and Ireland, the 2021 Facebook Fundraising Benchmark Report is the most comprehensive report of its kind into the state of the Facebook fundraising landscape today. From birthday fundraising and Facebook Challenges, to stewardship and In-Memory fundraising, the report digs deep into the impact Facebook fundraising is having on annual charity income and why some organizations are seeing more impact than others.
But how does this relate to your nonprofit and what benchmarks should you be paying particular attention to?
In this webinar session, I'm joined by Carla Ankiah, Chief Strategy and Impact Officer for Autism Assistance Dogs Ireland and an expert panel to discuss the key findings of the report and what charities can be doing to maximize their Facebook fundraising income with actionable data and insights.
What we'll cover:
The benchmarks your nonprofit should be aiming for
Insights into the top 40 Facebook Challenges run by GivePanel customers in 2021
How to reduce your 'zero raised' fundraisers by 100%
A quickfire Q&A on issues charities are facing with their Facebook fundraising
Watch the webinar below, or keep scrolling to continue reading more insights!
Watch the webinar
What is the 2021 Facebook Fundraising Benchmark Report?
The 2021 Facebook Fundraising Benchmark Report is an essential read for any nonprofit fundraiser looking to maximize income. Produced by the team here at GivePanel and published in April of this year, the report collates data from 126 nonprofit organizations from across the UK and Ireland. Combining this with the data from 240 GivePanel customers, it provides an extensive look into the current state of Facebook fundraising. Split into four key areas, the report covers:
Income
Facebook Challenges
Resourcing Facebook Fundraising
Emerging Trends
How has Facebook fundraising grown since 2020?
It's fair to say that 2020 was a bumper year for Facebook fundraising and I probably don't need to explain why. However, income from the platform is still going strong and has in fact increased by 50% between 2020 and 2021, with some organizations increasing their Facebook income by more than 3 or 4 times year-on-year.

The data shows that the growth is largely driven by Facebook Challenges rather than birthday fundraising (which we'll explain later!) and by the increase in the volume of charities now using Facebook's Giving Tools.
Increase in income however does vary significantly between causes, with health charities seeing the most notable average growth rate of 383%. One to watch though is international development organizations who, after seeing very little growth in 2020, saw an average growth rate of 123% between 2020 and 2021.
What about Facebook Challenges?
If you're still new to the world of Facebook Challenges and are unsure exactly what they are, we've put together a handy guide for getting started (and trust me, you're going to want to when you see these results).
The benchmark report analyzed 300 Facebook Challenges that were held in 2021 in the UK and Ireland using GivePanel, and took the top 40 results in terms of total income for this data. The results were pretty impressive:
£181 average raised per Challenge fundraiser
£653,000 average total raised per Challenge
3,786 average active fundraisers per Challenge

Whilst these averages are enough to make your jaw drop, we took a deeper look at the differences between organizations and found:
The cause of a nonprofit has a significant impact on challenge results, with cancer charities dominating the space and homelessness falling a little short.
The type of Challenge can also affect those final figures, and whilst running Challenges proved most popular, it's important not to discount other Challenge ideas too quickly! Our advice is to stand out from the crowd and find a challenge that suits your audience. Check out these 5 Facebook Challenge fundraising event ideas for some inspiration.
Different Challenges brought in different results. Whilst step Challenges resulted in high volume due to the accessibility of the ask, dog walking Challenges brought in higher ROIs because of the cheaper dog bandana incentive.
A method to lower your cost per lead could be to run more targeted ads for specific challenges where you know the engaged audience.
The secret sauce in getting a group to fundraise is all to do with community management and having one person who drives the energy and engagement within the group. Our Product Manager, David Burns, knows a thing or two about engaging a Facebook Group and shares his 4 steps to get your supporters fundraising.
The big differentiator on ROI is the cost of using agencies, with those organizations that are handling everything in-house tending to have a higher return on investment.
How are charities staffing their Facebook fundraising?
A big reveal from the 2021 report was that out of the charities surveyed, one out of every four are hiring for Facebook or social fundraising management, indicating a strong investment in Facebook fundraising across the sector.
Despite this high figure, less than half of the organizations are managing their own Facebook ads for Challenges, whilst almost half of the nonprofits surveyed are fulfilling fundraising incentive packs in-house.
Autism Assistance Dogs Ireland have a handy tip for those looking to bring fulfillment in-house: utilize volunteers! By doing so, Carla says that there is minimal impact on staff time, freeing staff to manage other tasks.
But, what about how many hours it takes to manage Facebook Challenge groups? Well, this one is still up for debate. The report showed that for an 8 week campaign:
For a group size of under 2000, 23 hours were required
For a group size between 2000 and 5000, 34 hours were required
And for a group size above 5000, 41 hours were needed for group management alone.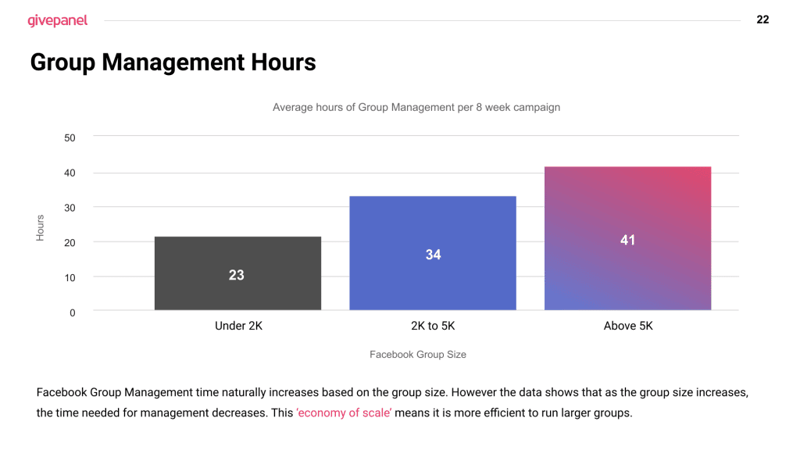 The general consensus within GivePanel is that these figures recorded are a little lower than expected. I put it down to two reasons; firstly that the way the question was worded in the survey causing a potential miscalculation, and secondly that organizations aren't investing enough in community management which offers an opportunity to invest and grow in that area of Facebook fundraising.
Either way, something charities should remember is that with Facebook group management, there are economies of scale. This means that as the group size increases, the time needed for management decreases meaning it's more efficient to run larger groups. And you know what that means, right? Time to scale!
Tell me more about Facebook stewardship
You'll have heard us talk a lot about stewardship before, and that's because we believe in the impact of nurturing and communicating with your supporters. And, we have the results to prove it.
In the report, we found that just by posting a message on a Facebook fundraiser page during a Challenge, you halve the number of "zero raised" fundraisers. Is that the easiest hack ever, or…? Yet despite the simplicity of the task, one third of charities surveyed are still not utilizing Facebook posts as a communication channel with their fundraisers which means that the opportunity still available is great.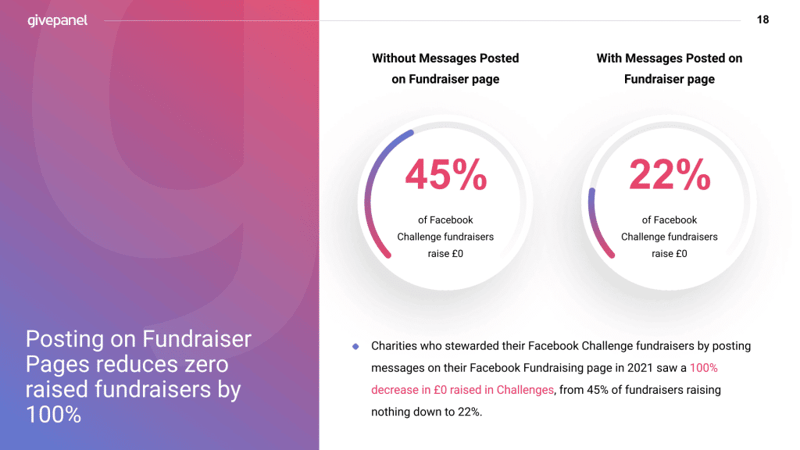 And Facebook posts aren't the only communication tool nonprofits have at their disposal for Facebook Challenges. It was recorded that only 9% of organizations list SMS as a channel they currently utilize, making it a key area for potential growth. Facebook Messenger on the other hand, received a zero rate response from survey respondents and so wasn't included in the final survey results.
What about other forms of Facebook fundraising?
The report also collected data on both birthday fundraising and In-Memory fundraising, with some very interesting results for both models.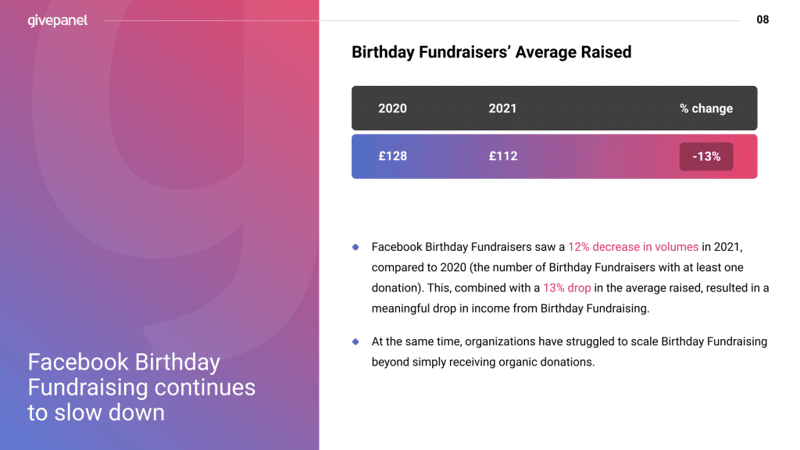 First up, birthday fundraising. It's here where we see a 12% decrease in the volume of birthday fundraisers on average and a 13% drop in average raised. However, the best way to promote birthday fundraising is by (can you guess?) running a Facebook Challenge.
When Facebook does the promotion of birthday fundraising, the algorithm on which charities are shown depends on whether friends have donated previously and if you have liked the charity page. So, by getting supporters to create a fundraiser before they anticipate birthday fundraising on your behalf, you will appear first in the list of charities on Facebook to those supporters.
The report also explored In-Memory Facebook fundraising and found that an In-Memory Facebook fundraiser raises six times more than a non-In-Memory organic fundraiser on Facebook. In addition, for Facebook Challenges, if the fundraiser was an In-Memory Fundraiser it raised double in comparison to non-In-Memory.
Want to explore In-Memory fundraising on Facebook? Read more about our In-Memory tool to help charities drive more In-Memory Facebook income through the same creation process as our custom Facebook fundraisers.
Now for the expert panel
We packed a lot of data into the 2021 Facebook Fundraising Benchmark Report, so we enlisted the support of an expert panel to help answer some of our attendees' burning questions.
Want to listen back to the Q&A from the webinar? Press play on the video at the top of this blog and watch from 36 minutes in to catch up with what our expert panel, including Jill O'Herlihy and David Burns from GivePanel and Rachel Curtiss from Versus Arthritis, had to say.
Download the report in full
Still to read the 2021 Facebook Fundraising Benchmark Report? Download it now.
Book a demo
Want to find out how GivePanel can supercharge your Facebook fundraising? Book your 30 minute demo with one of our awesome specialists today.
Related resources