Blog Case study: How one charity increased birthday fundraising income by 400% with Facebook Ads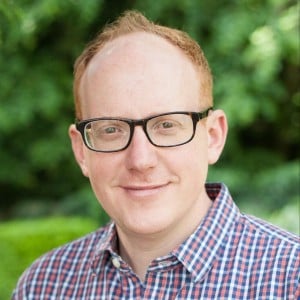 Case study: How one charity increased birthday fundraising income by 400% with Facebook Ads
Sands is the stillbirth and neonatal death charity. They operate throughout the UK and support anyone who has been affected by the death of a baby, working to improve the care bereaved parents receive, and promoting research to reduce the loss of babies' lives.
They do phenomenal work and since signing up to Facebook's Giving Tools, they receive hundreds of birthday fundraisers every month organically. Mostly this is thanks to Facebook's notification in people's newsfeed a week before their birthday to prompt them to set up a birthday fundraiser for the charity. However, during Baby Loss Awareness Week back in October, Sands decided to test pushing out their own messages to potential birthday fundraisers using Facebook Ads.
Here is what they did...
Picked a Key Moment
It makes the ask much more powerful if you tie it in with a key moment or campaign. You don't need to create something new for this – just look at what you already have coming up in your content calendar. For Sands, the perfect opportunity was during Baby Loss Awareness Week as it's a huge awareness week and gives people a personal reason to set up a fundraiser. There is also a natural urgency when there is a specific time-frame in which to do a fundraiser, which in this case was a week.
Targeted the Right Audience
The Facebook Ads platform allows you to easily target people based on their date of birth. But the key here is to target people with their birthday date AND who already know, like and trust you (for example they have visited your website or engaged with your charity's Facebook content already). This gives you a much better chance that they'll actually create a fundraiser for you and it means you are focusing your budget in the best possible way.
Tested Their Creative
The great thing about using Facebook Ads to promote birthday fundraisers is that you can test different creatives to see which resonates with people and inspires them into action. For example, for Sands they tested an amusing birthday image versus a more sombre candle image to see which would work best. And of course, you can turn off the adverts or creatives that aren't performing as well so that your budget can be spent on the advert that's performing best.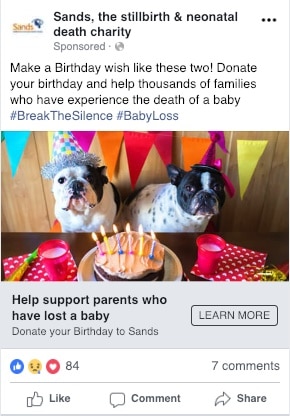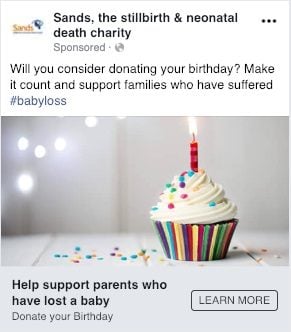 The Results
It worked! Sands increased their income from around £15,000 a month on average from Facebook Birthday fundraisers to £68,000 in the month of October (for Baby Loss Awareness Week) with just a £2,000 Facebook Ad spend. That's over 400% increase and an ROI of over 20:1! Amazing.
So that's how Sands did it. We've also written some top tips on how you can generate more Facebook fundraisers for free.
Related Resources