Blog Facebook Birthday Fundraisers: How to generate more fundraisers for free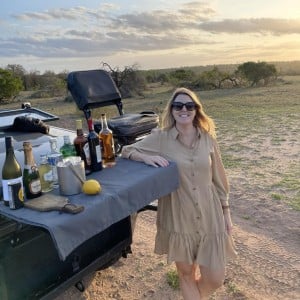 Kirsty Marrins
June 10, 2019
Facebook Birthday Fundraisers: How to generate more fundraisers for free
How can you market Facebook Birthday Fundraisers to encourage more people to fundraise for your nonprofit? Here are five ways – all for free!
Since the launch of Facebook's Giving Tools, $1 billion has already been raised for good causes around the world!
One of the most popular ways to fundraise on Facebook is by donating your birthday - in fact, over $300 million has been raised in this way. And it's still early days!
Facebook's Giving Tools are a fantastic source of income for charities, as well as an opportunity to build relationships with those who donate their birthday. But how can you market Facebook Birthday Fundraisers to encourage more people to do one for your nonprofit?
Here's five ways to market your Facebook Birthday Fundraisers, for free:
Add Facebook Birthday Fundraisers to your website
No doubt on your website you already have suggestions and ideas on how people can support your cause – whether it's a Fundraising A-Z or a Get Involved section. Make sure you add in Facebook Birthday Fundraisers, including what they are and how people can set them up.
If you have the resource, we'd recommend creating a toolkit where they can download images, copy on how people's donations will help your nonprofit, as well as advice on how they can reach their fundraising goal. See this post on how to create compelling copy for Facebook Fundraisers.
Include Facebook Birthday Fundraisers in your email newsletter
Whether you send out a monthly, weekly or one-off e-newsletters (or even a printed one), be sure to include Facebook Birthday Fundraisers. A top tip would be to send it out as part of a bigger fundraising campaign or around a milestone event. Be sure to mention that people can still set up a Facebook Fundraiser, even if it's not their birthday. We'd recommend including two links in your email – one link would take them to your website where they can find out more information or download resources and the other link would take them straight to Facebook to set up a Fundraiser.
Post your Facebook Birthday Fundraisers on Facebook
Obvious but effective!
Why not post on your Facebook Page encouraging people to set up a Facebook Birthday Fundraisers?
Give them a compelling reason why and use a great photo or even a video. You can also share some examples of successful Birthday Fundraisers in the comments to show what they look like and how easy they are to do.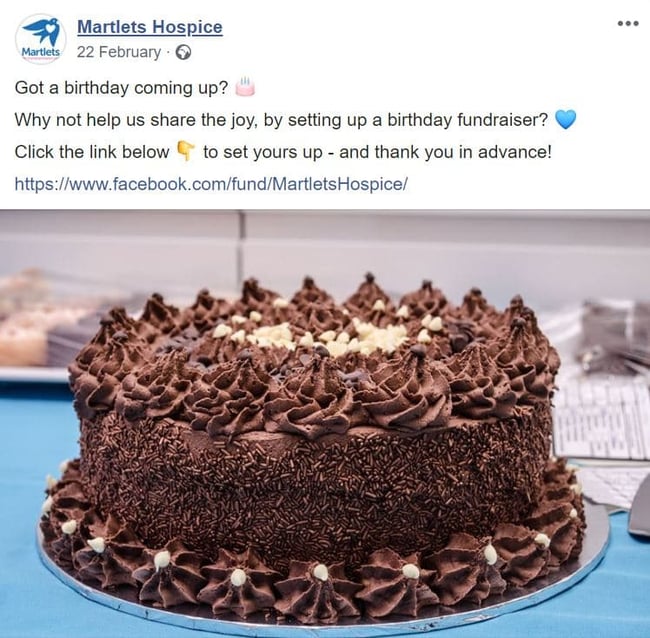 And of course, if you have budget, you can run adverts too to encourage people to donate their birthdays, like Breast Cancer Care has done in this example.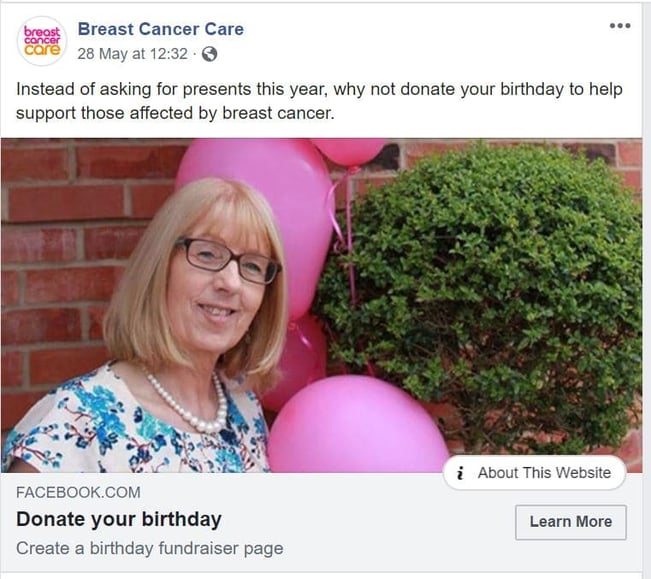 Include Facebook Birthday Fundraisers in your email signature
Just as you would market a trek or marathon places in your email signature, why not promote Facebook Fundraisers in your email signature?
Simply create a banner image, using a free tool such as Canva for Nonprofits, and add it in your Outlook signature (or whatever email provider you use).
Send it around your organisation and ask your colleagues to include it in their email signatures too.
Create a Facebook fundraiser acquisition strategy
Here's an amazing example of how to successfully market your Facebook Birthday Fundraisers strategically. Susan G.Komen Florida, a breast cancer nonprofit, launched a birthday campaign on 1st May. Through knowing the date of birth of their supporters, they've created a strategy to encourage people to create a Birthday Fundraiser for their non-profit.
Josh Hirsch, Director of Mission and Communication at Susan G.Kormen Florida, says:
"We send our supporters an email 30 days before their birthday, which has an animated GIF that sends them to a landing page with a video that encourages them to start a Birthday Facebook fundraiser. The platform we use to do this is called CauseVid.
Then, one week before their birthday they receive another email with an animated GIF that takes them to a different landing page with another video to again encourage them to set up a Birthday Fundraiser. It's been really successful for us and people love the video!"
As well as the emails wishing them 'happy birthday' and encouraging them to create a Birthday Fundraiser, they have also put together a toolkit which includes a recommended timeline, sample Facebook posts and images that they can use on their Fundraiser page, which shows how their donation will help.
Josh has even donated his own birthday to raise funds. Josh set his target at just $200, and every time someone donated they got a personalized video to say 'thank you', using CauseVid. Josh also kept updating his Fundraiser with mission driven content to draw the connection back to the cause and the organization and soon had to increase (and keep increasing) his target. His initial target of $200 eventually increased to $1,200!
So there you have it – five ways to market and encourage more Facebook Birthday Fundraisers – for free!
Related Resources