Blog Best practice for Facebook Challenge Ad Creatives (and the common pitfalls to avoid!)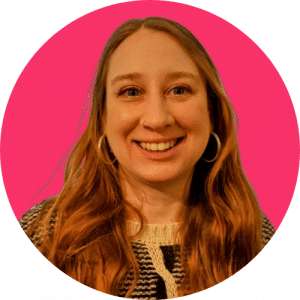 Danni Adam
September 8, 2022
Best practice for Facebook Challenge Ad Creatives (and the common pitfalls to avoid!)
For thousands of people, Facebook Challenges represent a fantastic offer - quick and simple sign-up, flexible participation, huge communities and tons of support. But for nonprofits, they only offer a fantastic return on investment if the right people take part. And that starts with the ads.
Facebook Challenges have been running on a large scale for over 3 years now, and while some charities are seeing year-on-year success with the same creative formula for acquisition ads, others are finding that adaptation is needed to recruit the best possible fundraisers and avoid that dreaded ad fatigue.
Here are my top 5 tips for creating scroll-stopping Facebook ads that will help your organization reach all of those untapped Challenge participants out there (yes, they really are out there!) as well as some common pitfalls to avoid.
1. Make the Challenge the focus of your messaging (but don't forget other motivations).
The first rule with any form of social media advertising is to be clear and concise. People need to know exactly what the Challenge is, when it's happening, and what incentive exists for taking part. This will take up a large part of your message text.
But that should not be the sole focus of your copy, and people will have different motivations for joining the Challenge which you can appeal to with your ads. You should apply the same principles of short and concise messaging whilst highlighting your nonprofit's cause, mission and impact. And don't forget to tell people about the community they will be joining as part of the Challenge Facebook Group. Create copy on different messaging themes to help you appeal to a wider audience and strike that balance between gaining volume and gaining dedicated fundraisers.
We recommend having a few text variants, focusing on different motivations and secondary asks. For example, one set of ads focused on Challenge and Group, one set focused on Challenge and Incentive, and one set of ads focused on Challenge and Cause.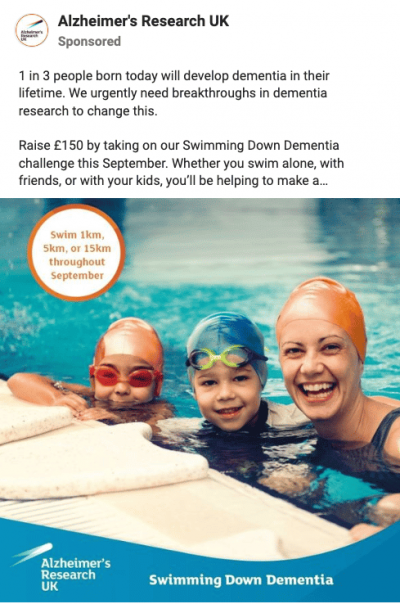 Whilst it is tempting to prominently dangle the carrot of a freebie, be wary of focussing too much on it. You may find you acquire lots of leads, but they are more likely to be inactive fundraisers or worse still… dreaded t-shirt bandits!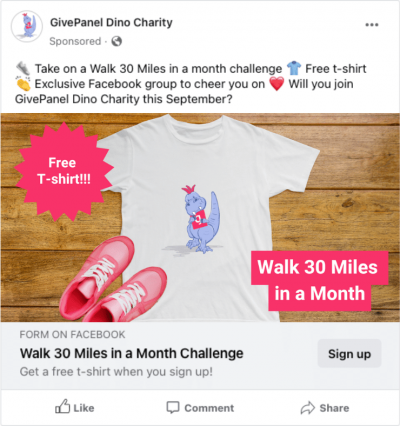 2. Give your different message propositions a fair chance in the ad auction.
If you loop Facebook ads together in the same ad set, they will automatically compete and one will get the vast majority of the budget. Sometimes that means the ad with the largest number of leads at the lowest cost wins over others. But the lowest cost sign-up doesn't always equal the best fundraiser!
By tracing the individual ad leads to fundraiser activation, tests have shown that while incentive-focused creatives can have a very low cost-per-lead, it can also have a very high cost-per-active fundraiser. Meanwhile, ads focused on both the cause and the Challenge can wield higher rates of fundraiser activation and return on investment.
Consider separating your ads on the different messaging themes into different ad sets so they can get a fair budget share.
3. Learn and adapt as you go.
Throughout your Challenge acquisition stage, it's really important that you monitor beyond the cost-per-lead. Look particularly at the cost-per-active fundraiser, the percentage of registration to fundraiser/active fundraiser, and the daily volume of leads to Facebook Group. These KPIs will tell if you are on track and also help to spot where adjustments to your creatives may be needed.
Featuring the incentive in ads can be a good lead magnet and will help you get the volume you need. However if you have lots of incentive sign-ups but below target % of active fundraisers, consider moving away from incentive-focussed ads and move more budget to other ads with different messaging.
Your results can help you decide where you might need to scale up and scale down your budget, but if you're a pro you could also use a VLOOKUP to match your Facebook Lead Report to your Fundraiser export from CSV. Then you will know exactly how each ad really performs.
4. Don't go overboard with the number of ads launching all at once.
Two years ago, Facebook announced they were going to begin limiting the number of ads a Facebook Page could run simultaneously. When announcing this, they warned of the negative effects of running too many ads:
"We discovered that four in ten running ads fail to exit the learning phase, and many of these ads come from advertisers running too many ads at the same time."
The learning phase is when the ads have gained enough of the required action (whether it be leads, donations, etc.) to build a profile of a more focused target audience. It's often considered that 50 conversions (in the Challenge case that would be 50 Lead Form submissions) is needed to exit the learning phase - but ads also need continuous data feedback to carry on learning and optimizing. If your budget is spread across too many ads, they never get enough data to keep optimizing. If your ads fail to exit the learning phase or take more than a day to do so, your budget per ad is probably too low.
Consider cutting back on the number of very similar ad image variants or using Dynamic Creative Ads. Dynamic Creative lets you upload multiple media (images, videos, etc.) and text options, and mixes them up to serve the perfect combination per target. Instead of having 4 different but very similar incentive-focused image ads, you can loop them together into one Dynamic Creative Ad. You can then have a different Dynamic Ad for each motivation theme.
Releasing content in waves is also a great way to help maintain momentum in a campaign. So, if you do have too many variants to choose from, hold some back and release them later; adapting them to the learnings from the results you are closely monitoring. Facebook wants new content, and with there being more and more advertisers, your ads only get a short window of time before they are pushed out to make room for others.
Years ago, I once had an ad that ran uninterrupted with excellent results for 5 months. These days I'm happy with a 2 week run.
5. Try new things!
Sometimes the tried and tested ad still works the best, so that is why we still recommend producing unbranded, simple, not too polished, Challenge-focused creative.
However, that doesn't mean you can't test and learn, and think outside the box. A cancer charity recently had a 15-second video as their top creative, whilst an animal welfare charity featured a cat prominently on their walking Challenge - tapping into the online cat obsession. Sometimes what works might just surprise you.
Don't be fooled by your "best performing" ads
When it comes to advertising your Facebook Challenge, you need to ask yourself the question - who will your ads appeal to most?
We see some charities being more excited by their Facebook Challenge ad results than by their Facebook Challenge fundraising performance. A low cost-per-lead is only good if it brings in high quality fundraisers. Often, Challenges fall apart because they ended up recruiting the wrong audience!
So, how do you know if your "best-performing" Facebook Challenge ads are giving you the worst results?
Follow these simple steps to find out:
Take the total media spend on your ads.
Divide total media spend firstly by the total number of fundraisers and then by the total number of fundraisers with at least 1 donation (depending on how up-to-date your income reporting is).
Project your performance if your recruitment continues at the same rate.
If you discover your cost-per-fundraiser/active fundraiser is too high or you aren't getting the volume you need, here is what to do next:
Rule out other factors: Test your calls-to-action to make sure they're clear and the links work.
Put in place some of the creative corrections outlined in section 3 above: This will depend on your results. Remember that raising the age targeting and removing Instagram as a placement helps to refine your audience.
Review the ads in terms of what is likely to bring in the best combination of quality and quantity: Are there any ads bringing in a better quality of lead? Use a VLOOKUP to compare leads to fundraisers to be really sure.
Move budget: Put more budget where you think there's better lead quality. Or better yet, make sure each Ad Set has a decent budget (more than they need) but with bid caps and Campaign Spending Limit to stop them getting out of control. You can usually adjust bid caps without resetting the learning phase, as long as they are in from the beginning. You can also switch off the Ad Sets which aren't performing, and then the others will automatically have more to spend before the Campaign Spending Limit is reached.
Start afresh: Duplicate the best quality ads into new Ad Sets with their own budget (or new Campaigns if you have Campaign Budget Optimization on). Also keep it fresh by adding in new creative based on lessons learned.
Remember, if you make significant edits to individual Ad Sets or ads, they will re-enter the learning phase which may slow progress. So it always better to separate creative and audiences into individual Ad Sets which have their own budget. That way you can switch them on and off, or duplicate and replicate to build on success.
If you choose to use Campaign Budget Optimization it will give the majority of the budget to just one Ad Set. This is either the one with the biggest audience, or if the audience are the same size, it will be the one with the lowest initial cost-per-lead and will continue to favour this Ad Set even when you add new ones in. It might make monitoring ads a bit easier, but it also could be prioritizing your budget to the more 'click bait', lower quality ads.
Book a GivePanel Demo
Want to supercharge your Facebook Fundraising? Book your 30 minute demo with one of our awesome Facebook Fundraising specialists today and get started!
Related Resources