Blog Five reasons NOT to contact the donors of Facebook fundraisers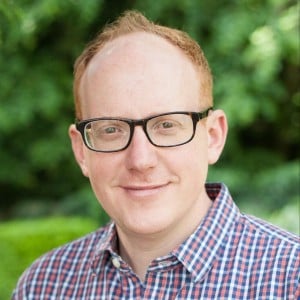 Nick Burne
October 15, 2019
Five reasons NOT to contact the donors of Facebook fundraisers
We like to say that there are two different types of donors: those who donate directly to the nonprofit via the Donate button (we call these "direct" donors) and those who sponsor a friend via a fundraiser (we call these "sponsor" donors). In this blog post we are talking about whether or not we should contact (thank) sponsor donors.
For nonprofits, Facebook fundraising opens up a whole new revenue stream. No doubt you've probably had a fair amount of Facebook fundraisers set up for your cause with minimal effort on your part. It's easy to get carried away with the potential that this brings and try and do too much.
We believe that nonprofits do not need to thank every donor of every fundraiser (sponsor donors) and here's why….
Reason 1: They've ALREADY been asked to opt in
The Facebook donate process asks every donor if they want to be added to your email list.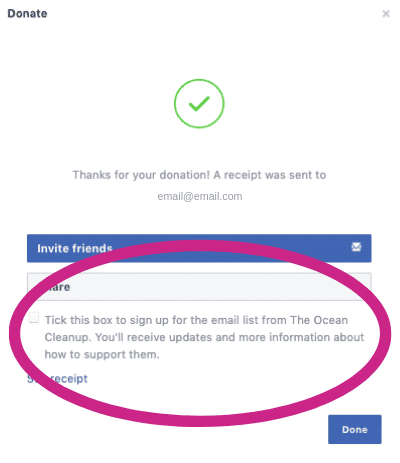 For those who do choose to hear from you, you'll find them in your transaction reports as you'll be able to see their email address. If you use GivePanel, you'll find them in the donations section.
Reason 2: They are not YOUR donors
When someone sets up a fundraiser for your cause – whether it's to celebrate their birthday, they're running a half marathon or even to raise money in memory of a loved one – people who donate to it are doing it really to support their friend, rather than to support your cause. This means that sponsor donors are essentially 'cold' prospects.
Remember, it all comes down to their motivations for donating. They're supporting their friend who has chosen your cause because it's close to their heart. It's not necessarily close to theirs. They will be already supporting the causes that are meaningful to them. Plus, if they really are interested in hearing from you, they can opt-in when they're asked by Facebook.
Reason 3: It's a massive waste of time!
Time is one of the most valuable resources that a nonprofit has, so spend it wisely. Remember that for every 100 fundraisers there are thousands of their friends who have donated to their fundraiser and you don't want to be investing time in engaging with them all. Especially when they have already been asked to hear from you and they are not great prospects anyway.That's a lot of work, which is really time consuming for minimal return – if any.
Reason 4: It will probably FREAK-OUT fundraisers
As we mentioned in one of the previous points, people who donate to a friend's fundraiser are doing it to support their friend and not necessarily your cause. They've already been asked by Facebook to opt in so if they've not opted in, that means they don't want to hear from you.
By going on to their Fundraiser page and thanking all their friends who have donated to it by liking or commenting on their post, it looks spammy and is likely to upset your fundraiser. Instead, focus on helping the fundraiser to thank their own donors!
Reason 5: They've already received a receipt
You may not know this, but every person who donates on Facebook or who sponsors a friend, receives a receipt by email from Facebook. So whilst you may want to ask the person who sponsored or donated to their friend's fundraiser for their email so that you can send a receipt yourself, they have actually already received one.
So, there you have it. Five reasons why it's not a good idea – or a good use of your time and resource – to contact the people who make a donation to a friend's fundraiser. Instead, spend the time thanking and stewarding the person who set up the fundraiser, as they clearly are close to your cause.
Related resources