Blog Top insights on Instagram Donate from WWF UK

Nicola Gee
November 13, 2019
Top insights on Instagram Donate from WWF UK
Instagram's donations sticker allows people to raise money through Instagram. Nicola, Senior Social Media Manager at WWF UK, tells us her experience of using Instagram Donate.
As like many other social media teams in the charity sector, we at WWF UK were excited to try Instagram Donate as a new addition to one of the fastest growing social media platforms.
We wanted to discover how it could aid our Facebook fundraising efforts and enable us to get closer to our audience, understand what motivates them to support us, and help them join our mission to fight for our world.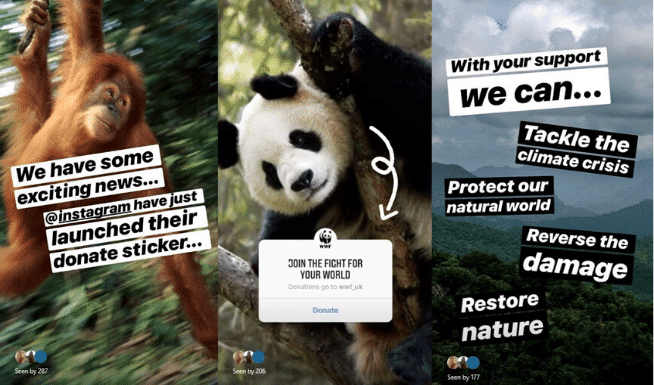 It's widely known that younger generations on average give lower donations than older generations. Our own research at WWF-UK shows that younger demographics are more likely to give one-off donations than sign up for a monthly direct debit.
Are Instagram donations rolling in?
Our experience at WWF-UK shows that this feature is still in its infancy – not only from a technical point of view, but also from a supporter perspective.
It isn't a well-known feature and therefore not the obvious choice for a supporter if they want to raise money for their chosen cause. Competing for their attention is the likes of JustGiving, Virgin Money Giving and Facebook fundraisers to name but a few.
Adding Instagram donation sticker to your charity's Instagram story
The design of the sticker is pretty good; it's obvious what you want the supporter to do and we love the ability to customise the heading!
But the journey for the supporter to donate is clunky. After hitting the donate button and selecting the donation amount, supporters are met with multiple forms – and this isn't including the GiftAid form they would need to fill in if they opted for this option!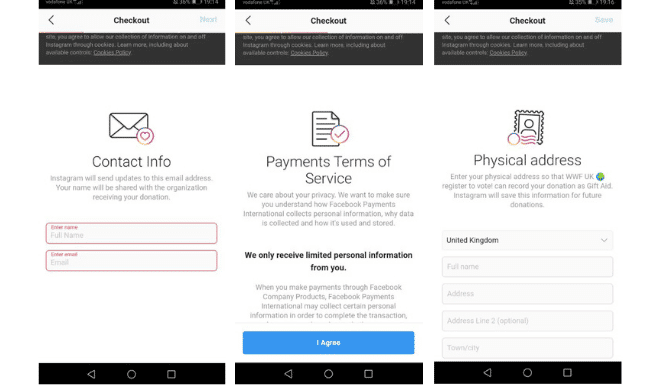 It's obvious that this is a big barrier for supporters. However even if this was resolved, the knowledge that the Instagram donation sticker is an option for supporters will take time to develop.
Facebook predict that it will take at least six months before the donation sticker starts to gain traction. This golden nugget of information was also paired with the insight that in the US, thousands of donations have been raised through this feature in response to international crisis.
Three weeks after the donation sticker launched, the news that many parts of the Amazon rainforest were burning hit the headlines. Soon after our tweet and Instagram post on this devastating story went viral, we were met by hundreds of people asking how they can donate to help stop the fires. In response, we launched an emergency appeal but also gave supporters the option to donate on channel.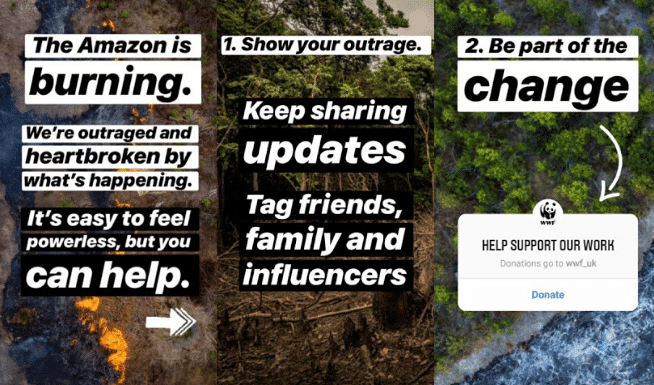 However, even when providing our supporters with what they wanted and needed, the donation sticker raised around £4,000 in comparison to the tens of thousands of donations brought in through Facebook fundraising on our channel posts, Facebook birthday fundraisers set up by individuals, and donations through our website (including where supporters had 'swiped up' or accessed our website via our Instagram link in bio).
This total includes donations raised from influencers who used the donation sticker organically, yet we saw that most influencers – known and new to WWF-UK – preferred to swipe up to our website or tag our Instagram account for their followers to go to so they could act.
Should charities use the Instagram donation sticker?
Use this time to test, test, test!
For instance, we're testing the feature on awareness days to see if our audience are more likely to give a one-off donation than sign up for our popular animal adoptions.
When asked on Instagram how people can support us or asked by influencers what they can do to help, we're recommending that they set up a donation sticker and tag us, so we don't miss it.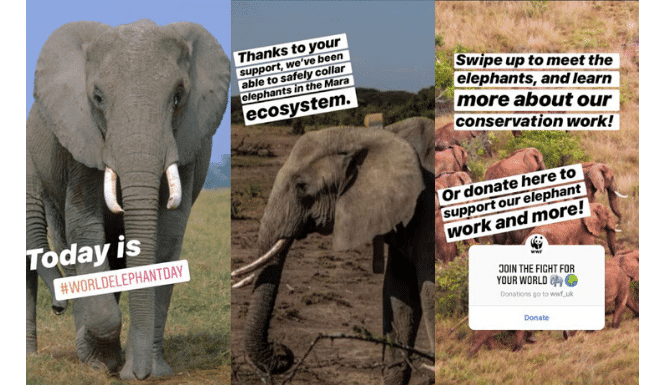 As with all new features, it takes time for them to become a thing – and even then, they might not last (remember the days of Google+…). But if they do, as we saw with Instagram stories themselves and we're now seeing with IGTV, it's important that charities create familiarity with their audience.
Instagram has rolled out the donate button to all charities in Europe – a feature which WWF-UK are currently testing for Instagram as you can see on our profile. And who knows what the next charitable giving tool to reach the market will be!
Give the Instagram Donation sticker a go
If I've convinced you to give the Instagram donation sticker a go, read on for answers to some of the most common questions asked about this feature:
How do you thank supporters when they add the sticker to their own stories?
Before launch we were informed by Facebook that charities would be notified by direct message whether a supporter has used the donation sticker, regardless of whether they tag your account. However due to technical issues, this element was dropped.
We've been informed since that Facebook are working on getting this right as a top priority, but the timeline for this is unknown. But once it's in place, I'm sure that it will make charities a lot happier.
For now, we're only able to thank supporters that tag our profile. We do this through using our branded thank you GIFs and sharing a certificate which they can screenshot, customise and share on their own stories.
We use this tactic for when supporters donate through WWF-UK's stories as Instagram details which accounts have donated and provides the direct message function.
How long does an Instagram donation sticker last?
Donation stickers last 24 hours unless the user adds the story to their highlights section. This can be particularly useful for supporters who want to ask their audience multiple times to donate, for instance, if they are fundraising for a challenge event.
At WWF-UK, we added our stories on our Amazon emergency campaign to our highlights but only gained a few donations through the donation sticker after the initial 24 hour period. We are keen to create a really slick 'what we do' instagram story that will have an Instagram donation sticker as the main call to action and will sit as an evergreen highlight – watch this space!
How do you work out how much you have raised through Instagram?
When using the donation sticker on your charity's stories, the total is given when you access the stories archive. This is also detailed on the transaction report that you can download via Facebook.
Despite being a shared report on donations raised through both Facebook and Instagram, it is clear which channel out of the two funds have come from. The source name for donations made via donate stickers appear as 'ig_donation_sticker'. However unlike Facebook fundraisers which reveal a direct link to the fundraisers where donations have been made, the permalink for sticker donations unhelpfully appears as instagram.com.
Best practice tip: change the headline of your donation sticker each time you use it so you can identify on your transaction report where donations have come in from your own stories.
This report only provides details of donors, not the fundraiser. Without the details on the fundraiser, you are unable to thank the fundraiser or the donor when the donation has taken place outside of your charity's own stories.
Can Instagram fundraisers or donors opt in to charity marketing?
There currently isn't an option for fundraisers or donors to opt-in via Instagram donate. Our experience with Facebook fundraising is that most supporters don't opt in but instead of wondering how we can change this, we accept this.
If someone chooses to engage with your charity on a social media platform, it's likely they will keep doing so. Our job therefore is to keep our channel fresh, exciting and worth our supporter's valuable social media scrolling time!