Blog 7 ways to keep your Facebook Challenge Group engaged all month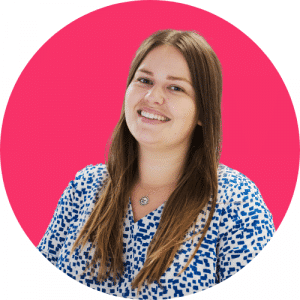 Cat Cetnik
April 13, 2023
7 ways to keep your Facebook Challenge Group engaged all month
Did you know that the volume of group engagement during a Facebook Challenge has a direct and positive correlation with income raised?
The incredible team at Alderson Fundraising, the experts in Facebook group moderation, have dived into no less than 73 UK and Irish Facebook Challenges from across a range of causes, charity sizes and Challenge type to find out, once and for all, what key factors make an engaged Facebook group that fundraises for your cause.
Ahead of them publishing their research, we've had a sneaky chat with them to get the hot take on the best ways to keep your Facebook Challenge group engaged for an entire month (and get them fundraising).
1: Turn up and be present
–

consistently!

The first and most important tip for building an engaged group of Fundraisers for your next Facebook Challenge is a pretty straightforward one… just be there!

Be sure to show up to support the people showing up for your charity throughout the entire Challenge. It might mean your team has to cover shifts of group management for a number of weeks and do a few weekends, but you will reap the rewards of putting in the time. As we said right at the beginning, the volume of group engagement during a Facebook Challenge has a direct and positive correlation with income raised. So time spent in the group = more dollars raised for your cause.

Top tip: if you don't have internal capacity for group moderation but you want to run a Facebook Challenge, why not trust in the experts at Alderson Fundraising to do it for you.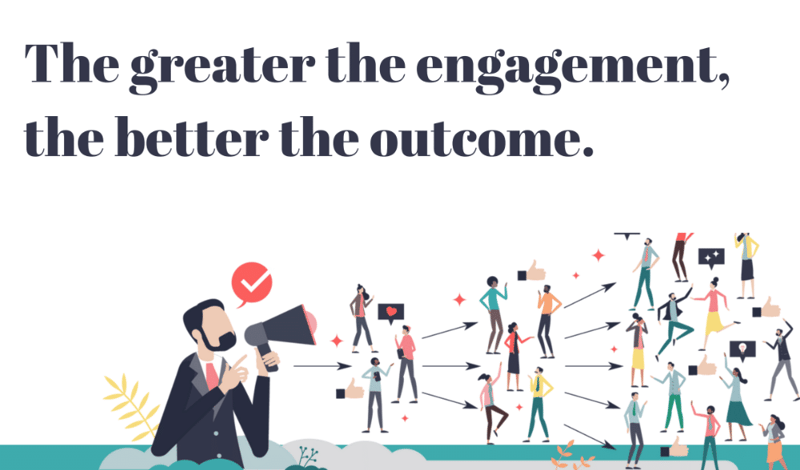 2: Value participants as individuals
Each person in your Facebook Challenge group is taking on their own unique challenge and will have their own reasons why they want to take part. Their experience and portrayal of your charity will depend hugely on the support they receive from you, so be sure to make them feel like a valued and important part of the group. It's the little things that people will remember; use their name when you are talking to them, pay attention to the things they've mentioned before, and personalize the fundraising advice you are giving them.
Top tip: ensure you acknowledge every aspect of their post or comment and answer any questions or concerns your Fundraisers may have as quickly as possible.
3: Positive vibes, always
Nurturing a positive space within the group is an important aspect of any nonprofit's moderation plan, but it can be a challenge when you have such a broad range of individuals who may have experienced difficult things in their life. However, regardless of what gets shared, it's important you find positivity and celebrate achievements as often as possible.
Top tip: keep it human and informal – respond to supporters and celebrate them in the same way you would with a friend, family member or colleague.
4: Create a safe space where people feel comfortable
In any online environment you have potential issues you need to think about to help safeguard your event participants. One of the roles of a moderator is to help control the narrative, keep the group focused and fundraising, and safe from any improper communications. To achieve this, make sure to create solid foundations to protect your participants and have clear and concise group rules that are applied consistently across your moderation team.
You can also use the moderation alerts function to your advantage by selecting key words and themes to be flagged to your team automatically; this ensures you're pulling those needles out of the haystack and removing any comments or posts that are obscure, diluting the purpose of the group, or do not add value.
Top tip: maintain a strong and consistent presence in the group throughout the Challenge so people feel well supported and issues do not escalate.
5: Curate content that is fun, clear and engaging
Good moderation isn't only about responding to user generated posts; it's also about sharing engaging content. Good Facebook Challenge content helps increase conversion rates, raise awareness of the importance of your cause, and also keeps participants engaged throughout the entirety of the Challenge. The experts at Alderson Fundraising recommend creating a weekly content plan across a number of core themes:
Cause-related content
Fundraising income updates
Fundraising tips
Conversions and general engagement
Top tip: pick one piece of content per week to use with the new @everyone feature to maximize impact. This could be your team fundraising total update, a fundraising tip, or just a lovely thank you message! Just make sure to mix it up so members stay engaged.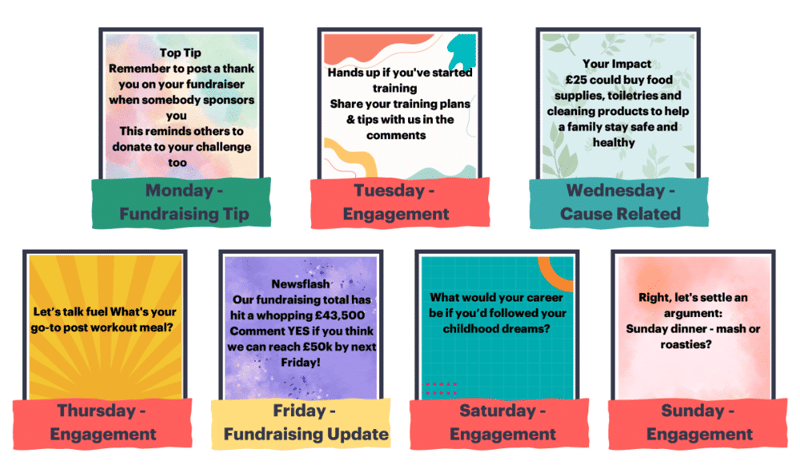 6: Post regular total raised updates
The key during these month-long Challenges is to get your participants invested in the bigger picture and the wider impact they can have on your amazing cause. A great (and simple) way to do this is to post a team fundraising update in the group once a week – letting supporters know how their collective efforts are mounting up and making a real difference. These can be easily supplemented with some meaningful price point examples to really put into perspective how being a part of this Challenge is helping your charity's work.
Top tip: alternate your call-to-actions each week to see what improves engagement for you. For example, on one fundraising update you may ask them to comment with an emoji; other days you could try asking people to share a GIF.
7: Monitor your performance (and don't be afraid to course correct!)
Plan in time in your diaries to have weekly reviews of group content, performance, analysis and benchmarking. It's really worth spending the time on this as you can then use this information to tweak your content schedule for the week ahead, plan any additional messaging, or flag any issues or concerns to your team of moderators. Remember, the group is a key part of any event and a fantastic resource for you to tap into when you need to improve particular aspects of the Challenge. So, if you find yourself falling short of a particular target, take stock and think about what small changes can be made to help improve group performance and that all-important Fundraiser activation!
Top tip: act early and use the data to help you – don't wait until the final week of the Challenge to start pushing fundraising activation messages!
Trust in the experts for your next Facebook Challenge
Want to supercharge your next Facebook Challenge and smash those income targets? GivePanel are excited to have partnered with Bluestep Solutions and Alderson Fundraising to offer a comprehensive, full-service Facebook Challenge package for UK and Irish nonprofits. Find out more by booking a demo or taking part in this short quiz!
Just interested in group moderation? Alderson Fundraising are always up for a cuppa and a chat (virtual or otherwise) so please do drop them an email at helen@aldersonfundraising.co.uk or contact them on LinkedIn if you'd like to chat through anything group moderation.
Related resources