Blog A simple guide to Facebook Fundraising Transaction Reports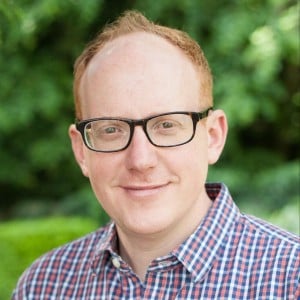 A simple guide to Facebook Fundraising Transaction Reports
If you're not an Excel wizard, we know that trying to make sense of your Facebook Fundraising transaction reports can be hard.
That's why we built GivePanel - to make it as easy as possible to see all of your fundraising data in one place and to help you to manage your fundraisers effectively.
Here is a quick guide to the transaction reports, plus a handy glossary of terms.
Please note: This guide is for those who have had their Facebook page migrated over to the new pages experience. If you're on the old page experience, the steps you'll need for finding the transaction report can be found in our knowledge base.
Where to find the Facebook multi-day transaction (donation) reports
Firstly, what is this report we're talking about? Well, the Facebook multi-day transaction report contains information on all of the donations your nonprofit has received through Facebook's Giving Tools. This information is important for seeing who your donors and fundraisers are and for reporting purposes.
Now, where do you find it? Follow the steps we've outlined below to find and download your charity's report.
Step 1 – Select 'Fundraisers' located at the top of your charity's page and then ''Donation settings'' from the drop-down over on the right.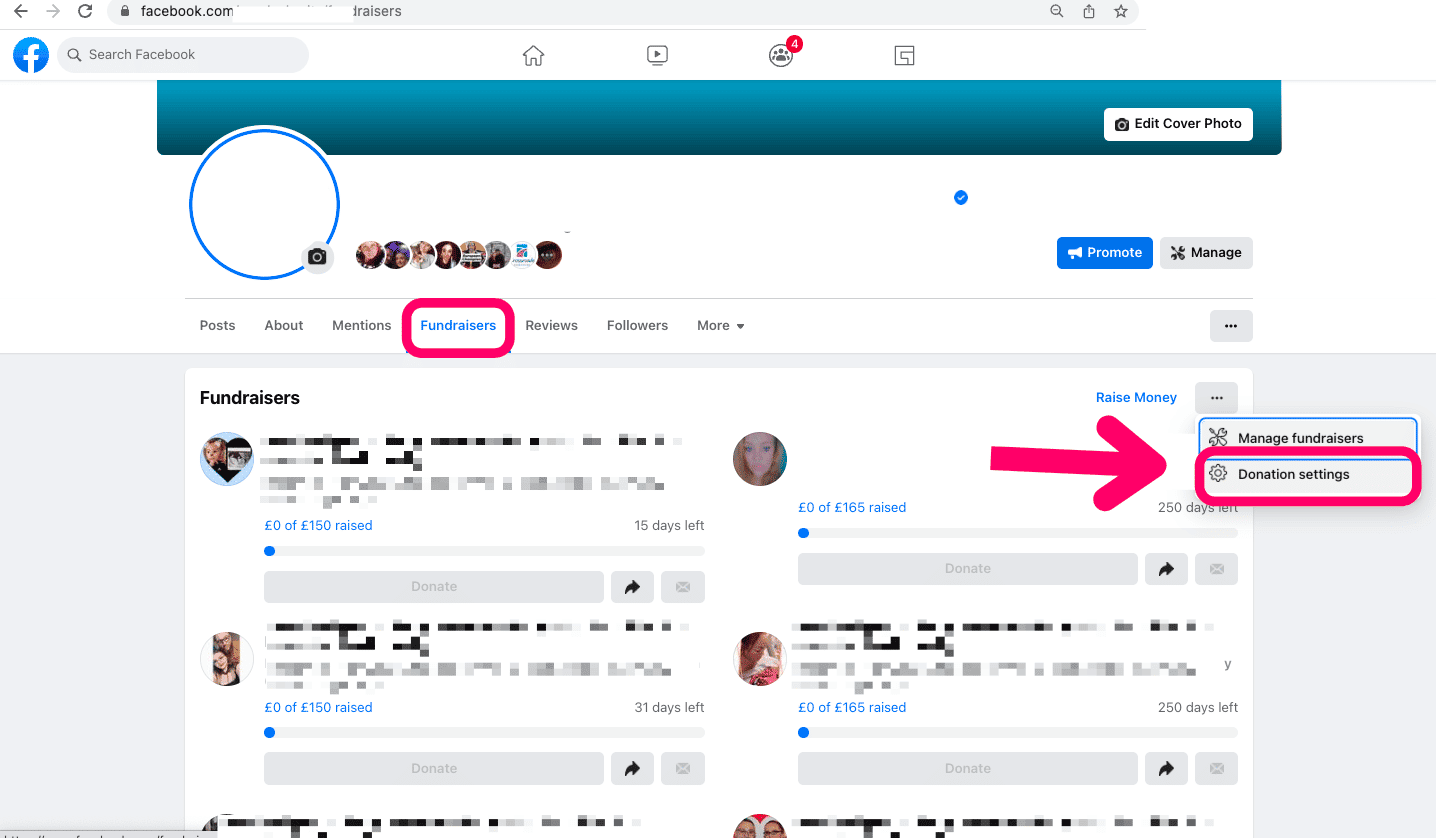 Step 2 – Click on ''Get Donation Reports''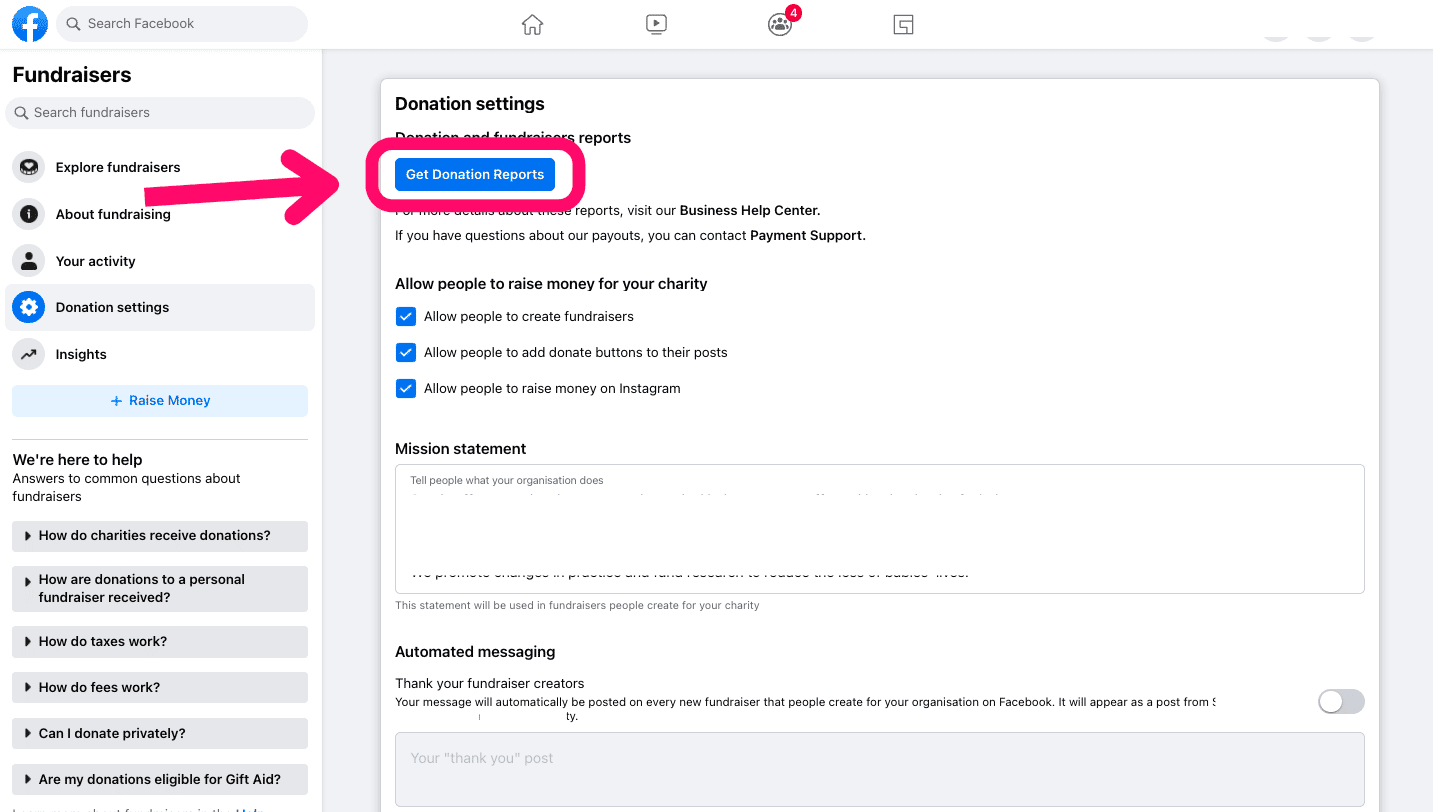 Step 3 – Select ''Multi-day transaction report'' and choose your desired date range. Add in the email address that you would like this report to be sent to and select ''Email Reports''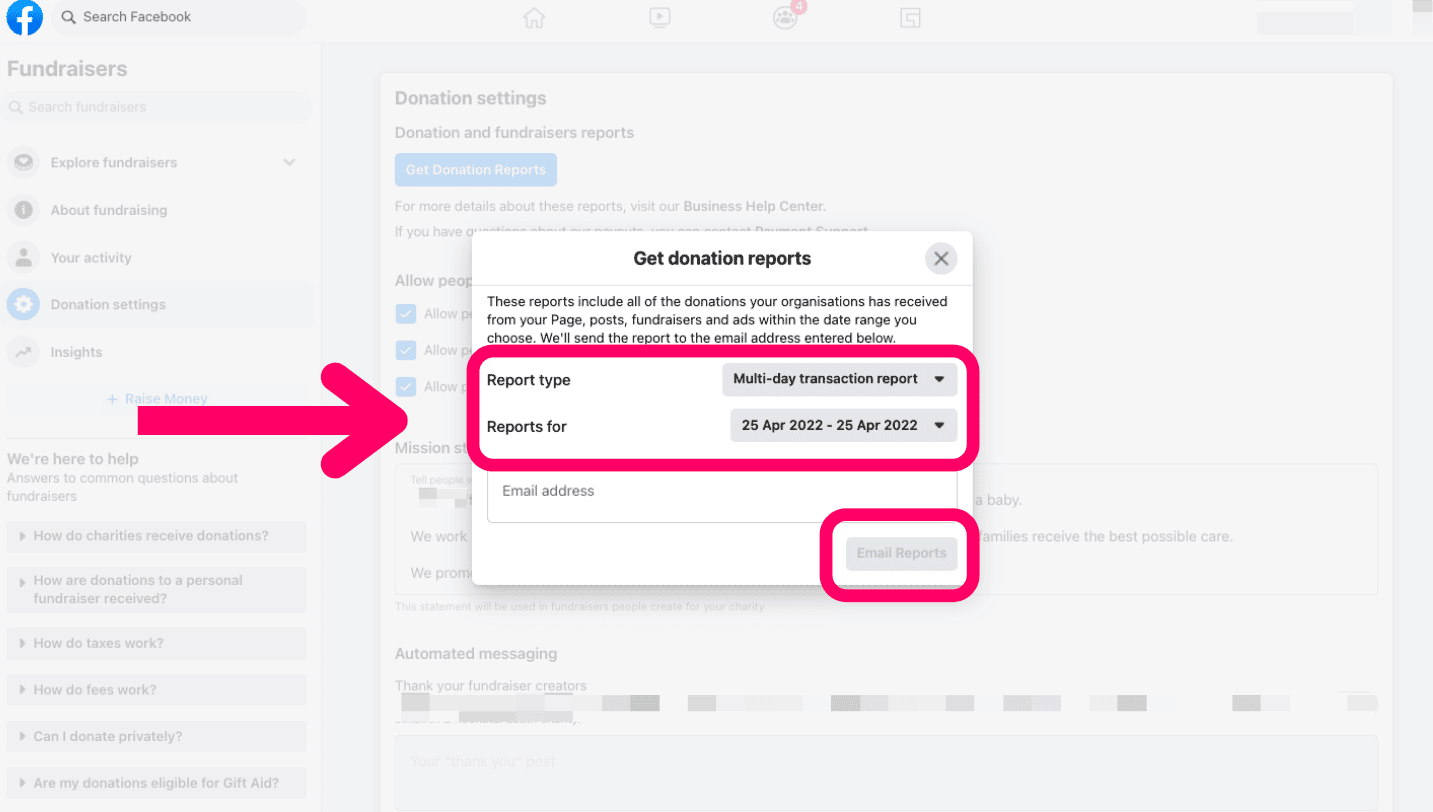 There are two report options: Multi-day transaction report and Payout report. The Payout report shows the funds that will be transferred into your account. The Multi-day transaction report includes detailed information on each donation made to your organization, stating whether the donation was through the donate button or through a fundraiser.
The Facebook Multi-day transaction report includes fields such as First name, Surname, Amount donated and Email address (if the donor decides to share it). The Multi-day transaction report will be emailed to you as a .csv file which should look a little like this: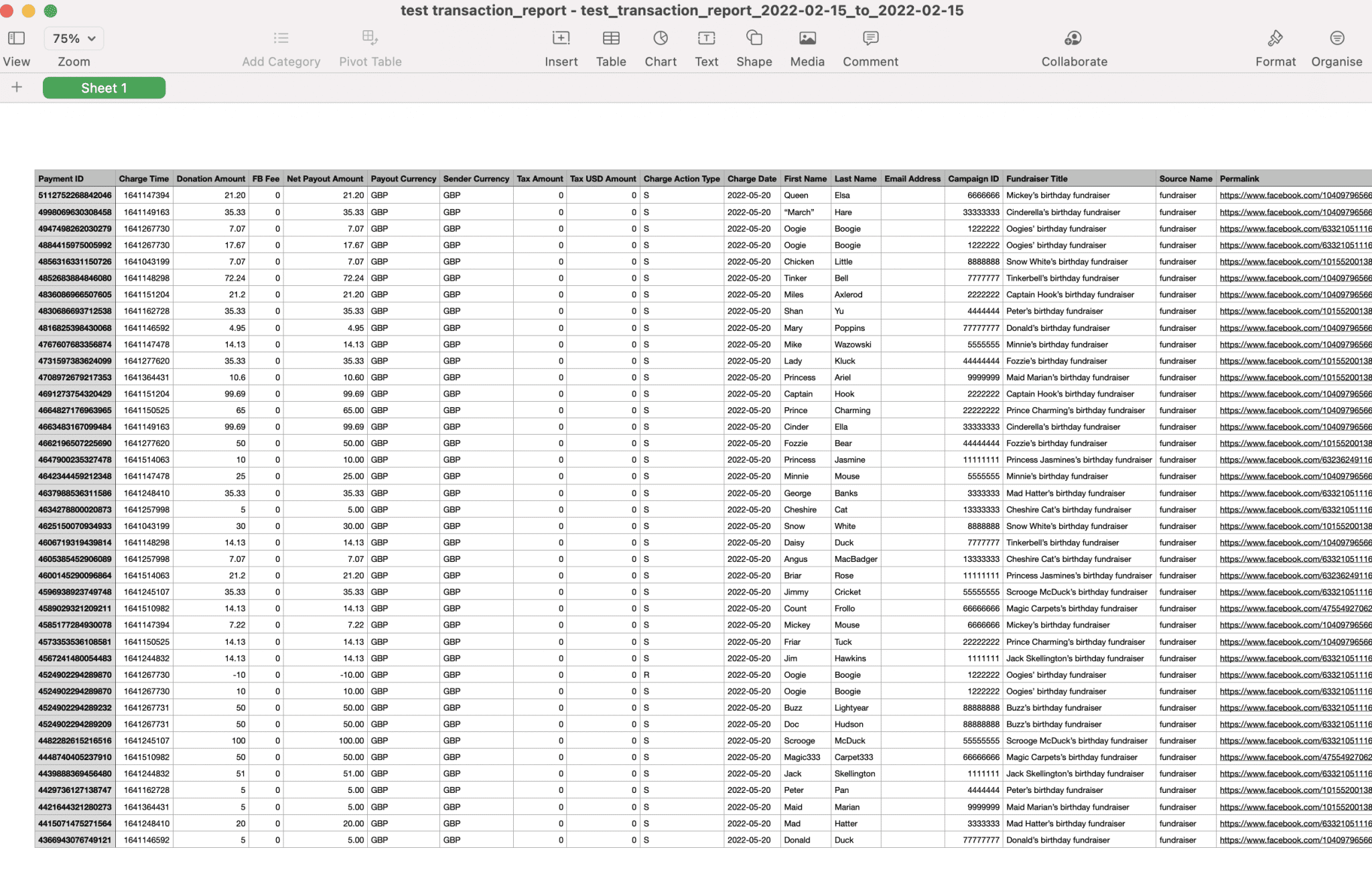 Don't forget there can be a delay from when a transaction happens to when it will populate in the transaction data.
Understanding what data is contained in the transaction report
Here's a handy glossary of what all the different columns and terms mean: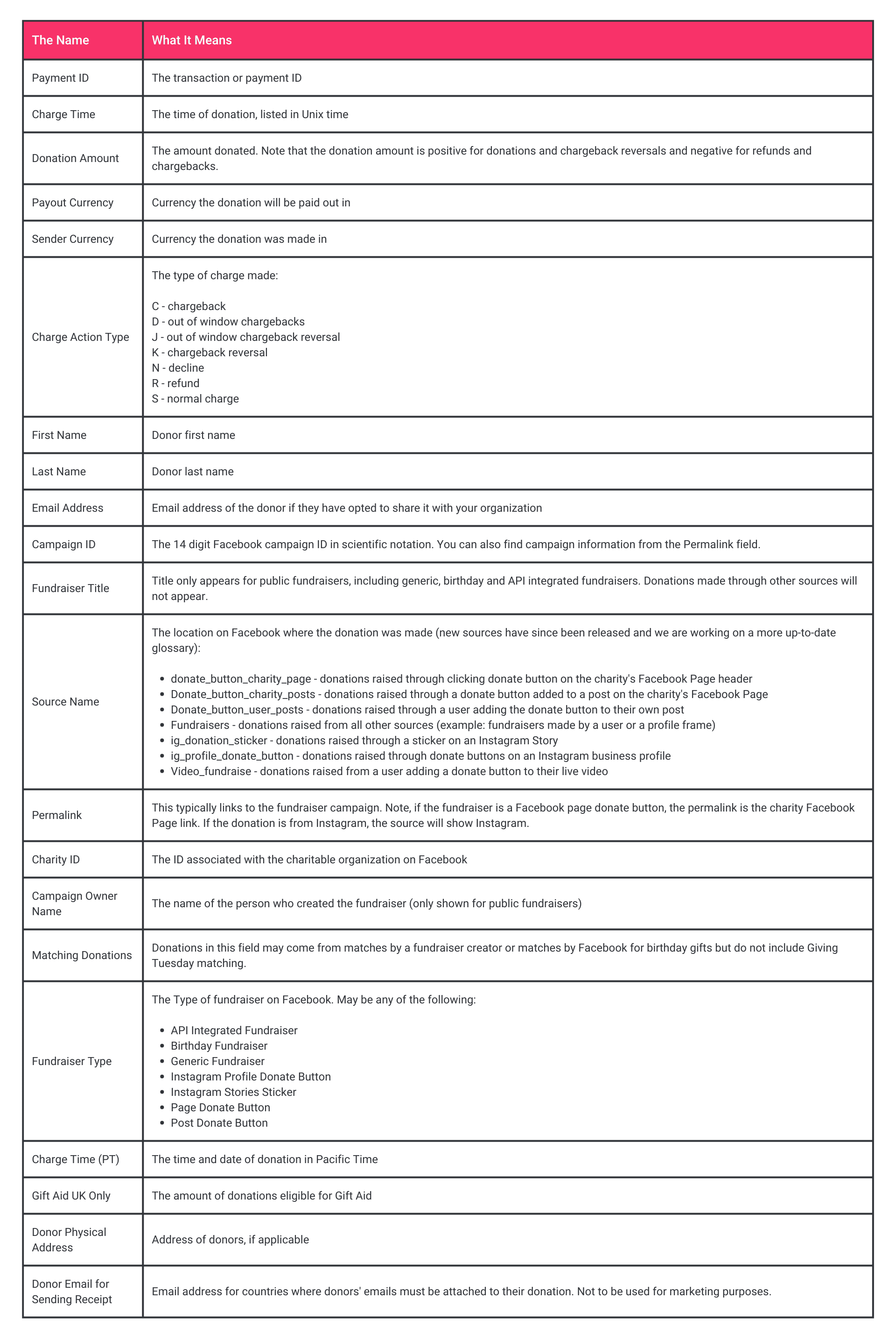 Country-Specific
There are other columns in the report which are country-specific. For example, Gift Aid UK Only is only for the UK– if the donation is eligible for Gift Aid, a 1 will be present. If it isn't a 0 will be present. The donor's address will also be present in the following columns should the donation be eligible for Gift Aid:
Donor Physical Address Line 1
Donor Physical Address Line 2
Donor Physical Address City
Donor Physical Address State
Donor Physical Address Postal Code
Donor Physical Address Country
Donor Full Name
Donor Email for Sending Receipt Only – for the countries which are required to send a tax receipt.
Donation Country – the European country that the nonprofit is from.
Meta recently released new updates which allow nonprofits to capture recurring as well as one-time donations. These two additions are available on transaction reports however currently this feature is only available to select charities in North America. To find out more about Meta's recurring giving tool, check out this release article.
Missing or confusing data
For some fundraisers, there is no campaign owner name. Here's why...
All Facebook fundraisers are public so you should receive the campaign owner name for every fundraiser. However, sometimes this doesn't come through on the reports. Sometimes this is because of a delay in the data from Facebook and it will come through in the future. Sometimes it is because the campaign owner has deleted their fundraiser.
Opt-in flag for marketing consent
There is no column for opt-in. If their email is present in the report, this means they have opted in to hear from your charity. When donors complete a donation, they will be asked if they would like to opt-in for email updates from your charity. Here's what that journey looks like for both mobile and desktop donations: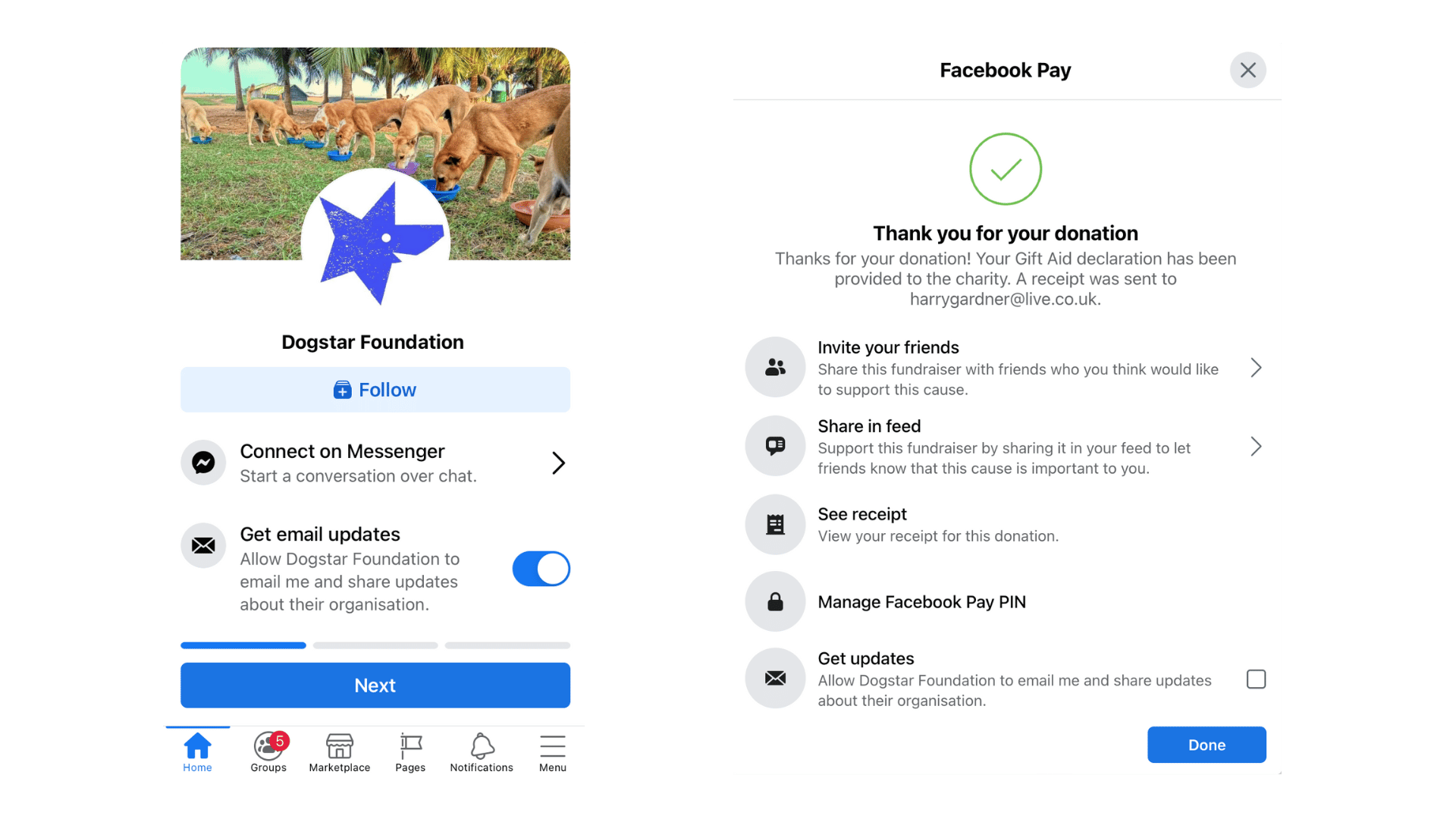 Donations were given by Facebook
If a donation has been given by Facebook (e.g. to help kick start a fundraiser during Giving Tuesday) these are not included in the transaction reports.
Questions you may be asking about data processes
How often should I download the reports?
It is entirely up to you. Most GivePanel customers download these reports daily because a birthday fundraiser usually only lasts for 2 weeks. This means that you have a very short window of opportunity to reach out, thank and support them with their fundraising.
We know from experience it is important to do this as soon as possible. The earlier you thank them, the better, as this increases the chances of them raising more and filling out a GivePanel data capture form. The challenge with using spreadsheets to manage all of this is that it is very time consuming, which deters organizations from doing this daily. GivePanel makes it easier to manage your Facebook fundraisers and capture their contact information, which is why our customers don't mind downloading the reports daily. With GivePanel's integration with Facebook, you no longer need to even leave GivePanel to import the data.
How long does it take until a donation appears in my transaction report?
It can take up to 48 hours from when a transaction happens to when it will populate in a report.
Next steps
It's easy to see how this process can take a lot of time, which is where GivePanel helps. In fact, a nonprofit customer using GivePanel was able to reduce the time they spent on managing the Facebook Giving Tools from 5 hours a week down to 20 minutes!
If you're a GivePanel customer and have any problems or need a question answered, get in touch with our team at support@givepanel.com and we'll be happy to help. Otherwise, check out Facebook's support guides on viewing transaction reports for more information.
Last updated: December 2022
Book a demo
Want to know how we can help your organization to thank supporters quicker, capture contact details, view analytics and manage data? Book a 30 minute demo with a member of our team to learn more about what Facebook fundraising possibilities are available to your nonprofit!
Related resources