Blog Five actions to leverage the power of Facebook fundraisers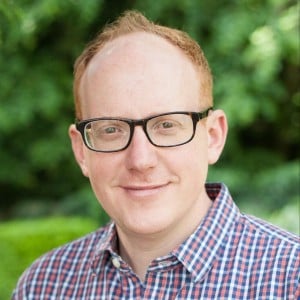 Nick Burne
October 1, 2019
Five actions to leverage the power of Facebook fundraisers
Earlier in the year, I presented on how to leverage the power of Facebook's Giving Tools for Fundraising Online, a global virtual conference run by the Resource Alliance. In this post, I share the five steps I talked about, which you can action right now to make the most of Facebook fundraisers for your nonprofit.
1. Turn on the tap
So you've decided to start using Facebook's Giving Tools? Brilliant. Before you can use them though, you need to actually apply for them. Luckily we have a blog post on how to go about applying and what the process is like.
Now you may have some concerns about Facebook fundraising – such as risk around data. In our experience, every question that you have has a solution. What we ask you to really think about is the risk of not doing it and the income you could be missing out on.
Once you've applied and your application has been successful, you're ready to turn on the tap and let the fundraising flow!
2. Start stewarding your fundraisers
One of the biggest issues nonprofits have with Facebook fundraisers is that they don't get the data about their fundraisers, and this is because Facebook doesn't give them the option to opt in. Only the people who donate to a fundraiser or a donate button are asked if they want to opt in to hearing from the nonprofit – not the person who has created a fundraiser. This shouldn't stop you though from using the tools – or promoting fundraisers – as there are ways to steward your fundraisers.
One way is to thank them by simply posting a 'thank you' message directly on their Fundraiser wall. This shows appreciation that they have chosen to support your cause and acknowledgement of their fundraising efforts. It can also help you raise more money! One of our clients ran a test, only thanking half of their Facebook fundraisers. The ones that were thanked, raised on average 35% more than those who didn't receive a 'thank you' message.
We recommend only thanking your fundraisers though and not the people who donate to their fundraiser, as they are really only supporting their friend rather than your cause. Thanking can be really time consuming so make sure you're only putting your efforts into thanking the right people. GivePanel can help you save time with our message templates.
One way to get your fundraiser to opt in to hearing from you is to include a link to a data capture form in one of your thank you messages. Here's a blog post on best practice when it comes to thanking your Facebook fundraisers.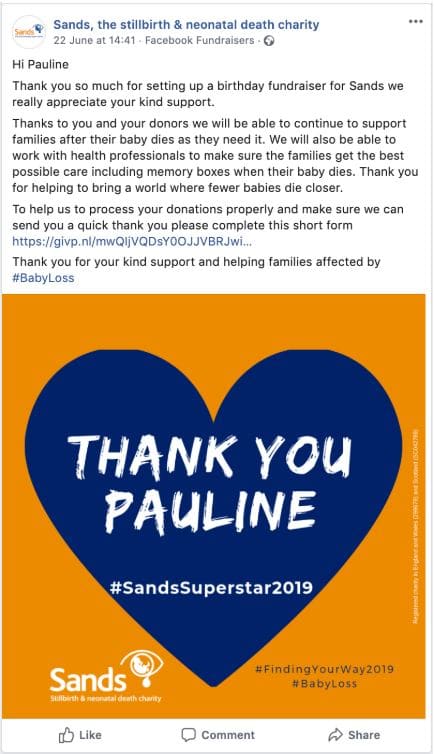 3. Leverage what you're ALREADY doing
No doubt you'll have key moments and campaigns already planned in your calendar so make the most of them. A great example of this was when the American Foundation for Suicide Prevention leveraged World Suicide Prevention Day last September, which had a global hashtag – #StopSuicide. They used this hashtag in a campaign and encouraged their Facebook supporters to donate their birthdays to #StopSuicide. They put a bit of advertising spend behind the campaign and got 11,000 people setting up Facebook Fundraisers in that month, which raised $1.7 million.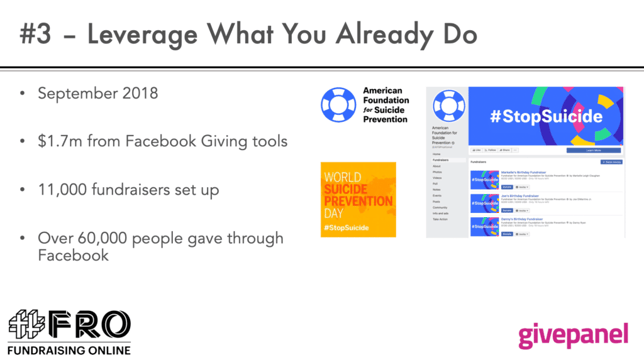 So think about any upcoming campaigns or awareness days that you could tap into and leverage.
Another top tip is to think about Facebook fundraising as a way to bring your community together, through a common goal. The International Rescue Committee already had a Winter appeal for Syria running and when the really bad snow hit the UK earlier this year, they used the opportunity to set up a Snow Day Fundraiser. The Page Fundraiser highlighted how it might be fun in the UK to get a day off school to play in the snow and go sledging but for children in Syria it's not fun, it's really tough having to live in tents in Winter. It was a small test, which could have done better, but it was a good learning experience. The beauty about Facebook fundraisers is that you can test and learn what your audience responds to without investing lots of money.
If you have celebrity and corporate supporters, think about how you can work with them. Singer Sam Smith set up a Birthday fundraiser for his 26th birthday in aid of War Child and raised over £23,000. The money he raised was, of course, amazing but think about how much awareness he raised among his fans too of both the charity and the cause.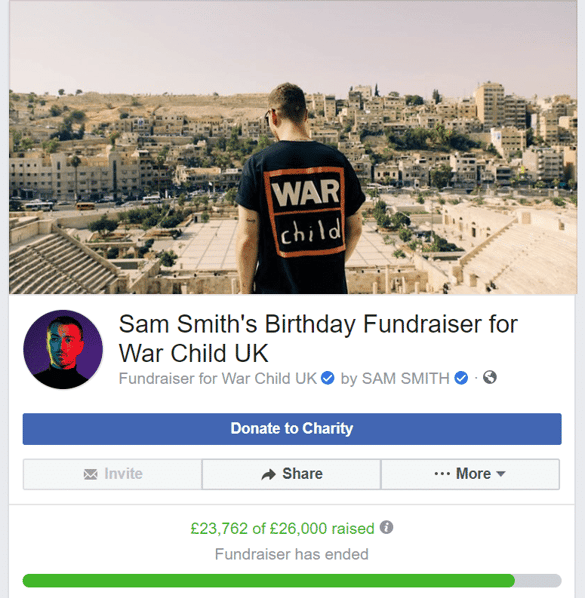 4. Work out your internal processes
This is the boring stuff but very necessary! As this is a new revenue stream for your nonprofit, you need to do your due diligence and think about your data flow, opt in process for marketing and what your supporter journeys will look like.
What internal processes will you need to put in place? What data will you import? How will you deal with receipts, Gift Aid (if you're a UK nonprofit) and even refunds if people donate the incorrect amount? You may not have all the answers so speak with the people in your organisation who can help.
5. Start pushing it!
Once you switch on the tools and turn on the tap, you will have people setting up fundraisers organically because Facebook themselves encourages people to set one up when it's their birthday. But there are lots of other ways that you can market them yourself.
One way is to set up adverts to target people who have a birthday coming up, to set one up for your cause. We have a guide on how to target Facebook ads to potential Birthday fundraisers, to help you.
We worked with UK baby loss charity Sands on a campaign for Baby Loss Awareness Week where we targeted three Facebook audiences who had a birthday coming up in October. One audience was people who had visited their website in the last 180 days, another was people who had engaged with their Facebook posts in the last 180 days and the last one was anyone who had donated via their website in the last 180 days. Then we filtered by people who had a birthday in October.
We tested different copy and creatives as the topic is of course highly sensitive. We invested £2,000 in adverts and raised £68,000, which is an amazing return on investment. A top tip though is to think about what their journey is after donating their birthday and how you can build a relationship with them.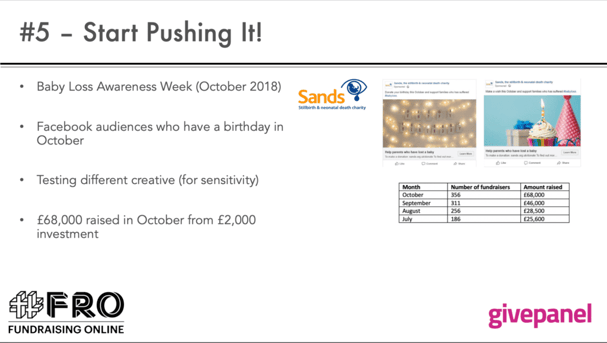 If you're interested in watching the full presentation, here it is!