Blog Five creative ways to thank your Facebook fundraisers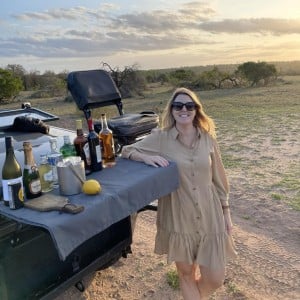 Kirsty Marrins
July 2, 2019
Five creative ways to thank your Facebook fundraisers
Are you harnessing the power of Facebook's Giving Tools yet? No doubt, if you've switched them on, you'll have noticed people have started setting up fundraisers for your cause, without much prompting from you. (Although here's five ways to market them!).
We'll bet that the majority of the fundraisers set up for your nonprofit are birthday fundraisers – although of course they're not the only kind of fundraisers. It's so important (just as with anyone who raises money for your cause) to say 'thank you' for their support of your cause.
Not only is it good to say it because it acknowledges their efforts but also because it could help them reach their goal (or even increase it if it's going well). The earlier you reach out to them, the better.
So how can you say 'thank you' in a creative way? We've found five ways that nonprofits are thanking their Facebook fundraisers that really stand out.
Use (or create) a 'thank you' gif
If you don't have the skills, time or budget to create an image, use an inbuilt gif! Facebook has a gif feature where you can find an appropriate one to say 'thank you'. We love this example from Susan G. Komen Florida!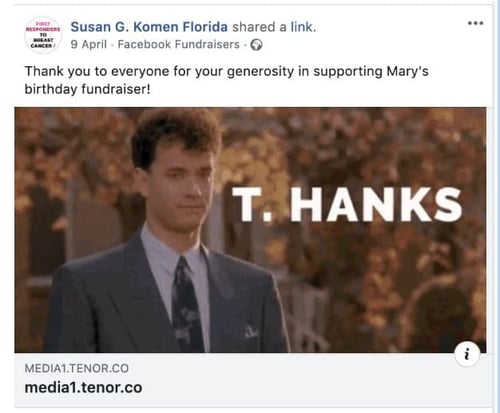 Not sure where it is on Facebook? Simply go to the fundraiser to where you'd leave a 'thank you' comment and then choose 'gif'. Then search for 'thank you' within the gifs and choose the one you'd like to use.

Although there are a whole host of free gifs, you can also create your own like LauraLynn has (see the post here). A gif is essentially a moving image and you can create them yourself using Photoshop or online, for free, using Giphy's Gif Maker tool. All you need is a set of similar images to upload and then watch the magic happen.
Create a thank you certificate
Why not personalise the 'thank you' with a certificate? By creating a template, you can then personalise each certificate with their name and the amount they've raised. It's also the sort of thing that people love to share with their friends by posting it on their own timeline, therefore raising further awareness of your cause.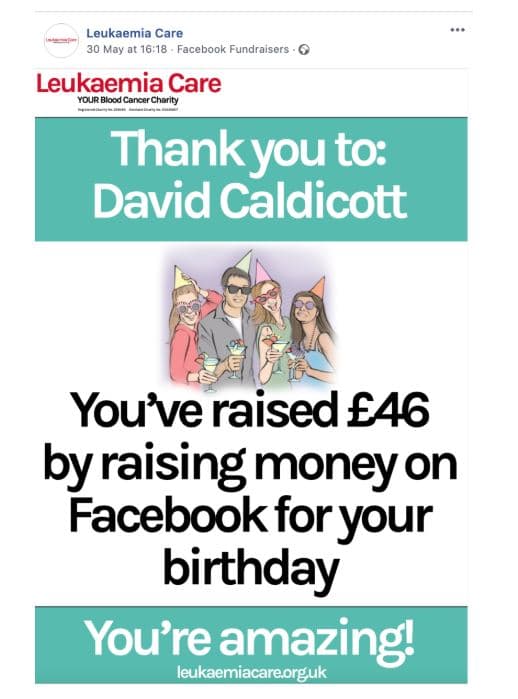 Offer fundraising tips
Whilst you're thanking your fundraiser for setting up a fundraiser for your cause, why not take the opportunity to offer them support if they need help reaching their goals? By offering your email address, as Autism Assistance Dogs Ireland has done, you're inviting them to contact you and hopefully you can starting building a relationship with them.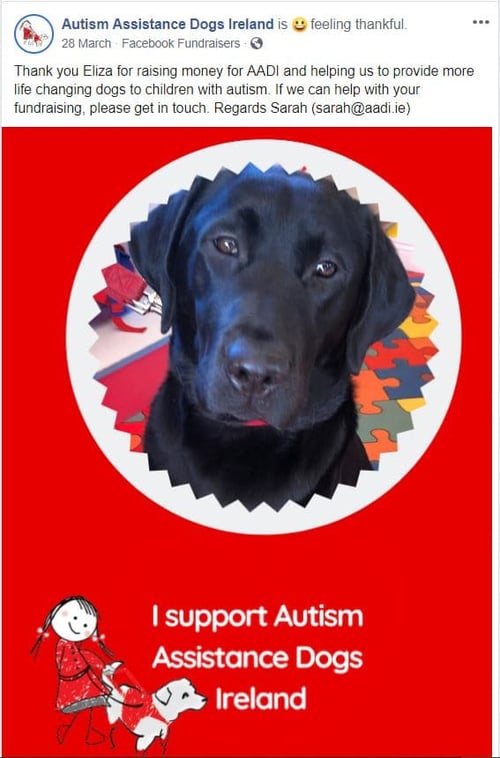 Create a branded image
These branded images are a great way to say 'thank you' to your Facebook fundraisers. With Canva for Nonprofits, a free design tool, it's even easier to create fabulous images with your branded fonts, colours and logo.
We particularly like how, in the example below from Breast Cancer Care, they've personally signed off the thank you message (we're looking at you, Helena!). If you're looking to build a relationship with your Facebook fundraisers then this is a great start.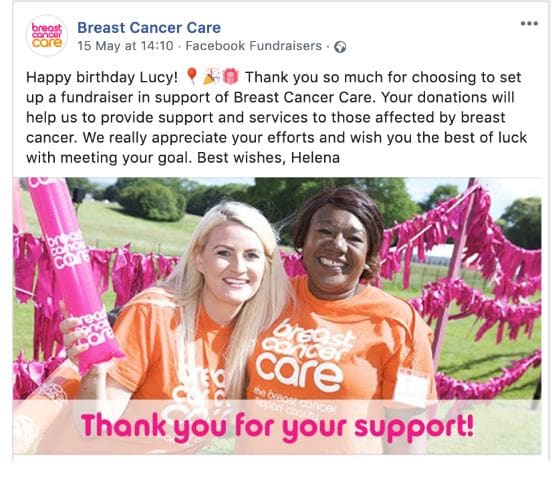 Create a personalised image
Not only is this a great branded image from Sands, but they've also personalised it too with the fundraiser's name. In addition, they've also included a link in the thank you message to request more details from the fundraiser. This is a good way to collect data whilst remaining GDPR compliant. We also love how they've created a unique hashtag – this means that they could track the use of it and it also makes the fundraiser feel special and part of an elite team.