Blog Why you should prioritize Facebook Ads during the Holiday Season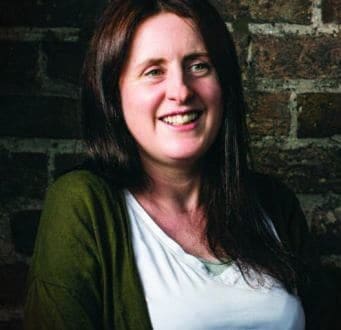 Jean O'Brien
December 2, 2021
Why you should prioritize Facebook Ads during the Holiday Season
It's the most wonderful time of the year... to shake up your Facebook advertising strategies!
Okay, so that might not have quite the same ring to it, but we stand by it – and in this guide, we're going to walk you through the feast of options you can utilize on Facebook this holiday season. From how to make your ad copy sing, to letting the Facebook algorithm do the leg work for you.
We've spoken to fundraising experts from GivePanel and our partners, and gathered their best advice on Facebook advertis ing strategies for the holiday season.
Top tips for holiday season Facebook Ads
Prioritize Facebook Ads during the holiday season: People are giving, and Facebook is one of their favorite platforms for doing it.
Let the algorithm do the work for you: The Facebook algorithm has the best targeting intelligence in the world. Let it find the right people, rather than trying to predict the audience yourself through overly specific interest targeting.
Test the new conversion options on Facebook Ads: If your nonprofit has access to the new donation conversion options on Facebook Ads, test them!
Make use of the Facebook donate button (don't worry about capturing data): The Facebook ecosystem is now so feature-rich that you can continue to engage people, ask them to set up Facebook Fundraisers, thank them and capture their details

–

all on the Facebook platform.
Carefully craft your ad copy and use stories and urgency: Facebook gives you lots of opportunities to ask for pledges in different ways, but it will be a busy time and you still need to make sure that your message really cuts through. Use strong imagery, emotive stories, and put urgency into your ad messages.
Read down for more background and context on all of these recommendations, and how to put them into action.
People are giving, and they're giving on Facebook
You already know that people give during the holiday season, and data from online donations shows that they are still giving right up to Christmas Eve and Christmas Day.
Facebook Ads give you the opportunity to build an audience throughout November and start running ads with asks throughout December, making use of the incredibly easy and user-friendly Facebook donation process.
The fundraising platform Enthuse has released a useful report with aggregated data on holiday season donations in 2020, showing donation activity on specific days in December, and the days of the week and times of day when people are most likely to give. Their research shows that Facebook is the clear leader for online donations in all age groups.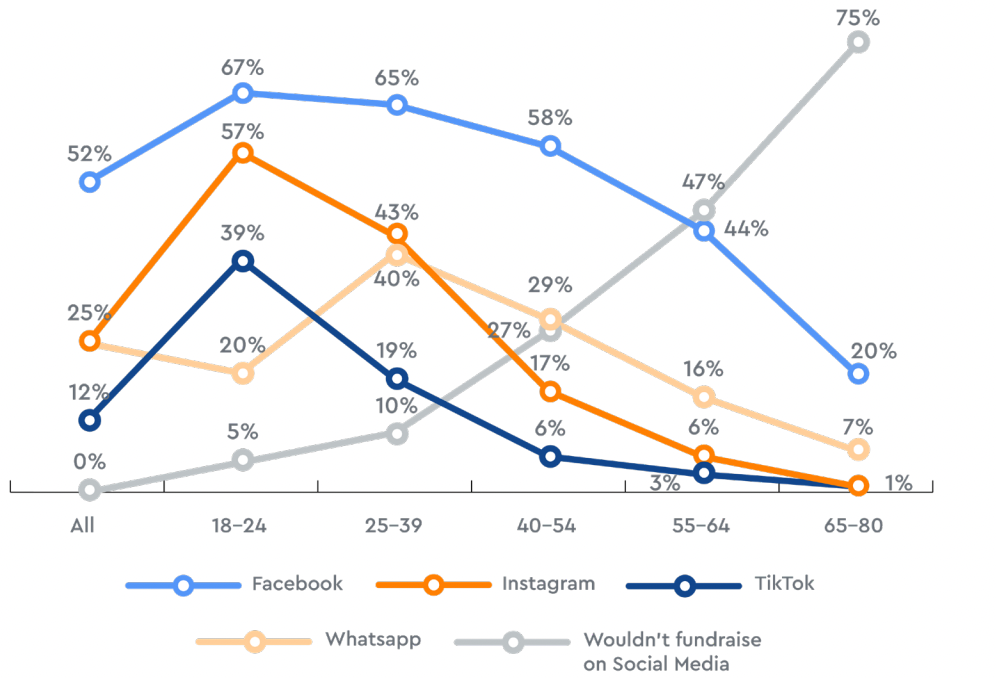 Monitor your algorithm
Ben Matthews is the co-founder of Empower, a digital marketing agency for charities, nonprofits and purpose-led brands, whose clients include UNICEF, UN Refugee Agency, Amnesty International, and The Jo Cox Foundation.
Ben says: "Facebook has been saying for a while now that their algorithm is better at finding the best supporters and donors for your cause than you are. What this means for Facebook Ads is that you need to trust their algorithm."
He recommends using the lookalike audience within Facebook Ads. It works by uploading a list of people who've already donated and then Facebook's algorithm finding other users with similar traits.
"If you have a lookalike audience of 1%, broaden that out to 3%, 5% or even 7% and see if that brings you more results. Facebook's algorithm bets that it can."
See more about Facebook Lookalike audiences here.
Test new donation conversions on ads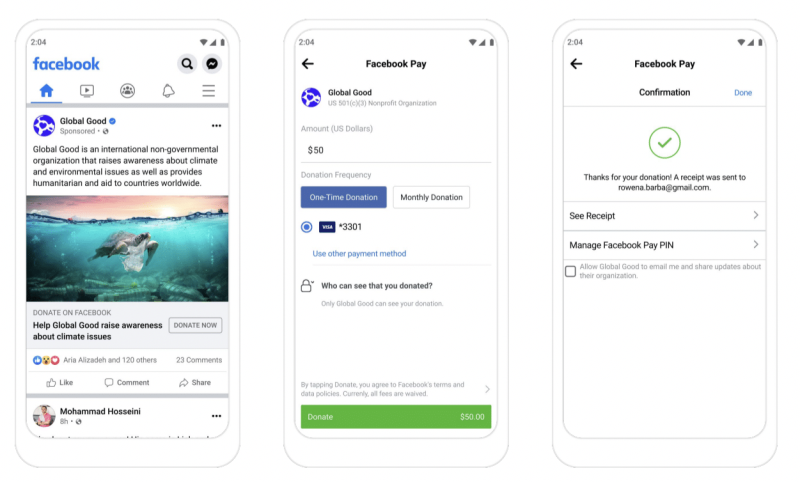 Now that Facebook has added extra ad optimization options, specifically designed for nonprofits, you have even more scope to make the algorithm work for you. You can now optimize your campaigns to find people who will give using the Facebook donate button, and you can create audiences from people who have already donated through Facebook. If your charity has access to these conversion options (they haven't been rolled out to all organizations yet), it's the perfect time to start testing them.

For more detail about how the new donation conversions work and why they're so significant, check out our blog post: Facebook Ads Power-Up for Facebook Donate.
Make use of your 'donate' button. Don't worry about data, focus on donations.
Nick Burne, GivePanel CEO and Founder, has helped develop digital fundraising strategies which have generated well over $1 billion in online donations with brands like UNICEF, International Rescue Committee and Greenpeace.
Nick thinks one of the simplest ways to boost donations on your Facebook Page is to make use of the convenience that comes with the donate button.
"People get a ton of direct mail, email, TV ads and online advertising at Christmas about giving. No wonder because it is a time of year that people feel warmer and more generous."
"I firmly believe the key thing that stops most of them is convenience. If they knew they could donate in 1 click (just like how they buy their Christmas shopping on Amazon), they would do it," Nick says.
"This is where Facebook Donate comes in. Yes, you don't get contact details. But you DO get a higher conversion rate; 13 times higher according to one test Facebook did with a nonprofit."
In fact, it takes just two taps to donate through a Facebook fundraiser. That's much easier than clicking off to another website and waiting for the page to load, right?
That's why Nick recommends asking yourself: "Is it really worth sacrificing 13 times more donors on the altar of contact data, especially in a post GDPR world?"
"In a 2019 Charity Benchmarks study, the average percentage of supporters contactable by email in 2019 was 23%. This means the "real" opt-in rate for your online donation form compared to Facebook is actually more like 1.8%."
"(And in a weird turn around, your opt-in rate on Facebook donate for a direct donation Christmas appeal could be higher than 1.8% anyway.)"

"We are so trained in getting contact details. But I would rather see our nonprofit customers getting more of their community to give and finding new ways of stewarding them that don't involve an email or thank you letter in the post," Nick continues.
"How about, for example, an amazing end of year thank you video pushed out on your Facebook Page and boosted to all your followers? For me, that's probably your most important piece of content all year."
In fact, Nick mentions that UNICEF used this strategy and got 5 times more donations when they thanked people with a message of hope, rather than their usual appeal based on "need".
Adrian O'Flynn is Creative Director at Get Your Stories Straight, an agency based in Dublin which helps charities raise more money on Facebook.
He explains that these donate buttons are crucial because just 1% – 2% of your warm Facebook followers will convert on your website: "This is the depressing reality. This is the reason why you probably didn't bother using your Christmas appeal on Facebook last year."
"People really don't want to leave a social media app, where their friends are, and head over to their Chrome browser and wait for some static charity web page to load."
"Recently I clicked 'Donate now' on a major charity's Facebook post when I only had two bars of reception on my Samsung. It took 26 seconds for the donation form to load… that's an eternity."
"So, depending on how easy your donation form is to fill out, a mere 1% to 2% of people who read your Christmas Appeal on Facebook and click Donate Now will actually donate."
"But if you ask the same people to donate within Facebook, 10% to 20% will donate."
Use stories and urgency in your ad copy
Wendy Ahl, UK Operations Director at Safe Haven for Donkeys explains: "We have been using the Facebook fundraising tools for 3 years now and have found that a mixture of Facebook ads, using the Facebook button and fundraisers works well for us."
"With fundraisers, we find a need that is specific, timely and urgent. For example, we are a donkey charity and earlier this year, our sanctuary in Israel was damaged by high winds."
We set up a fundraiser to pay for the repairs and had raised the whole amount in a few hours. We will be going ahead with a new project at the end of the year so plan to set up a fundraiser to raise the start-up costs. Facebook ads work really well with our "adopt a donkey" scheme so we plan to use these to encourage more people to adopt a donkey as a Christmas gift."
"Of course, the donate button is on our Facebook page and we also attach this to many of the posts on our page," Wendy continues.
"We have found that when Facebook users are at home, they spend much more time browsing Facebook and every holiday season, we see an uplift in donations as a result."
Hear more from Wendy about how you could raise $1,000 a month for your charity using Facebook Fundraising, even with limited budget.
Adrian O'Flynn recommends taking your holiday direct mail appeal and turning it into a short, emotive story post on Facebook. Use a strong image of your beneficiary, add a call to action to the story and use the donate button on the post.
Use the detailed instructions on how to craft a Facebook appeal from your printed appeal that Adrian shared here on the GivePanel blog.
Bonus tip: Start planning a New Year fundraising campaign
The holiday season is also the time to plan your activities for the first quarter of the upcoming year. You can aim to take your Facebook Ads and fundraising to the next level, by testing out a virtual Facebook fundraising challenge.
These highly effective virtual fundraising events are excellent for acquiring brand new supporters, who fundraise for you while they meet their own fitness goals.
Do the planning in December for a small pilot challenge in the New Year. You can run the ads from late December / early January, and attract people who are in the 'New Year, new me!' frame of mind, and are looking to get healthier through regular exercise. The challenge can then take place in February.
GivePanel has lots of resources to help you plan and set targets for your first virtual challenge, including a comprehensive planning guide with a downloadable ROI calculator, an overview of the benchmarks that our clients are achieving, and case studies from a range of causes.
What's next with Facebook Fundraising?
Facebook Ads are a great way for your nonprofit to increase ROI. A useful trick is to make use of fundraisers – you can set up a Facebook fundraising page in order to fund a specific seasonal event or service, and use it to start testing how Facebook fundraising performs for your cause.
The recent additions to Facebook Ads mean you can drive people to your donate button through ads.
If you are worried about driving traffic to Facebook fundraisers and donations but not collecting any meaningful data then why not book a chat with one of our Facebook fundraising specialists today?
Book a GivePanel Demo
Book your 30 minute demo with one of our awesome Facebook Fundraising specialists today to see if GivePanel could help you supercharge your Facebook fundraising.
Related Resources