Blog How to make an impact with Meta Reels as a nonprofit brand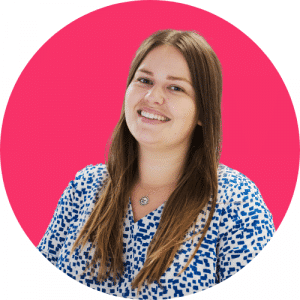 How to make an impact with Meta Reels as a nonprofit brand
Okay, so your social media headspace might be a little bit preoccupied right now wondering whether or not Threads is the next platform your organization should be investing your precious content time in (guilty). But - if we can draw you back to the good ol' fashioned Instagram and Facebook for a moment - we are here to tell you why you should be spending time getting your charity brand noticed with Reels.
We were recently joined by members of the EMEA Social Impact Team at Meta for an exclusive webinar for GivePanel customers about how to make an impact as a nonprofit on Meta's platforms. So, whilst Reels is one of the buzzwords in the social sphere we wanted to take it back to the basics and help your nonprofit get off on the right foot.
Reels 101
Simply put, Reels are just like any other short-form video for social. They can be up to 90 seconds long, can include music, filters, effects, texts and CTAs, and can be shared to your nonprofit's Facebook and Instagram profiles (unfortunately not Threads just yet!)
And Reels have certainly been hitting the right note with social media users, becoming the fastest-growing content format with over 20% of time spent on Instagram viewing Reels. So, if your nonprofit hasn't dipped your toe into this content format yet, you may be missing out on an opportunity to engage with your audiences and drive awareness of your cause.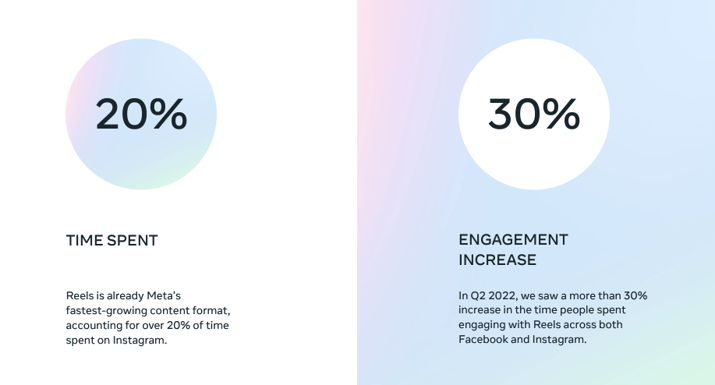 Source: Meta Reels School
What makes a great Reel?
According to Meta, there are 5 components that make up an impactful Reel as a nonprofit:
Relate to your audience: create content that resonates with your audience and inspires them to engage with your cause.
Engage in the conversation: make use of cultural moments, trending topics and hashtags that are relevant to your mission and engage in dialogue with your social communities.
Educate, entertain and inspire: tell people about the amazing work you do, why it matters and how you help make the world a better place.
Lead to action: make it obvious how your audience can support your cause, be it donating to a fundraiser, joining an event or signing up to your mailing list.
Storytell effectively: be human and share the stories of success and impact from your nonprofit and the cause that you support.
And great news, you are probably doing all of these things already with your other content formats so no need to go all the way back to the drawing board!
Tips, tricks and best practice
We've covered the basics of Reels and how to set yourselves up for success, so now let's dive a little deeper into some pro tips.
New here? Start with templates
We've all faced the energy-sapping feeling of staring at a blank page for hours and not knowing where to start - and starting a Reel from scratch can be a similar experience. But, good news folks - it doesn't have to be this way! Instagram offers ready-made, suggested Reels templates that allow you to drop your content in and have them mixed to fit a music and format combo, allowing you to create a Reel within a matter of minutes.
Grab attention in the first 1-2 seconds
Front-load your Reel with compelling visuals and audio to grab the attention of your audience before the dreaded swipe. Make it easy to understand what the Reel is about and why they should pay attention. Use stickers, effects and text to highlight key points and CTAs and inspire viewers to take action.
Do your research
Look into trending topics, audio or viral moments that are relevant to your cause that you could get involved in. Bookmark Meta's Cultural Moments Calendar and use it to plan your upcoming content, or use the search function on Facebook and Instagram to look up keywords relevant to your nonprofit to see what kind of content is already being generated, and if there's an opportunity for you to do something similar.
Don't shy away from creators
One of the ways Meta is thinking about Instagram for nonprofits is around empowering creators with the tools to get involved in charity missions - as well as enabling nonprofits to find and engage with creators directly. According to Meta, "organizations can partner with creators to help achieve different goals: for example, raise awareness, inform about an issue, drive donations or even change behavior. Creators can bring an authentic voice to a story, and their communities tend to trust them more than organizations. They can also help reach new and engaged audiences who are in the mindset to discover and connect."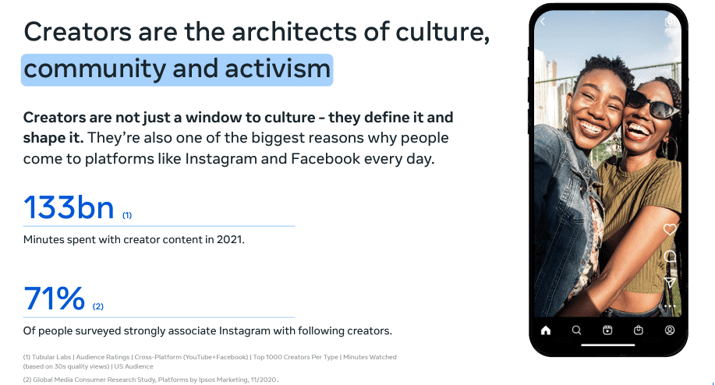 Source: Meta Reels School
Meta has lots of handy resources to help get you started with your creator strategy - like the Creators for Facebook Hub and downloadable Creators for Causes guide.
Obsess over your metrics
And lastly, it's important when embarking on a new initiative to take a step back and consider the data. By using Reels Insights you can monitor the impact of your content with metrics like accounts reached, plays and watch time, and use this information to assess what is resonating with your audience and what isn't; refining your strategy for future content. You don't want to spend all your time organizing the party only for no one to show up.
5 ideas your nonprofit can try right now
Okay, so you're sold on Reels but now you aren't sure what content to actually put out there. Here are 5 simple ideas to start that are easy to implement and will get your Reel ball rolling:
A "day in the life of…": People love to see behind the scenes, so why not give them a snapshot into your nonprofit with a day in the life of someone who works there. It could be a community fundraiser, a vet at an animal charity or a researcher at a health organization; simply give them a brief and let them film short videos throughout the day!
Promo for a fundraising event: Reels are a great way to promote your charity activity, whether that be an in-person event or a Facebook Challenge. If it's exercise-based, film clips of your team acting out the activity, such as skipping, running on the spot or going for a walk. If your event has a venue, why not take your audience on a tour and show them what to expect on the day.
A mythbuster about your mission: Is there something that your supporters regularly assume about your nonprofit that just isn't right? Address it with a funny Reel of two halves, showing the myth first and the mythbuster second. Supporters won't make the same mistake twice!
Meet the team: Audiences love to feel part of a community, and what better way to do that than to introduce the faces behind the nonprofit? Introduce them in one go with a theme; think 'Friends' and "the one with…" or something relevant to your nonprofit. Or, draw it out into a series and go into more detail on the person's likes and dislikes, and what they love about working at your organization.
A trending topic: If there is one thing social media loves, it's a trend. So make sure to join in on the conversation when you can! This might be a specific Reel format, a current TV show obsession, or a news story making the headlines that is relevant to your mission. Just make sure it aligns with your nonprofit's mission before jumping on the bandwagon and potentially upsetting your PR team!
Related resources