Blog Shake up your social fundraising strategy with our SFS2022 key takeaways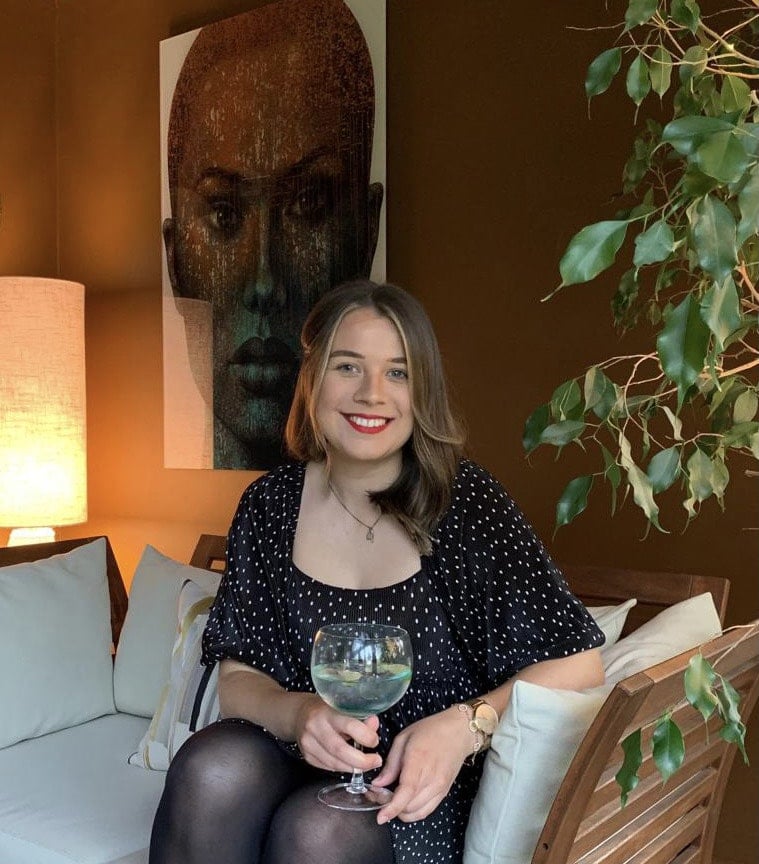 Alex Stuart
April 12, 2022
Shake up your social fundraising strategy with our SFS2022 key takeaways
Last month, in the confines of the Clontarf Castle Hotel in Dublin, Ireland, GivePanel brought together over 100 passionate fundraisers and thought leaders for the Social Fundraising Summit 2022. It was an opportunity to share with our awesome nonprofits customers and partners new and exciting ways to leverage the power of social fundraising, and ultimately raise more funds and garner more supporters for their causes.
The result? Mind-blowing. No, seriously...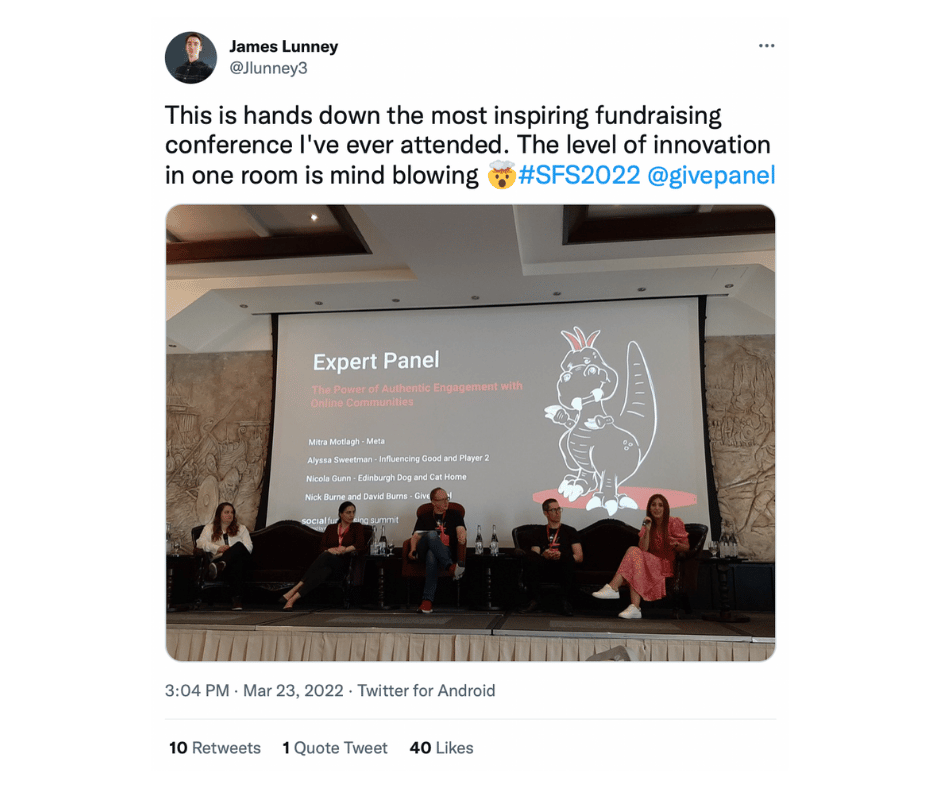 If you missed the summit, don't worry. Here are some standout takeaways you can implement into your own social fundraising strategies.
1. Testing is key to innovation
In his keynote session, 'A Billion Euro Argument for Testing Weird Event Ideas', Adrian O'Flynn – founder of Get Your Stories Straight – championed the importance of testing (in his words, 'tinkering'). He suggested that fundraisers should spend 15% of their time and 5% of their budget on wildcard tests that might not work. Why? Because big, bold ideas you're unafraid to implement are the key to growth.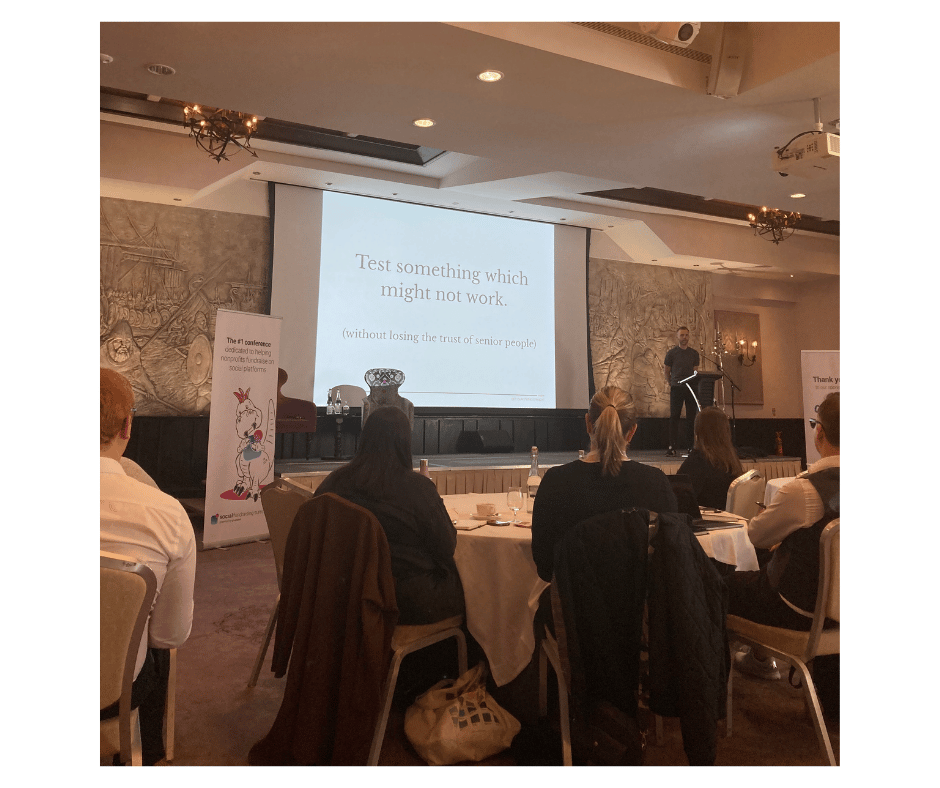 2. Don't fear crypto
Completely confused by crypto? Nicola Gunn and David Mitchell of Edinburgh Dog and Cat Home (EDCH) had an insightful take on how to make it work in the nonprofit space. They've built their cryptocurrency philanthropy by engaging with communities, forming relationships and being visible in crypto spaces on Twitter, Reddit, Discord and Telegram – where it's much easier to tap into a ready-made community rather than build your own from scratch. This strategy has helped the EDCH diversify their donor demographics and income streams.
Ready to give it a go? Find your nonprofit social communities and learn the lingo!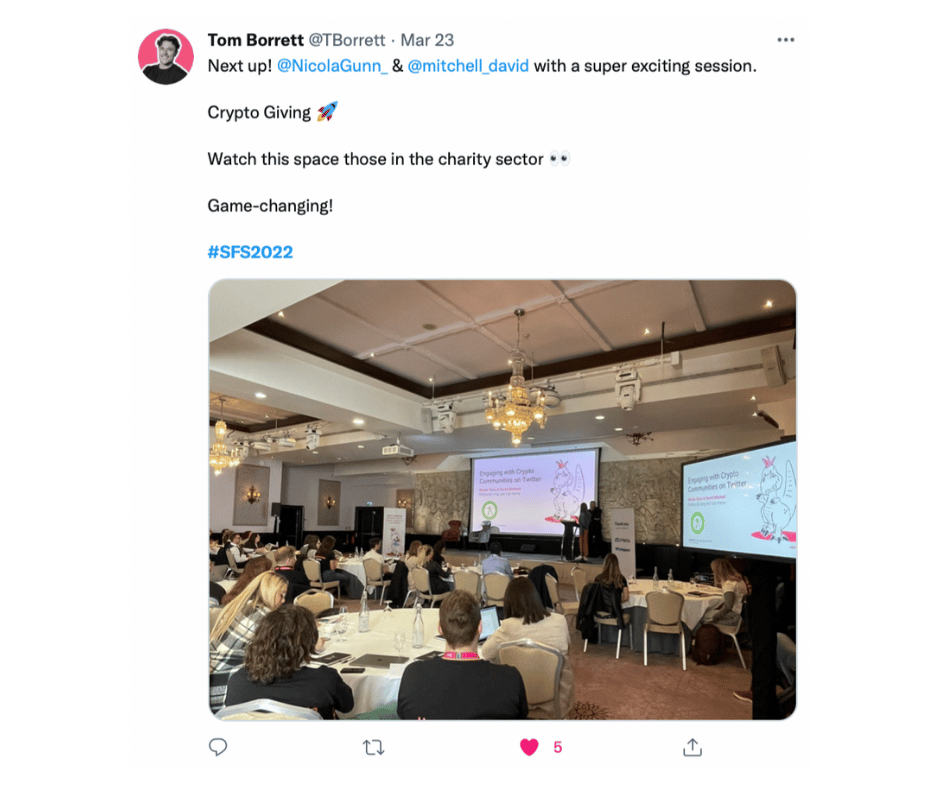 3. Get to know gamers
Forbes 30U30 strategic social impact leader Alyssa Sweetman pressed on us the importance of tapping into the gaming community. Roughly 40% of the world's population is gamers, which likely means your nonprofit audience is there too. Check out this video to see just how many gamers we had in attendance at SFS2022!
Quick win? Get on a fundraising service and tell your supporters about it. Find out how by listening to Alyssa's talk in full, on Spotify.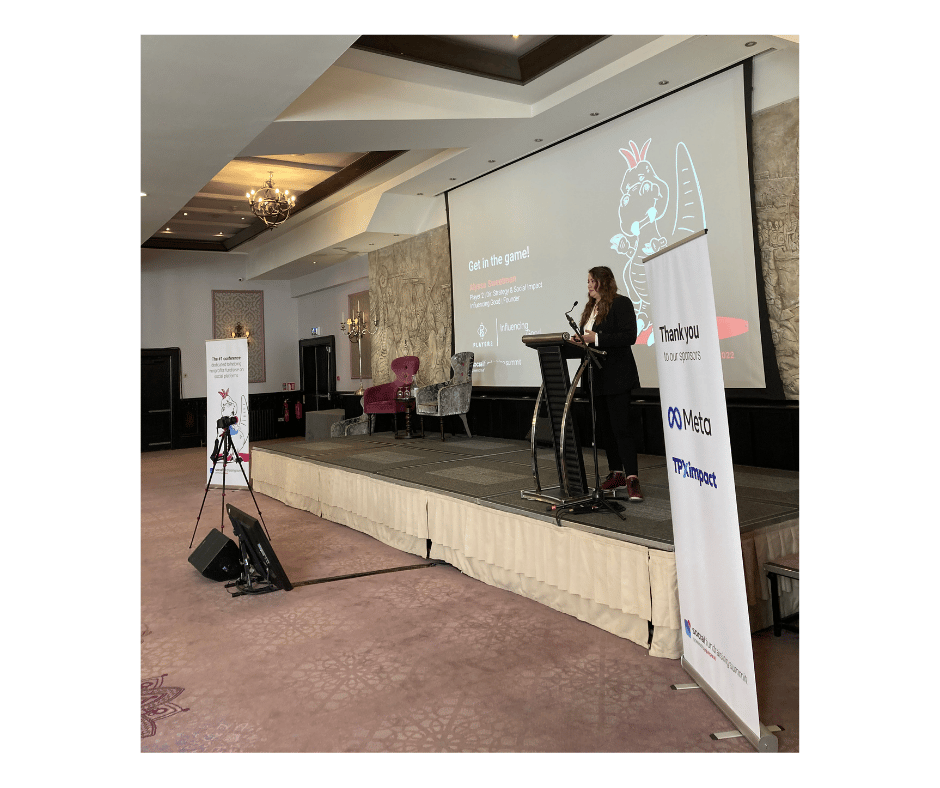 4. Embrace new markets
In his Community Stories Session, Marco Kuntze, CEO of Relishing Digital, shared how to launch a Facebook Challenge in a new market. This involves:
Running a pilot campaign

–

starting small to capture the data and insights, testing and then scaling up
Keeping it simple and easy to understand
Adapting messaging and incentives to the relevant culture. Top tip: Free t-shirts don't work in cold climates, so why not try a hat…
5. Master the magical trifecta
In her session, The Power of a Fiver, Emma Halahan, Head Of Digital at the Dogstar Foundation explained her 'magical trifecta' – creating an ask that's relevant to your cause and means something to your donor by making it accessible, supporting it with loving content and boosting it with strategic social ads. See this in action on the Dogstar Foundation's Facebook page.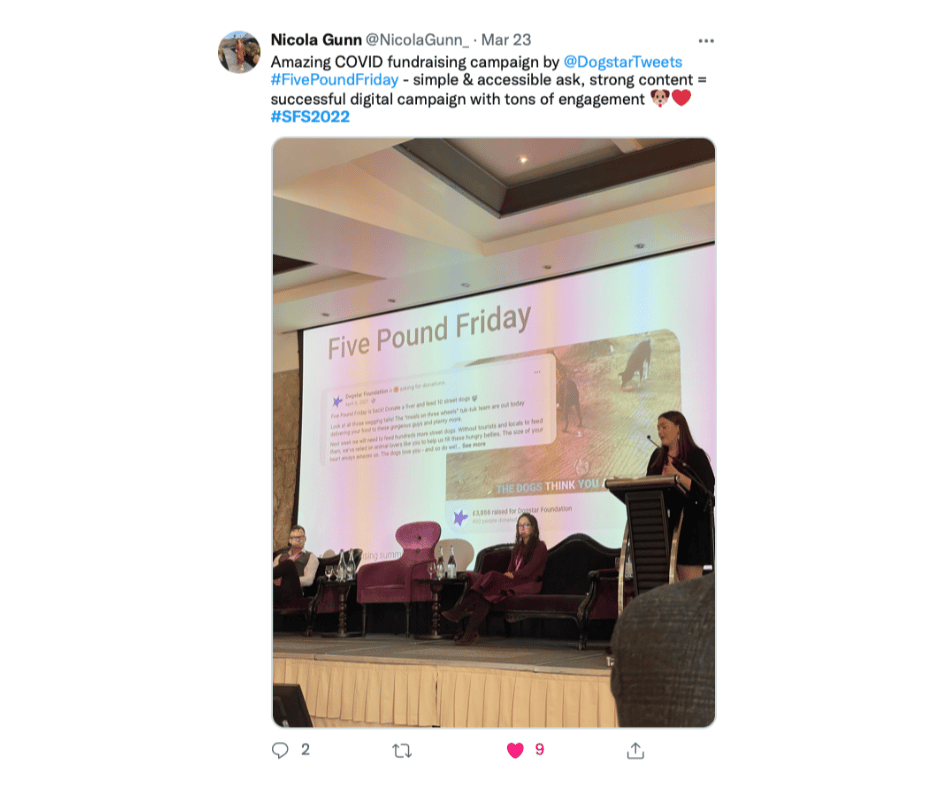 6. Keep your eye on Instagram
Mitra Motlagh from Meta let us in on an exclusive new feature landing shortly on the 'gram. A fundraising button is coming to Reels, which promises to make your campaigns go, dare we say it, viral. Learn more about Meta's latest social fundraising tools.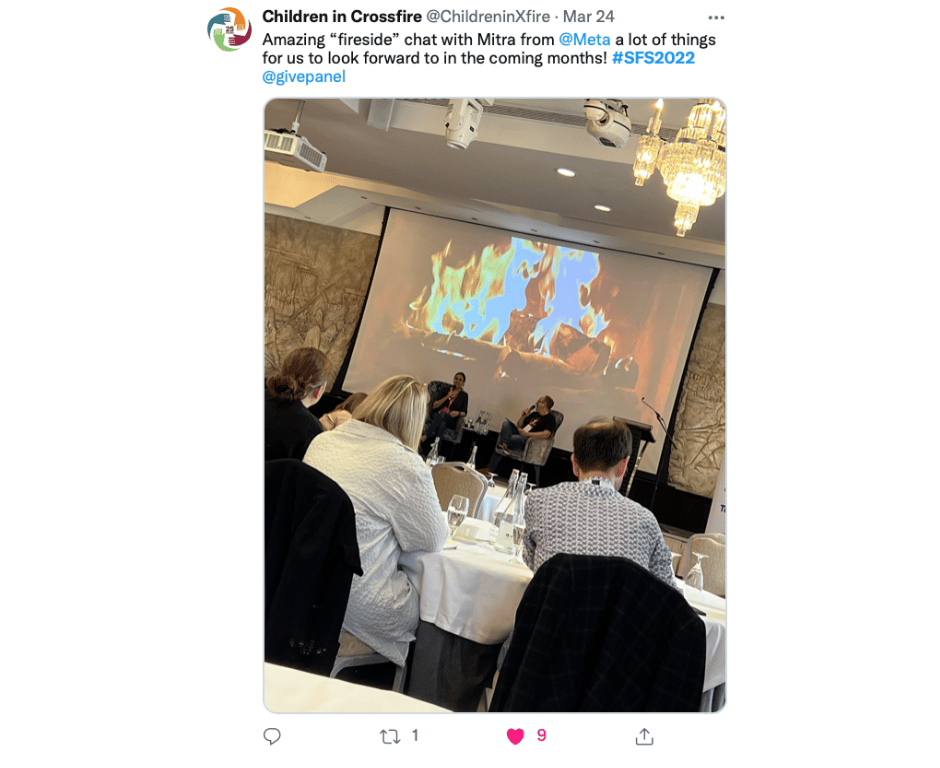 7. Now's the time for TikTok
Laura DePeters from the American Cancer Society offered a worthy insight on how to make TikTok work for your nonprofit. TikTok brings fundraising asks and stories to life through video and in 2021, it surpassed Instagram in terms of monthly active users.
She shared that 41% of users on TikTok are Gen Z and an individual 22-year-old donor could have a lifetime value of $25K, giving the total generation a value of over $889B. Simply put – look at the whole rather than the part.

8. Always invest in ads
Carla Ankiah of Autism Assistance Dogs Ireland (AADI) drove home the importance of investing in paid social ads. AADI's evolution of growth has been because of:
Their focus on developing a culture of learning and innovation
The halo effect

–

the tendency for the positive impact of one nonprofit to enable change to be made by other nonprofits more easily
Their availability to broaden the scope of their marketing
And finally, let's hear it (again) for our award winners...
It was only right we ended the summit by taking the opportunity to showcase some of the achievements of the nonprofits we work with, celebrating the impact they've made on social fundraising. Put your hands together for our worthy award winners:
FOMO is real
We will be adding more content from the Social Fundraising Summit 2022 to our YouTube channel over the coming weeks and months, so make sure you check it out.
Interesting in attending future GivePanel events? Register your interest to make sure you'll be the first to know about what's coming up.
Related Resources