Blog How to run an In-Memory Facebook Fundraising campaign for Father's Day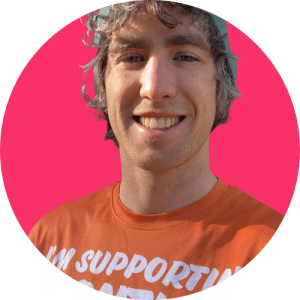 How to run an In-Memory Facebook Fundraising campaign for Father's Day
Father's Day is typically a day of celebration. But for many, it's really a day of remembrance. At a time of grief, fundraising can give people a reason to take their heartache and turn it into hope.
To honor their father's memory and make a difference, people might sign up to a fundraising event for mental health, or make a gift to improve prostate cancer care. Or, if their old man loved their dog very much, they might donate to a local pet rescue center. How individuals might choose to remember their loved ones will depend on their lives and experiences, but it also depends on the fundraising opportunities presented to them.

In-Memory fundraising is a social experience
Over recent years there has been an increase in the number of social fundraisers set up in someone's memory, as a tribute to them and a way of helping others affected at the same time by raising funds for charitable causes.
In-Memory or tribute fundraising is incredibly powerful on social media platforms, and Facebook specifically, as people are already connected to a network of friends and family who want to support them during their difficult time and honor their loved ones' memory. This established network of potential donors means naturally higher engagement for their In-Memory Facebook fundraisers: more reactions, more comments and more funds raised. Indeed, in our 2021 Facebook Fundraising Benchmark Report, we found that In-Memory fundraisers raised 6 times more than non-In-Memory organic fundraisers on Facebook. Whilst for Facebook Challenges, if the fundraiser was an In-Memory fundraiser it raised double in comparison to non-In-Memory.
If a nonprofit does not have Facebook Giving Tools activated, your organization may be missing out on new potential supporters for your cause. So, if your charity wants to help existing and potential new supporters remember their father figures in a meaningful way, whilst also raising important funds and awareness for your cause, then you should consider building a social fundraising campaign on Father's Day as part of your wider digital fundraising strategy. At GivePanel, we call this "meeting supporters where they are".
What would a Father's Day social fundraising campaign look like?
The campaign that we would recommend has a simple, straightforward structure, which charities should build approximately 2 weeks to 10 days prior to Father's Day, depending on your budget.
Here are the 5 steps you need to take:
Create Facebook Lead Ads with sympathetic copy and evocative imagery.
Set up a Facebook Group for your leads to join as a next step.
Make that Group a supportive and caring space for sharing memories and taking action.
Build unique, pre-set In-Memory Fundraisers that your Group can easily activate.
Share that activation link and tell them how they'll be making a difference.
Let's go into these steps in a little more detail…
How do you build Facebook Ads for In-Memory?
I imagine your immediate question will be; where do you start with advertising around such a sensitive topic? Well, you begin by stepping into the shoes of your supporters. If you lost your Dad, and Father's Day was approaching, what words would reach and resonate with you? And what approach or content might potentially put you off?
Start with the point of view of someone who is living with a loss, rather than with the need of a charity to raise funds. You want to speak directly to the people who may find this day painful and give them an opportunity to do good. This approach should lead you to an ad that looks a little like this one.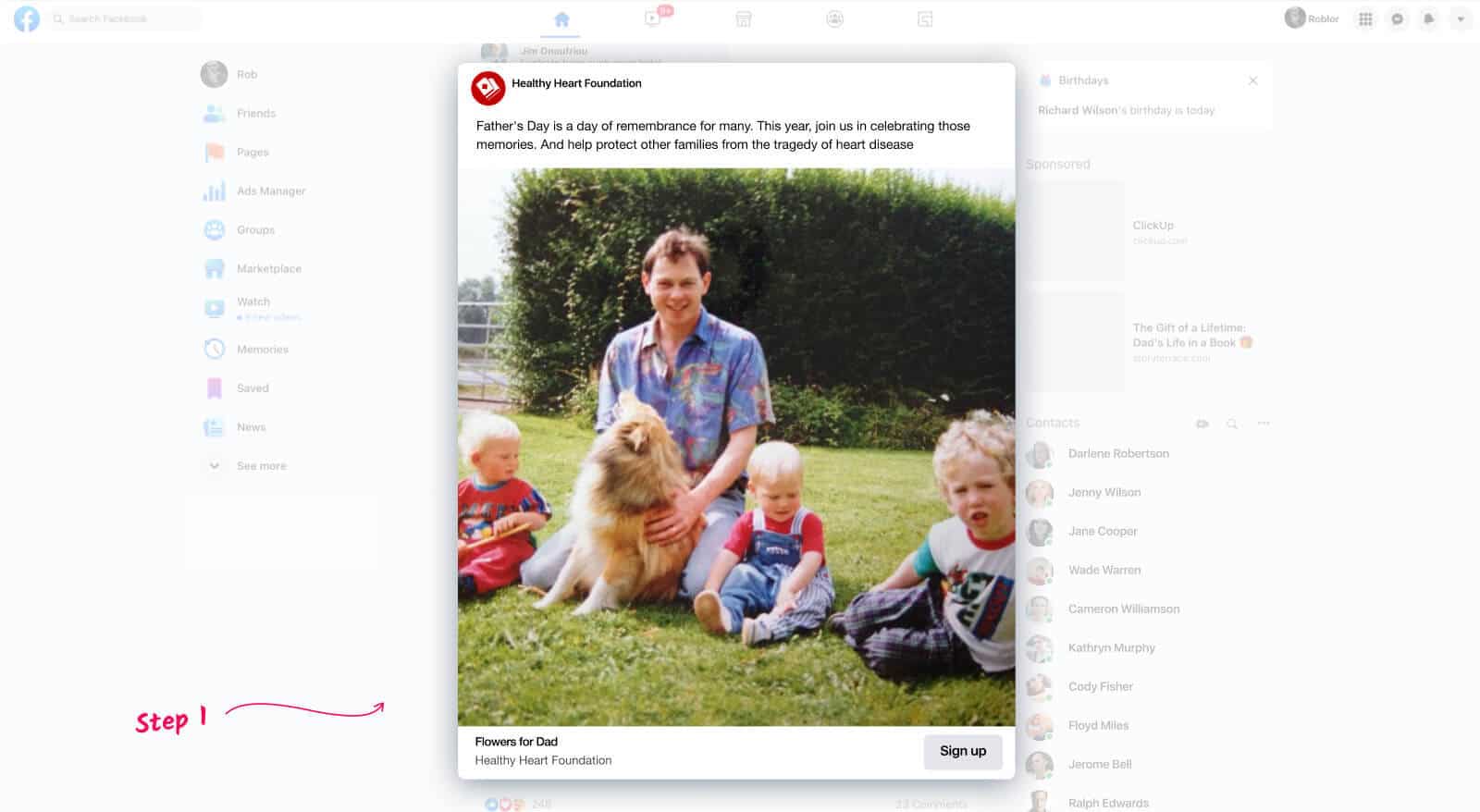 Here's our 6 top tips for building your campaign on Facebook:
Start your advertising campaign 2 weeks to 10 days before Father's Day.
Set the budget to between $500 to $1000 if this is your first time.
Pick an audience aged from 26 - 55 for maximum relevance.
Create copy that acknowledges feelings of loss and the need to remember.
Use evocative imagery around the concepts of fatherhood and memory.
Ask only for first name and email to begin the supporter relationship.
How do you build an engaged In-Memory Facebook Group?
Joining a Facebook Group requires a very small commitment from a potential supporter. Like giving your email address, it's easy to say yes to, with the idea that you'll then learn and experience more after doing so. So, you should link your Facebook Ads to a specially-created Facebook Group, using your lead form to drive as many engaged individuals into your Group as possible. The success page of a Facebook Lead Form serves as a simple journey to direct individuals to your Facebook Group.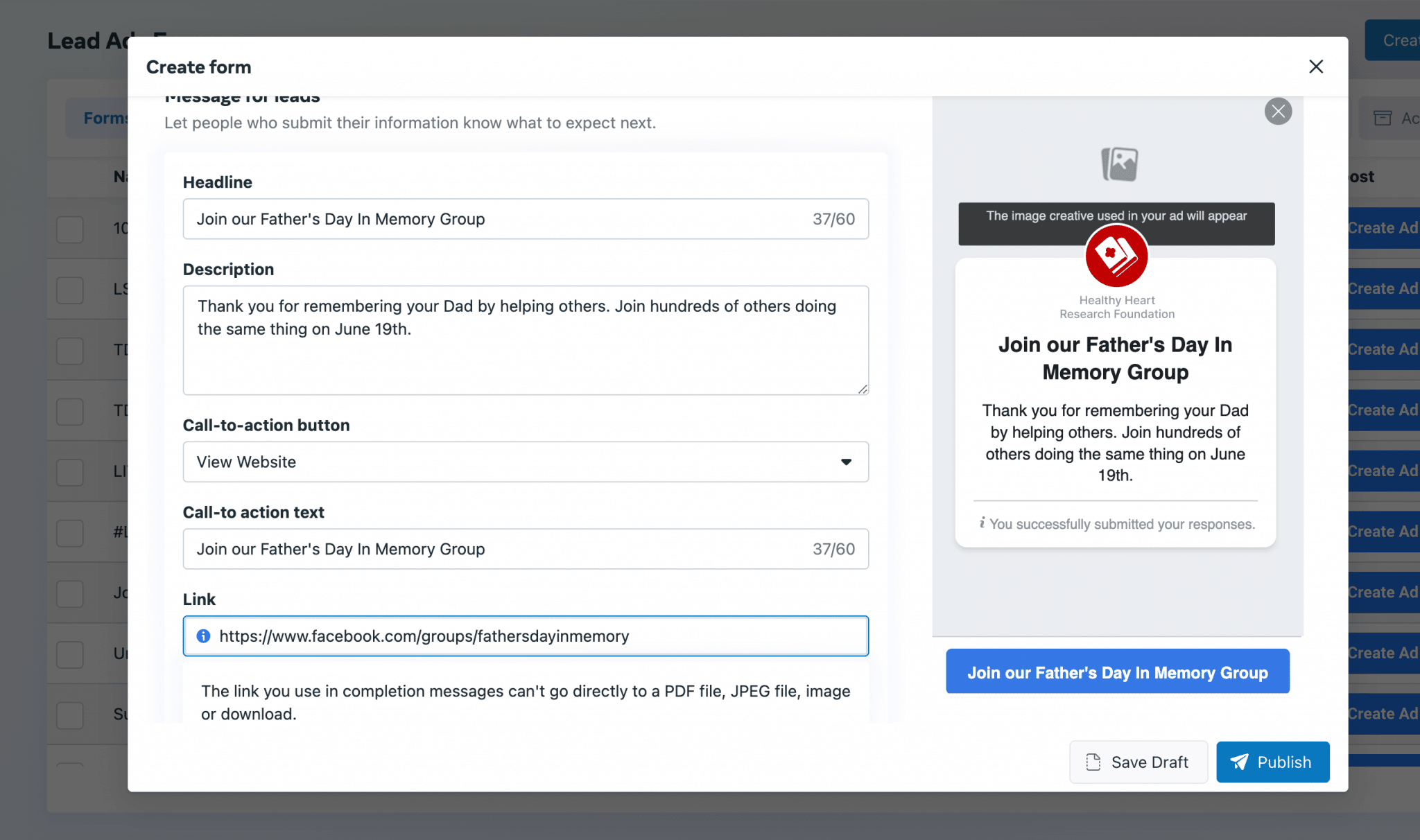 Meanwhile, building a Facebook Group gives you the ability to bring people together to share memories of their fathers, as well as lead them towards a positive shared goal, for example raising money for heart screening, suicide prevention, cancer treatment research or another cause which resonates with them.
Groups are one of Facebook's flagship products, which means that Facebook's algorithm prioritizes Groups, especially those with a high level of engagement. So, when people use the Group to share memories and stories with others who are also bereaved, this will help create a strong and very visible community for all your supporters. To start this community, you might need to share an experience from your own life, or a volunteer who might do the same.
Building an engaged Group is a skill. But here at GivePanel, we have a lot of experience helping charities with this task.
Here are 5 key tips to building the right kind of Facebook Group:
Give the group a simple title, such as the one pictured below.
Write a short and clear About section that gives viewers a reason to join.
Pin a Welcome Post to Featured Posts with a clear call-to-action.
Share personal stories from your own team, or from volunteer ambassadors.
Bring people together around a tangible goal with clear impact.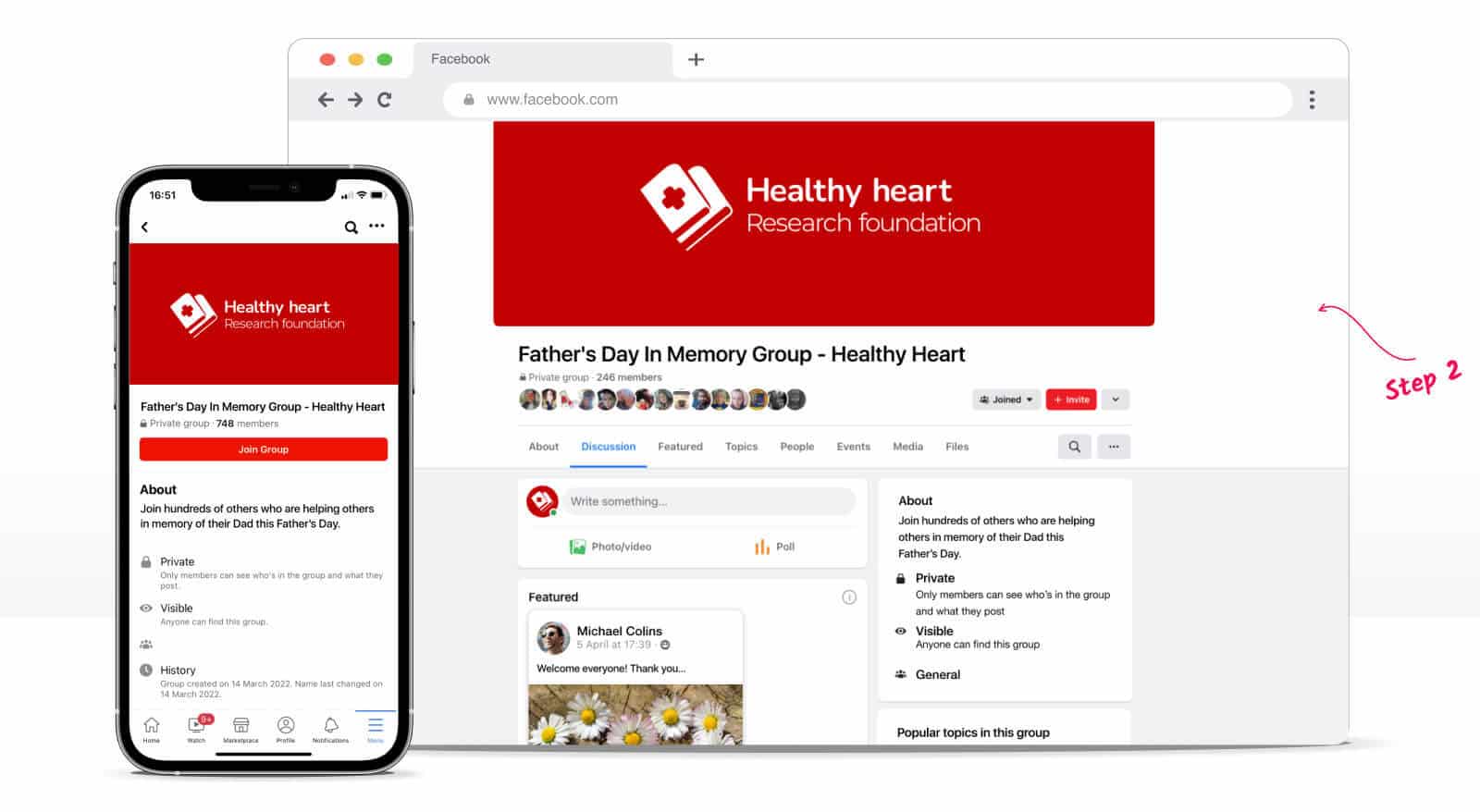 How do you build custom Facebook Fundraising pages for In-Memory?
Once you've built an engaged In-Memory Group, the people who've expressed interest in your ads and joined your community will be ready to fundraise for your charity.
GivePanel has launched a new In-Memory feature, which allows charities to build custom Facebook Fundraising pages for this kind of campaign. In a matter of minutes, you can pre-set the look and style of the entire campaign and give each supporter page a dynamic title to match the name of the deceased. All your supporters need to do to create their page is click on a link in your Facebook Group, or in an email. It's as simple as that.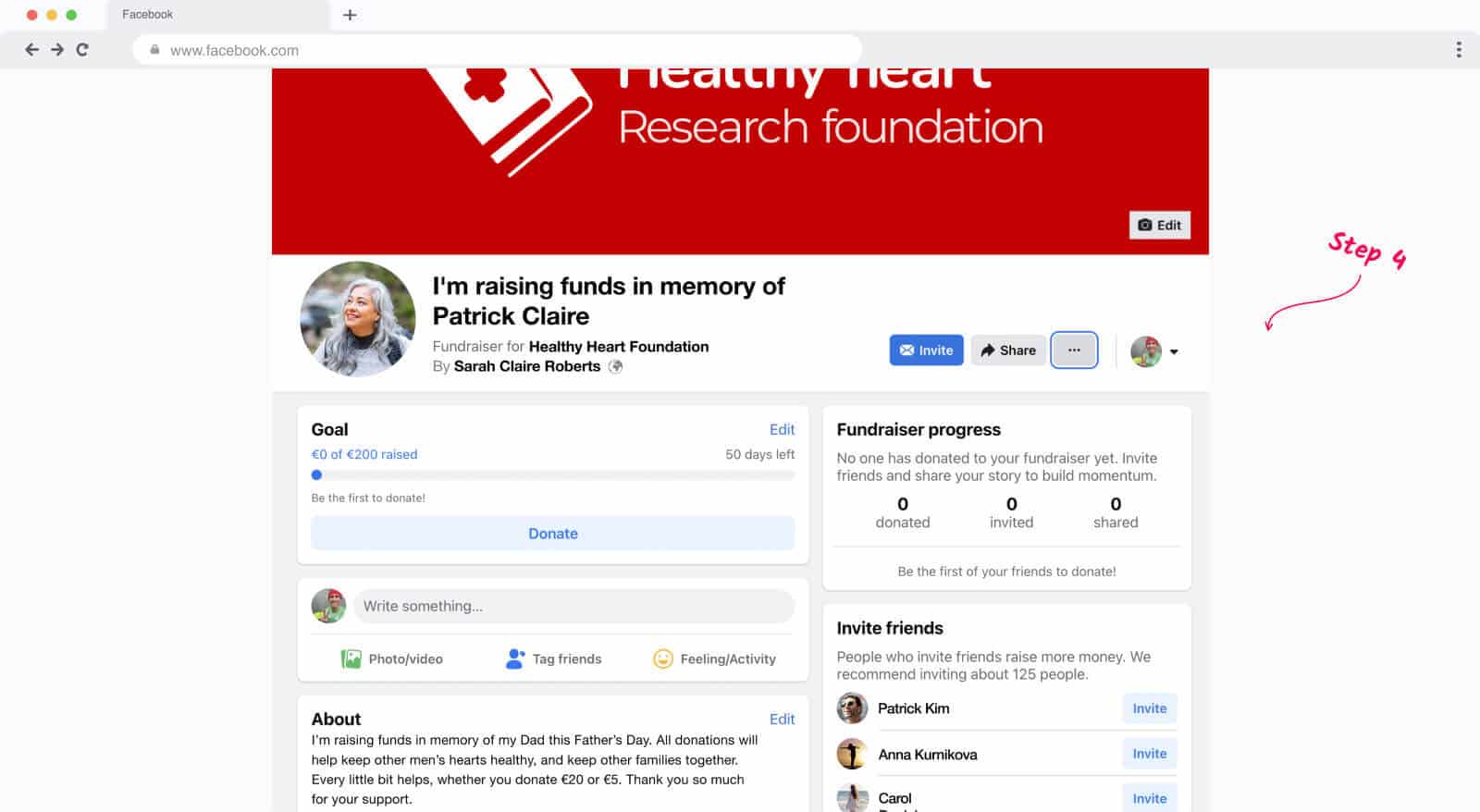 Here's our top 5 tips for building the right kind of fundraising pages for In-Memory:
Use GivePanel's custom In-Memory pages so they don't look generic.
Choose a title that is written in the first person, as if you were the supporter.
Write an About section that immediately references Father's Day.
Set an initial target that's reasonable but not offensively low, such as $200.
Encourage supporters to customize further in the fundraiser success message.
How much could you raise for your charity?
Here at GivePanel, we recently released our 2021 Facebook Fundraising Benchmark Report, which includes trends for In-Memory fundraising on Facebook. The report found that people who choose to raise funds in memory of a loved one on Facebook raise six times more than other, self-organized fundraisers on Facebook. As well as this, they raise two times more than event fundraisers on the platform.
Even assuming a cost per lead of $15-20, given this high average gift, your supporters would help you achieve an return on investment of over four times your ad spend. Not only this, but charities could capture the contact details of up to 92% of In-Memory fundraisers - many of them brand new to the cause - enabling organizations to build long-term supporter relationships and life-time value beyond Facebook.
Find out more
This day can be hard for a lot of people, and as fundraisers, it's our job to take the hurt and turn it into hope. If you would like more help from GivePanel on assessing whether In-Memory Fundraising would work for your cause, please get in touch or book a demo.
Related resources