Blog 5 secrets of hyper-engaged social communities (with results!)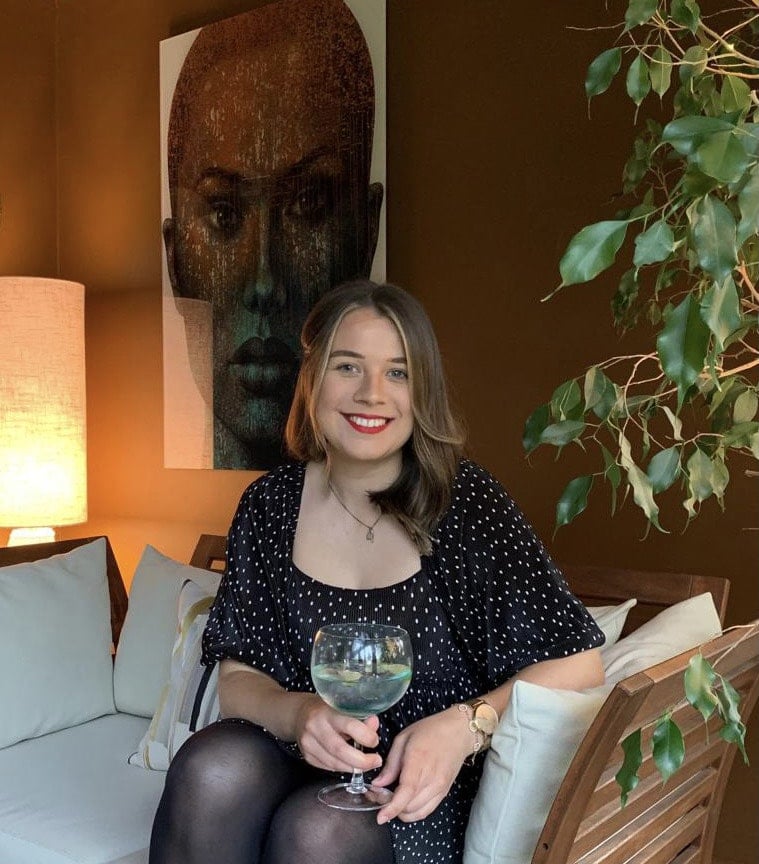 Alex Stuart
April 28, 2022
5 secrets of hyper-engaged social communities (with results!)
Picture this: you've launched an appeal for your nonprofit, newsfeeds are full of fundraisers posting about participating, sharing their updates and inviting others to join and it's leading to a load of donations. Sounds dreamy right? But what does this look like in practice? Engagement is never as easy as pushing a page live then watching the givers flood in.
Luckily, our latest webinar saw two super-knowledgeable social fundraisers (there's not a lot they don't know about engagement) come together to share the 411 on not only keeping a group interested but, of course, achieving breakthrough results.
In the session which you can watch below, GivePanel's Megan Rouse, SVP of Strategy & Development, North America and Ashly Alberto, Senior Director of Individual Giving & Foundations at American Foundation for Suicide Prevention (AFSP) share how a dog walking Facebook Challenge fostered an engaged community which created more than 3,000 registrations, had a 66% conversion rate and raised over $294,000.
What you'll get from the session:
How to warm up the dreaded 'cold start'
You'll learn from AFSP's successes and be able to implement the same kind of campaign
A heap of tactics for connecting with your own fundraisers.
By following this formula, AFSP saw their Walk 50 Miles with Your Dog in February enjoy over 1,000 posts a day! Our secrets reveal how AFSP engaged a community for their Facebook Challenge, but happily, they can be applied to any in-person or virtual fundraising event.
Ready to learn the secrets? Let's go.
Watch the webinar highlights below, or scroll down to continue reading more insights from AFSP and the GivePanel team.
Watch the webinar
Secret 1. Every event needs a new Facebook Group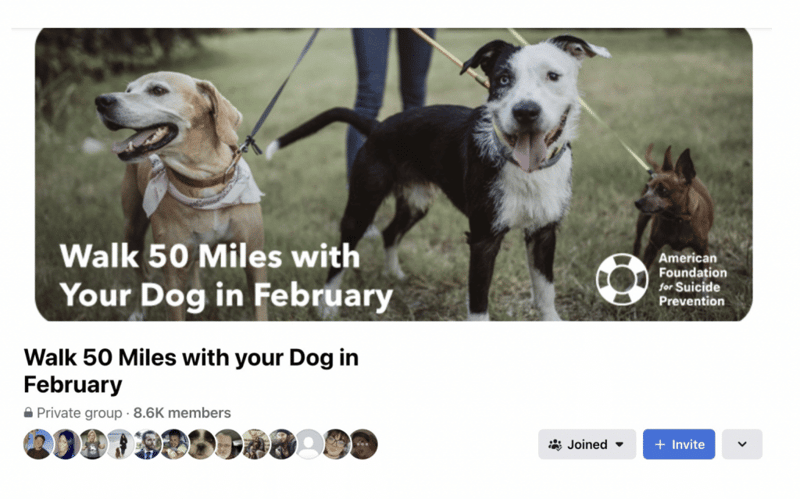 Way back when (ok, 5 years ago) donors would sign up to an event via a long-old form, you'd communicate with them by email and they'd be none-the-wiser as to whether it was just them taking part in the event or hundreds of others. Then came Facebook fundraising tools, which gave nonprofits the ability to gather all those amazing fundraisers together in a community – the Facebook Group (of course there are a good few pain points with Facebook fundraising tools – namely, the ability to thank donors easily and collect their data, which luckily GivePanel have got you covered on). As part of a group they enjoy a sense of community, a feeling of 'we're in this together' and most importantly, it's a lot of FUN.
With that said, there's no use in attempting to re-engage those participants who signed up for an event you ran a year ago with a new initiative and expect them to be invested. Try as you might, your whole Facebook audience isn't going to be interested in your current event so how do you create an audience that is invested? By starting a new group for each event you'll ensure that the whole audience is jointly striving towards the same goal, helping to cultivate a unique group and atmosphere. 🤲 And because the more engagement the group posts get, the more they show up in newsfeeds, meaning more awareness for your event across the Facebook ecosystem.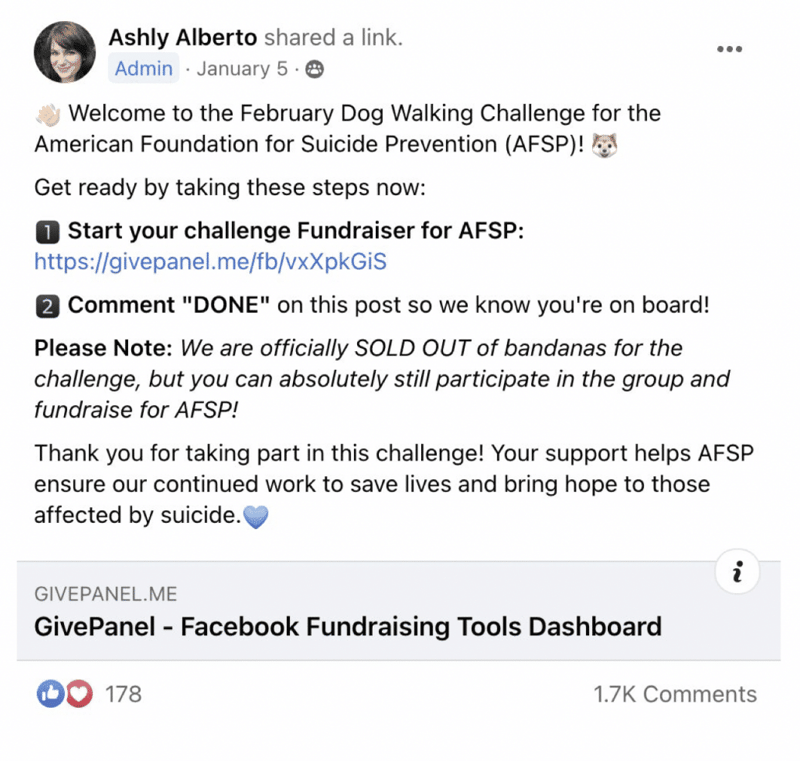 Secret 2. Recruit some Group Champions
So your new challenge idea has received a resounding yes of approval from your team, you've started a group and have loads of fun content and vibrant images awaiting. One problem. The group's empty. Who wants to join an empty group with no members and no activities? Here's where your cheerleaders come in. 🗣️️
Recruit 3 to 5 passionate peeps to join your group and set its tone from the get-go

–

they're likely to be employees or active volunteers.
Authenticity is key

–

they need to be primed to avoid what we call 'champion burnout' but being heavily invested in your cause means they're motivated.
They'll also participate in the challenge so they can share their own experiences.
They'll be happy to contribute to the group regularly using genuine social media speak (corporate formalities are a no-no).
Your champions will become your group hosts. They'll keep the vibe positive, subtly re-steering any lengthy off-topic threads (but of course, let some go, this is supposed to be fun, right?), plus reigniting the group should it go a little quiet.
And no need to worry about your champions going incognito. 🕵️ You can be totally honest that they are part of your organization.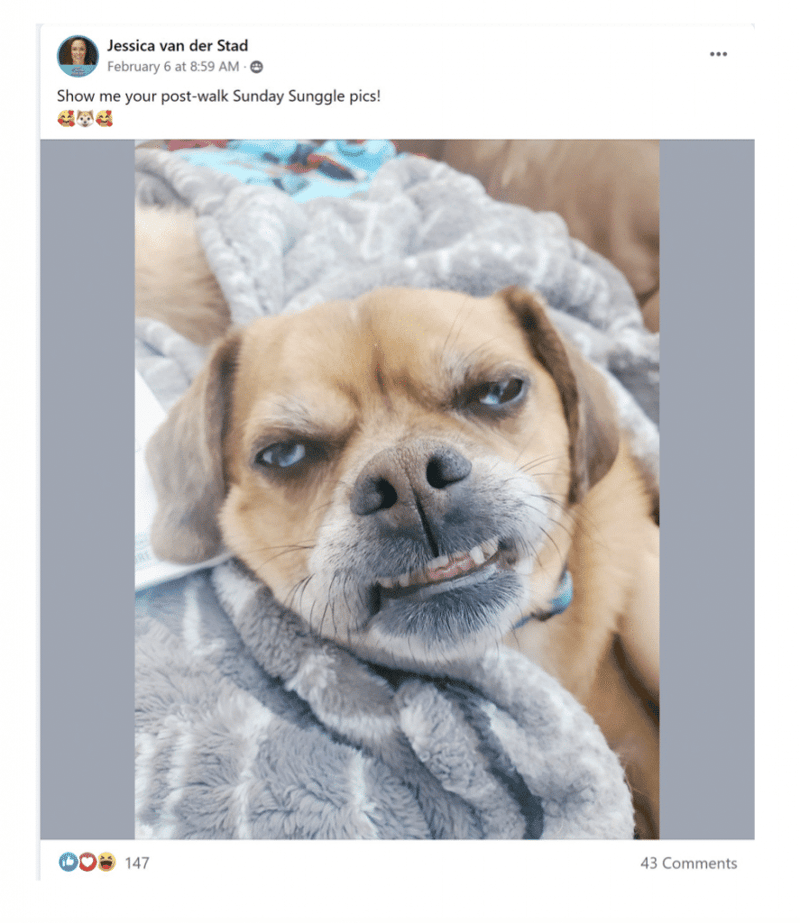 Secret 3. Run some targeted ads
Ok the event and the group are where it's at, but how do you make fundraisers aware that it's happening? Your hyper-engaged Facebook community is fueled by acquisition ads. A month before the event began AFSP ran ads targeting those already interested in the work they do. Although it's not always necessary, this event had a defined start and end date (the month of February). That way the targeted ads could be triggered to run in the lead-up, creating an all-important sense of hype. They used a combination of images and text and found that the more genuine the picture was, i.e. real dog walkers and their dogs, the better the impact was. The super simple campaign resulted in a Cost Per Lead (CPL) of just $0.70.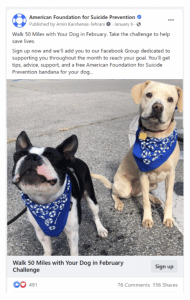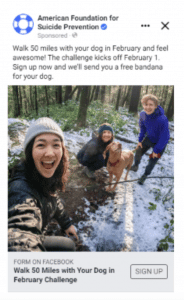 Secret 4. Actively encourage storytelling
One reason why your participants probably aren't posting anything in your event page? They don't know what to post. Your awesome band of on-page champions need to encourage them to use their page as a log of their challenge progress.
Pose questions, not commands. It's much more inviting. Your champions can post their personal updates then ask others how they got on. You can also ask why they're involved in the challenge and what it means to them.
Tie in other appropriate events to boost conversation. AFSP got their group of dog lovers talking when they celebrated National Golden Retriever Day and who doesn't want to celebrate that?
Everyone likes to feel appreciated. Avoid a mid-challenge lull by reminding them the impact of their fundraising. Keep it real with case studies, videos and lots of stats.
Big-up the successes of fellow challenge participants. Encourage them to show how far they've come with daily or weekly milestones.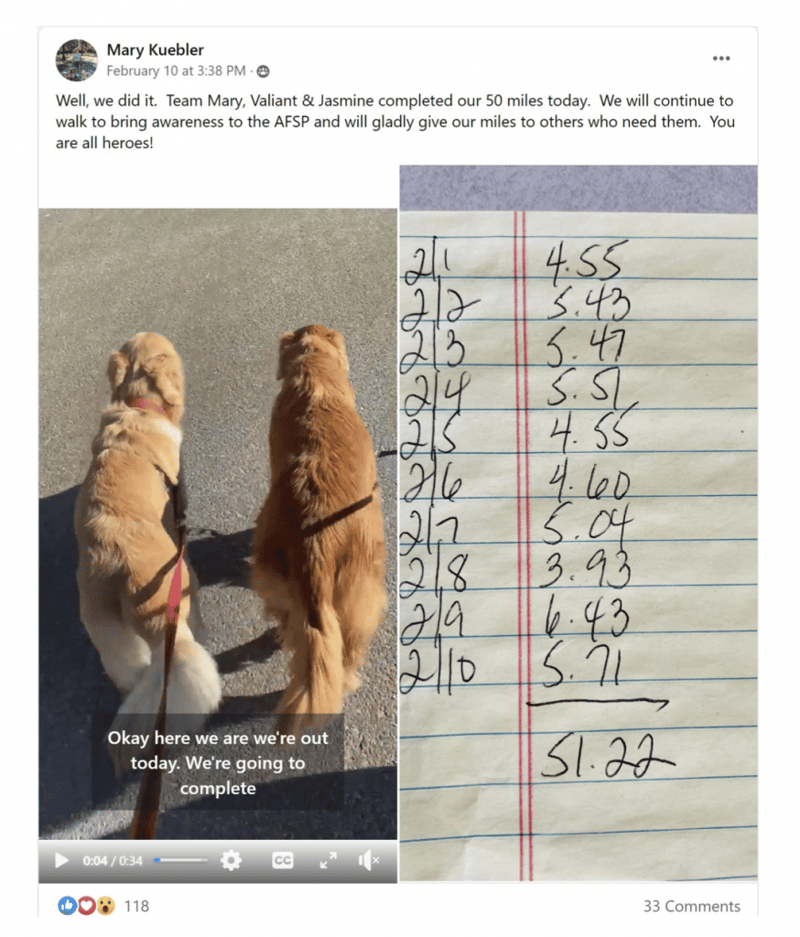 Secret 5. Get inventive with your incentive
Facebook Challenge participants just love a reward. It's a physical memento of their achievement, and it's almost like a uniform, helping to boost that sense of camaraderie. AFSP switched up their incentive from the usual t-shirts to keep theirs in-keeping with the challenge, rewarding participants with a bandana for their dog (in two sizes!). Queue multiple adorable pelfies 🐶 (ICYDK pet selfies!) – which of course means more posts, more shares and yep, more funds being raised.

If 5 secrets ain't enough, read the full American Foundation for Suicide Prevention success story for more top tips!
Ready to explore Facebook Challenges?
Take a look at our guide to planning the perfect Facebook Fundraising Challenge in 2022. There, you can download our free Calculator Tool, enter what you think you can spend on resourcing your Facebook Challenge, and generate meaningful ROI projections.
Book a GivePanel Demo
Book your 30 minute demo with one of our awesome Facebook Fundraising specialists today to see if GivePanel could help you supercharge your Facebook fundraising.
More resources