Speak to a social fundraising specialist today to find out how GivePanel could help your nonprofit raise more on social platforms.
Are you failing to meet your Facebook fundraising goals?

Are you worried about the impact of not being able to thank your supporters on Facebook?

Are you frustrated by the lack of supporter details provided to you by Facebook?

Do you want to grow your Facebook income 10x by harnessing the power of Facebook groups?
Navigating December Virtual Fundraising Events: Inside the Irish Heart Foundation's 12 Dips in December Facebook Challenge
Solutions used:
Facebook Challenges
GivePanel Partner
Group Engagement
Irish Heart Foundation launched their first December Facebook Challenge in 2022, with the idea of tapping into the popularity of cold water swimming in Ireland.
Having tested Facebook Challenges in the past and ran a successful campaign in the summer of 2022, the team were keen to build on the growing revenue stream and host a month-long test virtual fundraising event in December. But, the festive season came with its own challenges of managing postal deliveries, staff holidays, and finding an activity that supporters would have time to complete in the busy month.
We caught up with Jordan Kavanagh, Digital Fundraising Manager for the Irish Heart Foundation, to find out how 12 Dips in December went.
Set the scene
Who is Irish Heart Foundation?
The Irish Heart Foundation is a nonprofit that is dedicated to protecting and fighting for the cardiovascular health of everyone in Ireland. They provide support and care for those living with heart disease and stroke conditions and aim to eliminate preventable death and disability from these life-changing conditions. The organization offers care through support groups, campaigns, and advocacy work. They are the national heart and stroke charity in Ireland and are a household name.
The team were fortunate to already have significant organic support on Facebook, but digital fundraising was not initially a core focus of the team's fundraising strategy and was managed through various teams in the organization. However, when the Covid-19 pandemic hit, everything changed.
Having noticed the success similar charities were having on Facebook through virtual fundraising events known as Facebook Challenges, Irish Heart Foundation joined GivePanel. However their initial relationship with the Facebook Challenge format was trial and error and, as Jordan noted, their fear of not making a return on investment was holding them back.
In 2022, the nonprofit collaborated with Tom Hickey, Fundraising Consultant and pioneer of the Facebook Challenge model, who introduced them to the significance of engaging supporters with their fundraiser and providing them with a rewarding experience. Following the GivePanel Playbook, they organized a dog walking Challenge in June that was a huge success and provided them with a framework that they could replicate and scale. They then started preparing for their next Facebook Challenge: 12 Dips in December.
What people are saying
I have recommended it to other charities and what I say is it is a great resource, tool and community all in one but what you put into GivePanel is what you get out.
The challenge
12 Dips in December
A Facebook Challenge is a virtual event that runs solely on Facebook and leverages the power of social networking through ads, groups and fundraisers. This means:
Lower acquisition costs
More fundraisers

And a chance to meet supporters where they already are!
The Irish Heart Foundation launched 12 Dips in December as a Facebook Challenge test, both in terms of running a fundraising campaign at that time of year and for the Challenge concept itself.
Here are four things to note about Irish Heart Foundation's 12 Dips in December Challenge:
Concept – The Challenge required supporters to take a dip in open water 12 times during the month of December. As Jordan notes, swimming is a popular activity in Ireland, and the festive season is known for its Christmas Eve and Christmas Day swims. However, the team was conscious that December is also a busy month of festive celebrations for people and access to open water would differ for supporters. So they limited the activity to '12 dips' to test whether the month-long timeframe would still work for a smaller activity.
Resource – Unsurprisingly, managing such an event during the busy holiday season was no easy feat. The team had to manage staff considerations with holidays, competitive digital advertising, postage during the festive season, and to top it off, technical issues with the Facebook platform meant that a proportion of supporters couldn't see donations made to their fundraisers, causing concern. As a team of four, they found that time management and scheduling in advance was key to managing the Challenge successfully, even during the festive holidays.
Engagement – Technical issues with donations meant that they had to concentrate their efforts on engaging the group and maintaining a positive atmosphere. By enlisting the support of Challenge Champions, reassuring supporters and communicating both privately and within the group, the team motivated supporters to fundraise and take part.
Incentive – Irish Heart Foundation used red, branded beanie hats as their incentive which proved to be popular and effective for photos and brand awareness. The team also incorporated tote bags as a reward for fundraising and finishing the Challenge.
In addition, the team worked closely with trusted Fundraising Consultant, Tom Hickey, who supported with strategy and concept development, copy for Facebook ads, emails and messaging, and monitoring of the group and coaching on group management.
Tom also stressed the importance of shifting the mindset of supporters to focus on the end goal, instead of instant gratification, and noted that the perceived difficulty of the Challenge has a significant impact on its success. The function of the Facebook group then, is to provide structure for supporters to achieve what they see as a difficult activity, and encourage them to fundraise.
Irish Heart Foundation's combined efforts in acquisition and managing the group resulted in a highly engaged, positive group that supported the Irish Heart Foundation by raising an incredible €137,000.
The GivePanel difference
Meeting supporters where they are
GivePanel offers a powerful solution to unleash the potential of Facebook fundraising. By using GivePanel, you can effortlessly collect valuable contact data, create custom imports for your CRM, and show appreciation to all your invaluable Fundraisers. GivePanel empowers you to raise more funds, foster lasting relationships with your supporters, and run successful Facebook Challenges, all in one place.
For Irish Heart Foundation, GivePanel's practical tools helped streamline their day-to-day operations of Facebook fundraising; removing manual tasks from the Facebook platform and making data capture a breeze through GivePanel's registration form with 1-Click Fundraiser activation.
On top of that, Jordan mentions that by joining GivePanel, the team have been able to learn from the experts, grow their brand and gain valuable insights into the current social fundraising landscape.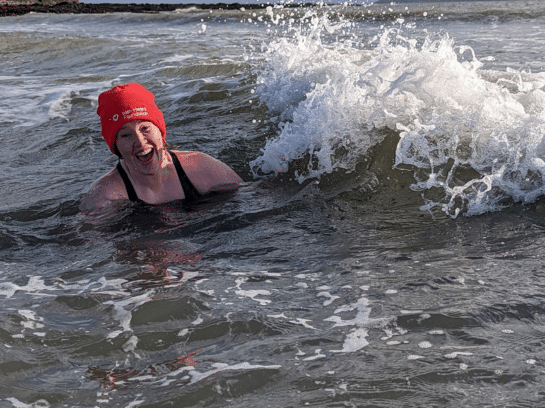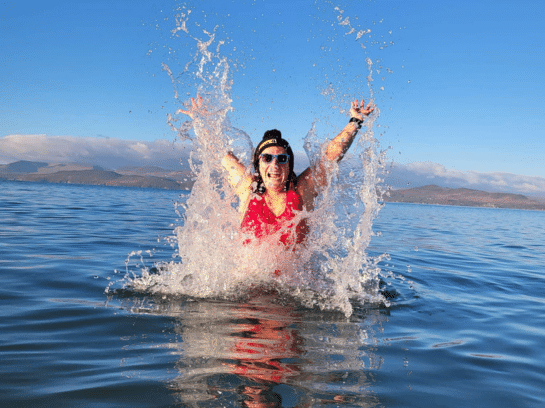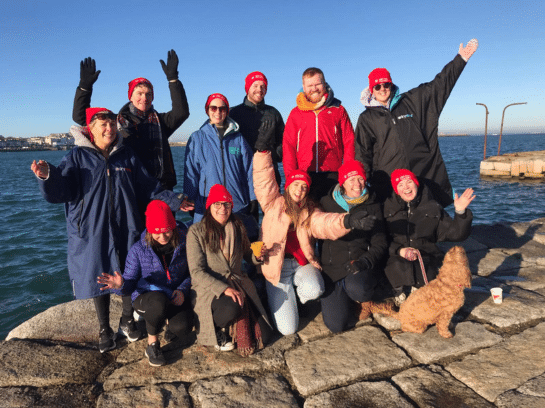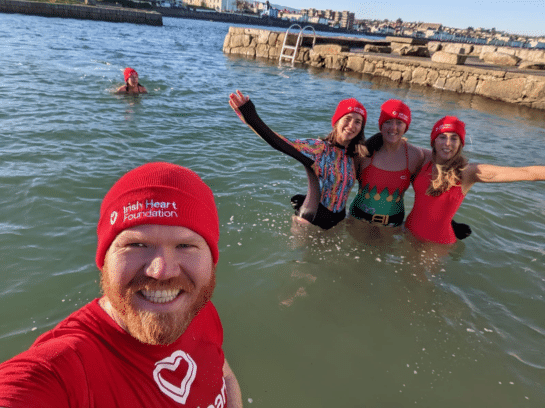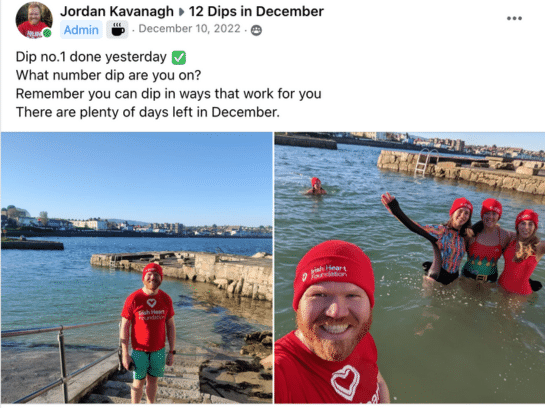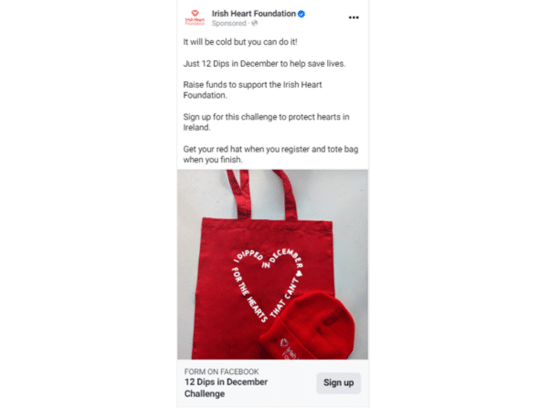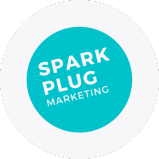 The results
The Challenge in numbers
€358
Average Raised per Active Fundraiser
Final thoughts
You get what you give
When asked if the Irish Heart Foundation would recommend GivePanel Facebook Challenges to other nonprofits, Jordan answers a resounding yes (but with a caveat). He says that the results from Facebook fundraising campaigns and virtual events are dependent on what you put into them, and that it's essential to plan effectively and put in the work to achieve success.
The amazing results of Irish Heart Foundation's 12 Dips in December event demonstrate once again, the incredible power of Facebook as a social fundraising tool for nonprofits of all shapes and sizes.