Blog 3 ways to build a sustainable fundraising strategy "Beyond Facebook"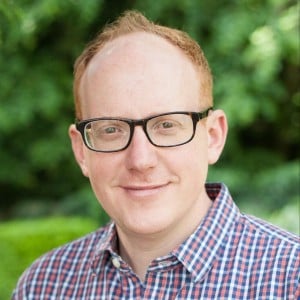 Nick Burne
November 24, 2021
3 ways to build a sustainable fundraising strategy "Beyond Facebook"
Facebook Fundraising has created new opportunities for how nonprofits approach fundraising, but is still in its early life, and so optimizing Facebook fundraisers to make them work for your nonprofit can be an interesting challenge – one which we at GivePanel can undoubtedly help you to tackle.
In this blog, we're going to look at the "Beyond Facebook" model, which will help you move from using Facebook Fundraising just for supporter acquisition and short-term revenue generation, to a channel that aids you in converting new supporters onto your owned media channels (such as email and CRM) – increasing the lifetime value of those supporters.
At GivePanel, the product we've developed gives nonprofits like yours the opportunity to help make Facebook's fundraising technology work better than Facebook's free tools. Facebook's not always a great experience for fundraisers, especially when it comes to engaging supporters beyond the Facebook platform.
GivePanel's tools mean that fundraisers can create an amazing user experience for supporters inside of Facebook, whilst also opening up the opportunity for building relationships with those same supporters on other platforms that the nonprofit owns - creating a more sustainable fundraising programme.
After all, you don't want to rely on Facebook completely for all of your fundraising efforts. Hence, the need to look "Beyond Facebook". See what we did there?
But how do you go from offering a compelling Facebook Fundraising experience, to engaging those supporters beyond Facebook? (Okay, we'll stop saying it now…)
Strategy #1 – Plan a Facebook Fundraising "Pilot"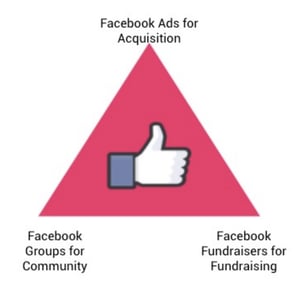 Success on Facebook drives internal change more than anything. There's no point in having a "Beyond Facebook" strategy unless you are generating lots of revenue and new supporters on Facebook in the first place!
The simplest and quickest thing is to pilot a Facebook Fundraising Challenge campaign.
Why Facebook Challenges?
Our guide on how to plan the perfect Facebook Fundraising Challenge has loads of reasons why, including:
EVERYTHING is kept on Facebook (for the event): Because everything happens on the Facebook ecosystem, Facebook challenges see much higher activation and conversion rates than other platforms. Participants don't have to set up new accounts or try to understand an unfamiliar system. And it works: our data shows that event registrations forms get conversion rates of 93%!
Challenge people to do something they want to do: Participants do the challenge activity in their own time. This suits them because they can fit it around their lives; and it's great for charities because it means much fewer logistics than an in-person event.
You can create a new Facebook Group, just for the challenge: The group encourages and motivates individuals to do the challenge every day, and to fundraise.
Challenges can be run from start to end in one calendar month: GivePanel recommends up to four challenges per year. You can experiment with different challenge concepts that will appeal to different audiences; and spread them out to target different seasonal trends, such as people looking to get fit for the New Year or at the start of the summer. Any more than four, you risk exhausting your audiences and drastically reducing your return on investment.
You may also be asking if Facebook Challenges have become too saturated. Fear not - you have not "missed the boat" on this. The audiences for these challenges are massive, and hugely diverse: it is the audience for all varieties of fitness.
The magic of the Facebook Challenge model is that they appeal to regular people, who just want to get a bit fitter. If you get one set up now, you're still early to the game and can make your challenges a big success.
Strategy #2 – Collect "Owned" Data + Start Journey
The second strategy is to focus on gathering "owned" data, such as email addresses and phone numbers. This is supporter data that you can control "Beyond Facebook". (Okay, we had to say it just one more time!).
This strategy involves collecting supporter data BEFORE people fundraise by getting them to register for an incentive. Offering a super simple incentive like a free t-shirt works best.
If you're wondering how many t-shirts to get and how to make the budgets balance from this investment, we've created a free Facebook Challenge calculator tool. Simply enter what you think you can spend on swag like t-shirts, fulfilment of the actual challenge and any external support you need. The tool will generate projections for you and you can tweak the details until you get the results that you would like to see.
However, once a Facebook Challenge has started, you can't go back afterwards, so make sure you have the process in place to ask for supporter data, including:
The channels you want to use

–

everyone remembers email addresses, but don't forget phone numbers.
The right GDPR-compliant consent.
Don't rely on using Facebook Messenger as the only channel for communicating with your fundraisers, as this isn't sustainable. Get the supporter data while they are on Facebook, but then think of ways that you can engage with those same supporters beyond Facebook.
Strategy #3 – Retarget to Build Affinity
The final strategy is simple: keep sharing your content with your new audiences to build affinity and long-term relationships with them.
Facebook's new advertising features for Facebook Donate allow you to retarget your donors and your fundraisers. This is a game-changer, people! Simply speaking it means you can continue to show content and stories directly to your supporters over time; giving you another channel in which to keep them engaged.
But, how does it work?
When setting up your event on Facebook, you can choose the Conversion Event to be 'Facebook Donation'. This will allow people to make donations from ads, and also allow you to track conversion rates, cost-per-acquisition, and return on ad spend (ROAS) on Facebook donations. In Facebook, there are also two new custom audiences that you can use (one for donors and one for fundraisers) either for targeting people who have donated to your page or created fundraisers for your page.
And the best thing? You can also create lookalike audiences you can then use to acquire new donors and fundraisers who have similar characteristics as your existing ones. When you create your lookalike audience, you can use a percentage range to choose how closely matched you want your new audience to be to your existing one. The smaller percentage, the closer to your existing audience; whereas the higher percentage allows you to target a bigger, broader audience. You can then be flexible based on your budget or goals.
When retargeting existing audiences or using lookalike ones, you can expect radically higher conversion rates and better ad performance because you are being highly targeted and focusing on people who you know are already interested in your organization or cause, or those people who have very similar demographics, behaviors and interests to your existing supporters.
Beyond Facebook: Key Takeaways
By now, we've established that the future of fundraising is Social Fundraising. You should be using Facebook now with cash donation or supporter acquisition campaigns, while thinking about the future too and converting donors to sustainable "owned" relationships.
To get started, pilot a Facebook Challenge for your nonprofit organization.
Then, acquire as much owned data as you can from Facebook (using tools like GivePanel).
And finally, don't just rely on data. Adopt a retargeting strategy with Facebook's new ad tools to get more supporters and build affinity.
Remember, if you follow the right strategies outlined in this article here, it's possible to have the best of both worlds. You can have your cake and eat it, generating more income AND data AND control!
Ready to explore Facebook Challenges?
Take a look at our guide to planning the perfect Facebook Fundraising Challenge in 2022. There, you can download our free Calculator Tool, enter what you think you can spend on resourcing your Facebook Challenge, and generate meaningful ROI projections.
Book a GivePanel Demo
Book your 30 minute demo with one of our awesome Facebook Fundraising specialists today to see if GivePanel could help you supercharge your Facebook fundraising.
More Facebook Fundraising resources