Blog Fundraising for Crisis with $100k+ raised Facebook Challenges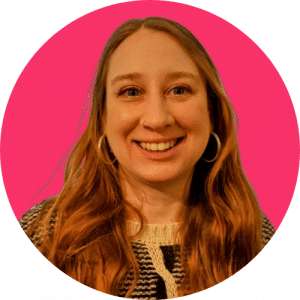 Danni Adam
August 4, 2022
Fundraising for Crisis with $100k+ raised Facebook Challenges
Peer-to-peer virtual fundraising challenges, or Facebook Challenges, have more often been associated with large, health-related nonprofits. Yet some organizations or those who don't work in the health space are seeing success with Facebook Challenges.
In our recent webinar on Fundraising for Crisis with $100k+ raised Facebook Challenges, I was joined by Megan Maya, Consultant at More Strategic, and Ashlea Watkins from Australian Red Cross to discuss how the latter's recent Facebook Challenge, Walk 100km with your dog in June, helped raise an incredible AU$160,099.
We explored the incredible success of the Australian Red Cross – diving deeper into how their event was developed and managed, and the common pitfalls every nonprofit should know before embarking on their own Facebook fundraising journey. Ready to learn what it takes? Watch the webinar in full below, or scroll down to continue reading.
Or, if you're ready to dive right in, book a one-to-one GivePanel platform demo with me!
Watch the Webinar
What are Facebook Challenges?
If you've heard about GivePanel it's likely that you've also heard about Facebook Challenges since we are, arguably, their biggest cheerleaders.
Whilst Facebook fundraising is still relatively new in Australia, we're already seeing incredible results from Facebook Challenges. For nonprofits in Australia running Challenges in 2022, the model has an average ad spend of $18 to recruit Active Fundraisers and the average raised by those Active Fundraisers is $200 (although we have seen a few Challenges that have achieved even higher results!).
And if you're not impressed by that, you might also want to know that the top 5 Facebook Challenges this year from GivePanel customers raised on average $250,000.
Need a refresher of what a Facebook Challenge entails? Here's the headlines:
A Facebook Challenge is a peer-to-peer virtual event that is managed via Facebook.
People are recruited via Facebook Ads and undertake a Challenge in their own time which they raise money for via a Facebook Fundraiser.
The Challenge activity usually lasts a month and can be anything from squats or running, to knitting or dog walking. Yep, that's right – it's 2022 and pooches are fundraising too.
Fundraisers are prompted to fill out a registration form for a Challenge-based incentive, such as a t-shirt or dog bandana, which allows you to capture fundraiser contact details.
Via GivePanel, you can then steward your fundraisers with messaging tools and email journeys to encourage them to raise funds for your organization.
For nonprofits, this way of hosting an event means lower acquisition costs, more fundraisers and new audiences, with over 80% of Challenge participants being new to the charity.
Did we mention we love them?
Walk 100km with your dog in June
Ready to find out how their nonprofit would fare with Facebook Challenges, the Australian Red Cross teamed up with GivePanel and More Strategic to launch their first pilot Challenge of Walk 100km with your dog in June and, it's fair to say, it went pretty well.
Once you see the hundreds of pet pics modeling their branded Red Cross bandanas, you might think the Challenge concept was a no-brainer (cos' who wouldn't want to see a Facebook feed full of dogs?). Megan Maya explains how the team landed on dog walking as the Challenge activity and how they were able to connect this back to Red Cross's cause.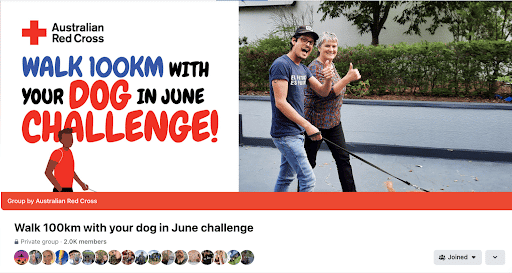 Picking the right Challenge
Despite having seen the huge success Facebook Challenges have had for health charities and for charities based in the UK, Megan notes that they weren't sure how the same model would perform for an NGO like the Australian Red Cross, and therefore picking the right Challenge would be key to its success.
There were four key factors that came into the decision-making:
NGO's typically have lower average funds raised than health charities on Facebook
A more difficult Challenge = higher average funds raised and activation rate
Acquisition results consistent for cost-per-lead in Australia for health vs NGO's
4 of the top 40 Challenges in the UK were dog walks
Enter, Walk 100km with your dog in June. But what does dog walking have to do with the Australian Red Cross?
The answer – companionship.
By tying their Facebook Challenge activity of dog walking to their cause through the theme of companionship, the Australian Red Cross were able to weave into their content particular programs that related to their cause and companionship. This included Teleyarn, a Community Visitors Scheme and family support programs. Their choice of language reflected the theme, using words like 'connection', 'loneliness' and 'friend' throughout their interactions in the Facebook Group.
Mix up your ads
Picking the right Challenge model is one thing, but if you don't get supporters into your Facebook Group, you ain't fundraising, so perfecting your Facebook ads is vital. With More Strategic's help, the Australian Red Cross focused their ads on three core content themes of Challenge, Incentive, and Cause.
Challenge – these ads concentrated on the Challenge activity itself, had short copy, and resulted in the highest volume of leads.
Incentive – showcasing the dog bandana that fundraisers would receive on registration, the incentive ads also had short copy and featured photos of the Challenge welcome pack. But readers, be warned. Whilst the incentive ads generated the lowest cost-per-lead, they also resulted in the worst fundraiser activation out of the three themes. Our advice? Use in moderation and balance your spending with other ads.
Cause – finally this set of ads revolved around the organization's mission and, with longer copy, introduced themes of companionship. They showed where and how the supporters' donations would be used and resulted in the lowest cost per active fundraiser.
In summary, it's important to have a good mix of ad content and be clear on how you're packaging your various Challenge messages together. And don't be fooled by a low cost-per-lead! Instead, consider optimizing for cost-per-Active Fundraiser which we believe will bring quality rather than quantity.
Teamwork makes the Challenge work
If a Facebook Challenge is properly resourced then, like the well-known idiom 'many hands make light work', you'll be able to engage and steward your fundraisers, monitor key results, and fulfill incentives throughout the month. If not – well, let's not get into that.
For the Australian Red Cross, this meant bolstering their limited internal resources by working in partnership with More Strategic to help manage their Challenge development and acquisition. This allowed the team to engage with their Facebook Challenge whilst also managing other campaigns in their fundraising portfolio.
To break it down, their team consisted of:
Two hosts from the Australian Red Cross' team to manage the Facebook Group, including content creation, replying to messages and engaging with supporters
Five enthusiastic dog-owning staff members to act as Challenge Champions within the group and drive engagement
One customer care team, briefed on the Facebook Challenge to handle all inquiries via Facebook, email and other social media channels
One external company to manage fulfillment and distribution of Challenge incentives
So, with the right Challenge concept, a mix of high-quality ads, and a well-resourced team, the Australian Red Cross smashed their Walk 100km with your dog in June challenge. The results speak for themselves:
Acquired 3,025 Facebook leads at a CPL of $2.15
Grew Facebook group to 2,000 members
1,319 registrations for Dog Walk
907 fundraisers created with 75% activation rate
682 active fundraisers at a CPA of $9.53
Active fundraisers raised an average of $234
Total income $160,099
ROI: 3.87
Is now the right time to remind you that this was a pilot? Mind-blown.
Common pitfalls
Whilst the Australian Red Cross Facebook Challenge was plain-sailing, that's not to say there aren't some turbulent seas that nonprofits should be wary of. Our 3 top tips will help you navigate the way ahead:
1. Attract the right people
Facebook ads should focus on the theme of Challenge first and foremost, but you can test with secondary messaging on themes such as incentives or cause.
Be wary of advertising to people under 30 and through Instagram as these don't tend to be typical fundraisers and the journey is happening away from Facebook.
Serial runners and fitness audiences can provide large volumes but, from testing, we've seen that they are also likely to be low fundraisers.
2. Change path if necessary
Don't get lost at sea if the results aren't hitting targets straight away. Try testing a variety of post types including questions, video, and cause-related information.
Plan for roughly one-third of your content to be focused on fundraising, covering both how and why.
If your percentage of registrations is looking a little low, get supporters to model your incentive and remind the group regularly to sign-up.
3. Plan for forgetfulness
Don't let your fundraisers forget about their fundraisers!
Share posts in the group on how to find your Facebook fundraiser and provide content that they can share with their supporters.
Remind your fundraisers to share their story on why they are taking part – what is their connection to cause?
Use GivePanel's messaging tools to comment on fundraiser pages so your supporters will be notified and directed back to where it matters!
Ready to explore Facebook Challenges?
Take a look at our guide to planning the perfect Facebook Fundraising Challenge. There, you can download our free Calculator Tool, enter what you think you can spend on resourcing your Facebook Challenge, and generate meaningful ROI projections.
Book a GivePanel Demo
Book your 30-minute demo with one of our awesome Facebook Fundraising specialists today to see if GivePanel could help you supercharge your Facebook fundraising.
Related Resources