Blog How Canteen raised over $1 million from Facebook Challenges by creating a hyper-engaged community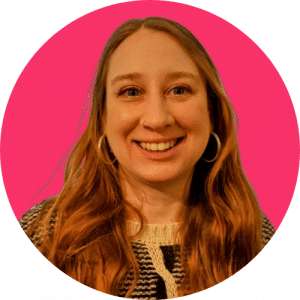 Danni Adam
November 29, 2022
How Canteen raised over $1 million from Facebook Challenges by creating a hyper-engaged community
As one of the first GivePanel customers to run a Facebook Challenge in Australia, Canteen has seen huge success with Facebook fundraising, raising over $1 million for their cause in the last two years.
What's the secret to their success? Creating a hyper-engaged community through group engagement and a multichannel approach which resulted in thousands of fundraisers dedicated to doing just that – fundraising.
In our latest webinar, I was joined by Lizzy Kwan, Canteen's Digital P2P Fundraising Campaign Specialist and Caitlin Crowther, Community Fundraising Coordinator, to discuss why they chose to run Facebook Challenges, how they manage group engagement effectively, and gain insights into the communication tools and techniques used by Canteen to keep their Challenge participants engaged for a whole month.
Watch the webinar
Watch the webinar highlights below, or scroll down to continue reading more insights from the Canteen team.
Who is Canteen?
Canteen is an Australian not-for-profit that provides free and tailored support to young people aged 12-25 who are impacted by cancer. Canteen provides:
Connection with peers in similar situations through events and programs
Free counseling and individual support
24/7 online support services for young people and parents
Access to free information and resources
Specialist support services for young cancer patients
Having joined GivePanel in 2021 at the height of Covid19 lockdowns, the team were keen to develop a new income stream to replace the sudden loss of in-person events, and launched their first Facebook Challenge in November of that year.
Why do a Facebook Challenge?
The team at Canteen had heard stories of success from across the pond in the UK and US, where Facebook Challenges were bringing in the big bucks for nonprofits, and they were keen to test this out for themselves.
But let's rewind and cover the basics for those that are new here. First question, what actually is a Facebook Challenge? Answer: it's a virtual event that runs solely on Facebook and leverages the power of social networking through ads, groups, and fundraisers and if you're keen to get started, check out this guide to creating a new digital income stream with Facebook fundraising.
Second question, what does this mean for your nonprofit? Well, alongside creating a new income stream on which to connect with your fundraisers, it also means:
Lower acquisition costs
More fundraisers
And no fundraising platform costs!
Win, win, win, am I right? And if that doesn't convince you, Canteen's results from their three Facebook Challenges just might.
The results
Let's talk numbers. Canteen have run three Facebook Challenges since 2021 and have raised a whopping grand total of $1,476,866. But what does that look like per Challenge?
Their first Challenge of 100 Sit-Ups a Day in November raised $368,174 and had 4,823 supporters join their Facebook Group.
Their second Challenge, 5km a Day in March, achieved the highest raised of $611,044 and had 7,103 Group members.
Their third and latest Challenge, 100km Dog Walk in July, raised $497,668 with 6,232 Facebook Group members.
And unsurprisingly with those figures, the team surpassed all targets set for themselves in every Facebook Challenge. Boom.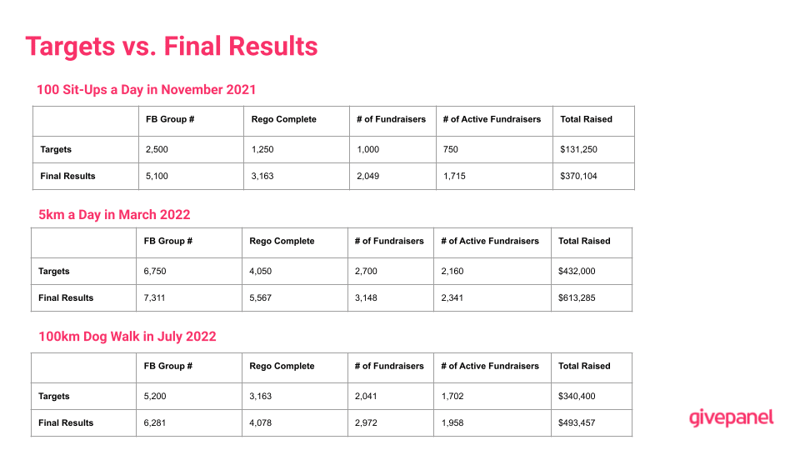 Creating a hyper-engaged community
As much as I'd love to tell you it's as easy as flicking a switch, getting Facebook Challenge results like Canteen's is a labor of love and requires quality time spent on perfecting a hyper-engaged community.
Here are Canteen's top tips for building engagement:
Quality over quantity
It all starts with getting the right people into your Facebook Group; people that are there to take part in the Challenge, fundraise and support your cause. Get things off to a flying start by putting out the right message in your Facebook ads – focus your content on your nonprofit's mission and the impact of fundraising rather than the free incentive. And don't be scared to get tough when you need to be. Caitlin mentions that it's important the Facebook Group is a safe space for all supporters, so remove anyone who is jeopardizing that security.
Make the time to engage
Facebook Challenges aren't a walk in the park, and your team will need to set aside time to engage with supporters. For Canteen, that meant interacting with every single post or comment in the Group as well as a daily content schedule. It might be time-consuming but it's oh, so worth it.
Build your own team
Quality engagement takes time, so make sure you resource your own team appropriately in order to manage the full Challenge timeline. Aswell as the Facebook Group itself, the Canteen team also notes that this includes handling multiple platforms such as email and SMS.
A top tip is to engage your wider team to interact with posts on the Facebook Group that you want to be seen by your members, so that these repeatedly appear at the top of the group feed.
Mix up your content
Keeping the Facebook Group engaged can be tricky, especially if you're churning out the same old messages time and time again. For their Facebook Challenges, Canteen likes to switch it up between core themes to help relay the right messages but provide a mix of content for supporters to engage with.
Cause and impact

–

the Canteen team brings cause and impact to the forefront of their messaging by sharing a variety of cause related posts of their work at the nonprofit and through personal stories that share experiences with cancer and Canteen services. They involve their youth ambassadors whose experiences are included in the Challenge welcome packs, Group posts and a live event during the Challenge month.
Engagement generators

–

two ways that the team has found success in generating engagement is by celebrating achievements and incentive modeling. The former includes fundraising updates and Challenge milestones, whilst the latter helps to encourage more Active Fundraisers and build on the connection with the Canteen brand.
Top tips

–

using interactive polls and their 'Good Boy Specialist' Murphy (pictured below), Canteen shared fundraising top tips with their Group members which helped to soften the ask and inject fun into their content. Because who doesn't want to see photos of good dogs?
Competitions

–

throughout the Challenge period, Canteen ran multiple different competitions in the Facebook Group to increase registrations, donations and overall engagement. These included best dog memes and dog tricks with one fundraiser receiving top prize for his dog that could do math…
Multichannel engagement
Okay, so you've set up your Facebook Challenge, your Group is thriving and the donations are rolling in. But there's always room for improvement, right? Let's take it up a notch.
Whilst Facebook Group engagement is key to the success of a Facebook Challenge, engaging with your supporters on other platforms will help to build relationships, solve any potential problems they may be having quickly and efficiently, and lay the groundwork for moving these supporters onto regular giving or other fundraising journeys.
As well as Facebook Group engagement, Canteen uses six other channels to interact with supporters and it starts right at the beginning of the fundraiser's Facebook Challenge journey.
Welcome packs
The Canteen welcome packs are sent to all participants who register through the GivePanel registration form. They include a 'Standing Up To Cancer' t-shirt, a bandana, a fundraising pocket guide, a daily checklist, a thank you letter from the team, and also a handwritten card from one of their youth ambassadors associated with the Challenge.
The packs are fulfilled in-house and play a huge role in creating the initial energy and excitement within the Facebook Group with supporters sharing photos of theirs arriving in the post.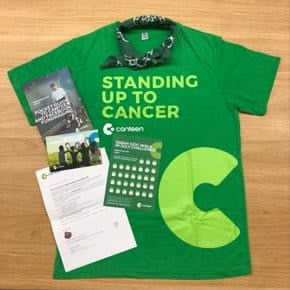 Emails
Arguably a staple of any fundraising campaign, the Canteen team uses email to engage supporters and encourage them to fundraise. Using GivePanel's email journey tool for initial automated registration and then Campaign Monitor for campaign emails, supporters receive a total of nine to 11 emails throughout the Challenge timeline.
And they've got the stats to prove it. Lizzy states that their research shows that Fundraisers who open any of the emails sent during a Facebook Challenge are 1.28 times more likely to raise funds with those who go on to click on any of the emails being 4.2 times more likely to fundraise for the nonprofit.
Conclusion? Emails are a must.
Calls to fundraisers
A favorite way to engage with Canteen supporters is with a good ole' fashioned phone call. Splitting these between two cause types of $0 Fundraisers and those who have raised over $250, Canteen creates a fantastic opportunity to connect with Challenge participants and build one-on-one relationships.
Through phone calls, the team can provide additional support, answer any questions and gain insight from the Challenge participant's perspective.
SMS
In their Facebook Challenges, Canteen has tested using SMS through platforms GiveEasy and Conversr to communicate with their Facebook Challenge participants but what's the difference?
GiveEasy SMS

–

used for kickstarting donations rather than engagement, participants were sent 4 SMS messages in total that contained links to set up their fundraiser and messages that they could share with their friends and family to encourage donations.
Conversr SMS

–

used for two-way communication using AI technology, these SMS messages focus on creating an extra level of engagement with initial results showing a 70% response rate.
And big news! GivePanel have also jumped aboard the SMS hype train with our very own SMS for Facebook Fundraising feature, currently in Beta and available to customers from 2023.
On-page messaging
For their Facebook Challenges, Canteen enlist the support of the GivePanel Managed Services team to post messages on their Fundraiser pages as another engagement touchpoint.
Live event
Last but certainly not least, is Canteen's Facebook Live 'Kick Off' event, hosted at the beginning of their last two Facebook Challenges as a way to introduce the team, provide topline information about Canteen and their services, share fundraising tips and tricks and answer any questions from supporters.
And don't worry about supporters not being able to make the live showing. By streaming the event through Zoom into the Facebook Group, you're able to save the video to the top of the feed so supporters can catch up in their own time.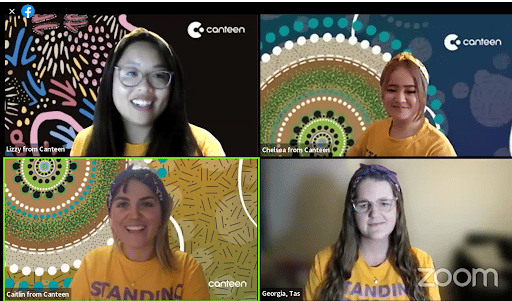 Final thoughts
Engaging with supporters is key and whilst it all starts with that all-important Facebook Group, going the extra mile and taking advantage of other communication channels is a great way to connect with supporters and encourage them to fundraise.
But if you take anything away from this blog, let it be these five key points:
Before you begin planning, make sure your nonprofit has Facebook's Giving Tools turned on and read our guide for everything you need to know.
Lead with cause focused messaging in your Facebook Group and ads, sharing personal stories and experiences.
Resource your team to manage Facebook Group engagement and outsource other areas such as advertising and on-page messaging if needed.
Keep testing and use new features such as GivePanel's SMS for Facebook Fundraising to further your connection with supporters.
And as Canteen says, there's no such thing as a bad Challenge! Instead, see it as an acquisition opportunity to channel supporters to different areas of your fundraising portfolio.
Related resources