Blog How to test with a Facebook Challenge and get results

Jill O'Herlihy
June 22, 2022
How to test with a Facebook Challenge and get results
2020 and 2021 were truly bumper years for Facebook fundraising (no prizes for guessing why) and many charities saw record fundraising totals from Facebook Challenges held during this time.
Following a successful 2021 Challenge event, Pancreatic Cancer UK (PCUK) were keen to test the impact Covid-19 and coinciding lockdowns had on their Facebook fundraising income by repeating their Jog 28 Miles in February 2021 event.
We spoke with Lauren Hunt, Supporter Acquisition and Engagement Manager at the charity, to find out how their Facebook Challenge went and what they had learned one year on.
Who is Pancreatic Cancer UK?
Pancreatic Cancer UK (PCUK) supports people who have been affected by pancreatic cancer. Their vision is that 'everyone with pancreatic cancer survives to live long and well' and their hope is to transform the future for those suffering from the disease. To achieve this, PCUK supports those who have been affected with resources and information, fund research breakthroughs and campaign for change, calling for more investment in research and ways to improve and speed up diagnosis.
The charity joined GivePanel back in 2019 and have consistently grown, developed and optimized their Facebook fundraising strategy ever since. No strangers to a Facebook Challenge, PCUK have experimented with various formats, including step and squat challenges, to engage their audience to fundraise.
A winning formula for them though, has been their Facebook Challenge of Jog 28 Miles in February which, after successfully trialling the event in 2021, they chose to repeat in 2022. Spoiler alert: they smashed it.
But first, let's make sure we know the basics…
What is a Facebook Challenge?
Even if your nonprofit is new to the world of Facebook fundraising, you'll probably have heard of the now global success of Facebook Challenges. In our latest 2021 Facebook Fundraising Benchmark Report, we found that across our UK and Ireland charity customers, Facebook Challenges resulted in an average ROI of 4.2! Not only that, but for GivePanel's top 40 Facebook Challenges, the average raised was over £650,000 per Challenge in 2021. Now that's impressive stuff.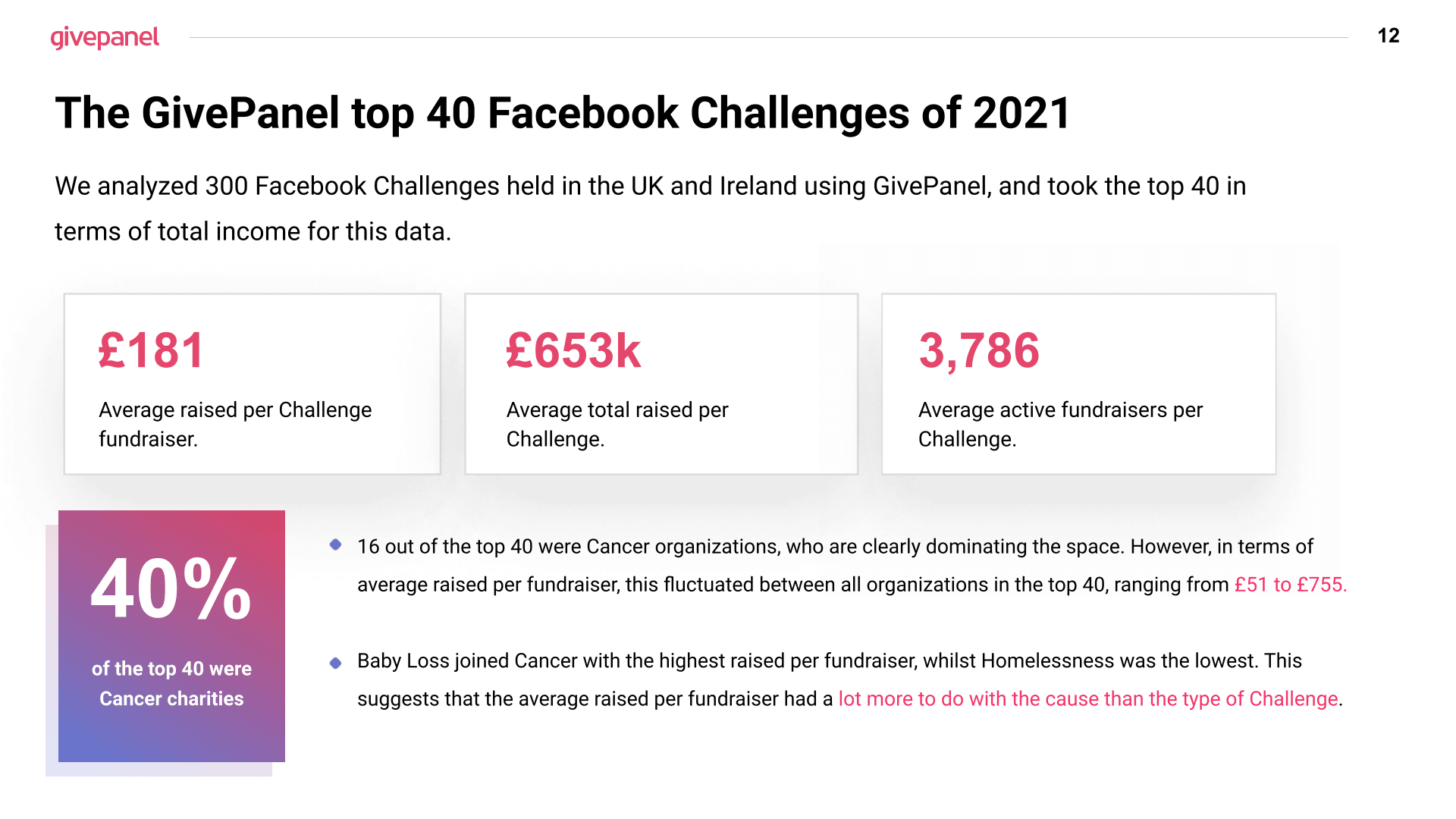 So, they're kind of a big deal, but what are they?
A Facebook Challenge is a virtual fundraising event held entirely (you guessed it) on Facebook. The format leverages the power of social networking through the use of Facebook ads, groups and fundraisers. The Facebook Challenge funnel looks a little like this:

For the nonprofit, this means lower acquisition costs, more fundraisers and no fundraising platform costs. Music to your ears, right? If you're impatient to get started and want to know where to begin, our guide to planning the perfect Facebook Challenge in 2022 is a good place to start, if we do say so ourselves.
But trust us when we say you're going to want to hear about this particular Facebook Challenge first.
Jog 28 Miles in February
Having had success in 2021 with a Jog 28 Miles in February campaign, Pancreatic Cancer UK looked to see if they could repeat the same success in 2022. Lauren says:
"We first ran this as a challenge in 2021 and it was really successful – it was our most successful challenge. So we decided to repeat it in 2022 to check to see if it still worked and if it could be something we brought into our events program every year."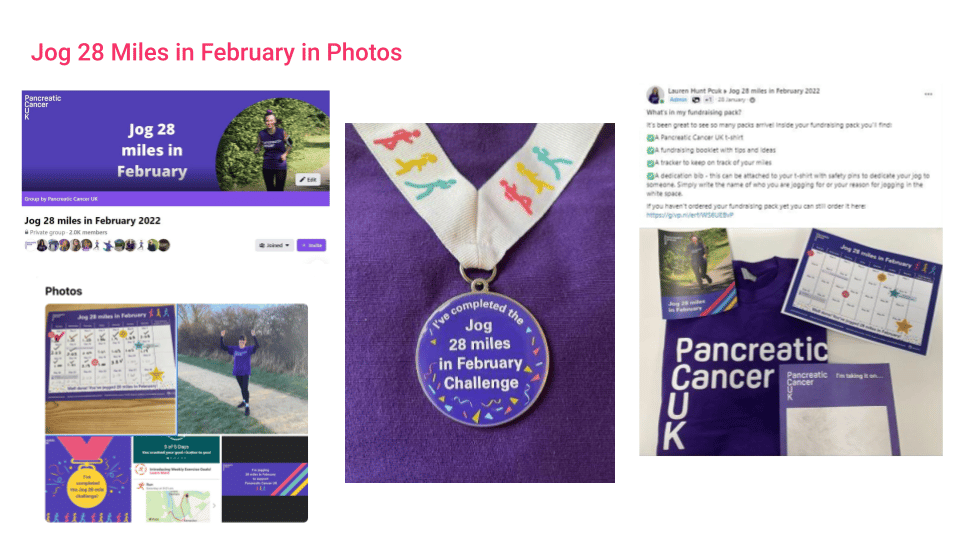 To set their Facebook Challenge off to a flying start, PCUK ran a Facebook ad campaign in the month prior to the Challenge, starting to encourage supporters to join the group and from there, set up a Facebook fundraiser and register for an incentive. Once in the group, the team focused on quality, high-energy group engagement to motivate supporters to fundraise.
The result? Over £220,000 was raised from 720 fundraisers with an average raised per fundraiser of £318. We think that definitely qualifies for a round of applause.
So, how did they do it?
The Power of Group Engagement
You may have heard us say (once or twice, maybe three times at a push) that it pays to thank your fundraisers and Pancreatic Cancer UK had definitely heard the message, loud and clear. From day one of their Jog 28 Miles in February Challenge, the team encouraged their supporters to fundraise through a range of engaging posts and consistent communication.
As well as the tried and tested challenge format, which PCUK knew had previously engaged their audience and achieved positive results, they also:
Made sure that all of their communications were coming from "one person" to keep a consistency of voice and allow fundraisers to build a relationship.
Shared statistics and information about pancreatic cancer within the Facebook Group which encouraged their supporters to fundraise.
Posted at the same times each day so supporters knew what to expect, and included weekly total updates to encourage further engagement and fundraising.
Despite a slightly higher cost per lead for the 2022 Jog 28 Miles in February Challenge than its 2021 equivalent, PCUK's emphasis on engaging with their supporters and building relationships meant they achieved impressive figures for the second year in a row.
As well as a focus on strong group engagement, Pancreatic Cancer UK also applied useful learnings from their first Jog 28 Miles in February Challenge to their latest one. So, how did the two compare?
Lessons Learned
First off, PCUK ran a 50/50 split test on SMS messaging during their Facebook Challenge in 2021 and found that those who received messages fundraised more than those who didn't. It's not surprising then that for their 2022 Challenge, the team rolled this out across all fundraisers, with Lauren commenting that the messaging "makes them feel like they're more supported, they're talking to someone directly, which really helps us build engagement with the supporters."
Secondly, the team introduced a shiny new incentive in the form of a medal, which, as well as the t-shirt upon registration, fundraisers received after reaching certain monetary targets.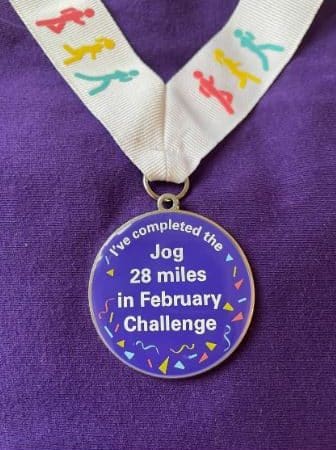 And last but not least, Pancreatic Cancer UK encouraged family fundraisers through their Facebook Challenge advertising after noting the popularity of these in their 2021 Challenge. By concentrating some of their ad creative on families, the team was able to recruit supporters who fundraised as a family unit and in turn, raised more money for the organization.
Why the Facebook Challenge model works for PCUK
Okay, the monetary results kind of speak for themselves, but PCUK have found that Facebook Challenges also provide other benefits in line with their fundraising strategy.
Here are five reasons the Facebook Group Challenge model works for Pancreatic Cancer UK:
Facebook Challenges allow PCUK to reach and connect with large audiences that wouldn't be possible through third-party events.
In this challenge alone, PCUK collected over 1500 supporters' contact details to add to their supporter database.
The Facebook Challenge model makes their fundraising more inclusive and flexible and opens up their challenges to all abilities.
By using GivePanel, PCUK has found they have the visibility of data and more staff time to manage Facebook Challenges properly.
Through testing various Challenge formats, PCUK has found a Challenge concept that works for them and their supporters that they can repeat and include in their regular program of events.
Lauren says:
"It's been a great way for us to reach a new audience and keep our supporters engaged in fundraising, especially through all the lockdowns. We've seen that our Facebook Challenges have continued to work really well and have helped us reach people of all abilities and in more locations than we would normally reach through our traditional third-party events."
But, despite all of these awesome benefits, you might be reading this with a few beads of sweat forming on your forehead. And we get it, Facebook Challenges are big campaigns, and your nonprofit needs to be properly resourced to handle them.
That's where GivePanel's Managed Services team steps in.
Stewarding to Success with GivePanel Managed Services
As well as providing the GivePanel platform to help manage your day-to-day fundraising and view your data in a clear, easy-to-understand format, GivePanel also offers the opportunity to support you throughout your Facebook Challenge with hands-on messaging support and reporting.
For their 2022 Jog 28 Miles in February Challenge, PCUK enlisted the support of our Managed Services to assist with their stewardship and data management. The support included:
Developing a messaging strategy for PCUK's supporters appropriate to the event stage and their progress by using a "Welcome Message" and a "Top Fundraiser Message" to specific segmented fundraiser groups
The creation of all content for on-page messaging
Management and delivery of on-page messaging to all active fundraisers taking part in the challenge, including labeling and internal coding
Daily management of Event Attribution for all non-attributed fundraisers by name-checking the Facebook Challenge group and assigning fundraisers in GivePanel records
Regular statistic reports throughout the challenge
An end-of-challenge wrap-up report
By doing so, the PCUK team was able to focus their efforts on group engagement and delivering a successful Challenge event for all supporters.
If your nonprofit could benefit from additional support with Facebook fundraiser management, get in touch with our Managed Services team who will be happy to help.
Download the Case Study
Want to read the Pancreatic Cancer UK case study in full? Fill out our form below and download for the full report on their Jog 28 Miles in February Facebook Challenge.
Book a Demo
Ready to take your Facebook fundraising to the next level? Book a 30-minute demo with one of our Facebook fundraising specialists and find out how GivePanel can support your nonprofit.
Related Resources