Blog What the latest updates to Facebook's Giving Tools mean for your nonprofit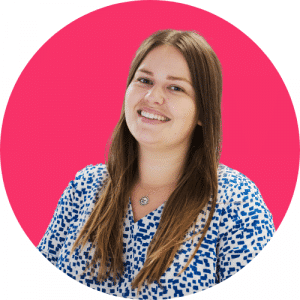 Cat Cetnik
November 24, 2022
What the latest updates to Facebook's Giving Tools mean for your nonprofit
It's safe to say that Meta has not slowed down in releasing more features to help nonprofits around the world raise more, and better engage with their supporters on Facebook. Since Facebook Fundraisers launched in 2016, well over $5 billion has been raised for nonprofits and personal causes through Facebook and Instagram fundraising tools. And we think, even despite the recent changes to the Meta Social Impact Team (we will come to this later), that this is just the start.
So, without further ado, let's dive into the recent product updates and feature releases for Facebook Giving Tools, and what these mean for your nonprofit and upcoming campaigns.
Enhanced recurring giving tools
As we all know, recurring donors tend to give more overall, have higher retention rates and provide valuable insights into your community of supporters. So, ask yourselves, is your nonprofit focussed enough on maximizing the lifetime value of your recurring donors?
To help, Meta is giving nonprofits in the United States more opportunities to engage with their recurring donors through enhanced recurring giving tools. These include:
Recurring donation insights and donation metrics
Changes to the transaction reports so you can distinguish between recurring and one-time donors
Tagging and filtering options in Nonprofit Manager's supporters tab to enable you to view and segment recurring donors
Automated welcome messages to recurring donors
Although recurring donations have been around for over a year, with these new enhanced recurring giving tools you can gain more insights into your donors and their giving behaviors, better segment your donors for more impactful and personalized stewardship and save time with automated welcome outreach. We think you'll agree, this is pretty cool.
So, what's the catch? Well, at the moment, these tools are only available for nonprofits in the United States. But watch this space as we expect they may be rolled out wider next year.
You can read more about these updates on the Meta Social Impact site.
'Stay connected' screen with default opt-in
As someone who is well versed in Facebook fundraising, you'll know that when a supporter makes a donation or creates a fundraiser on Facebook, they will be sent to a screen that prompts them to connect with your nonprofit. Up until very recently, the default response options for how they want to stay connected to your organization were 'off'. What does this mean? Simply put, your supporters had to physically choose to "opt in" and tick the relevant box.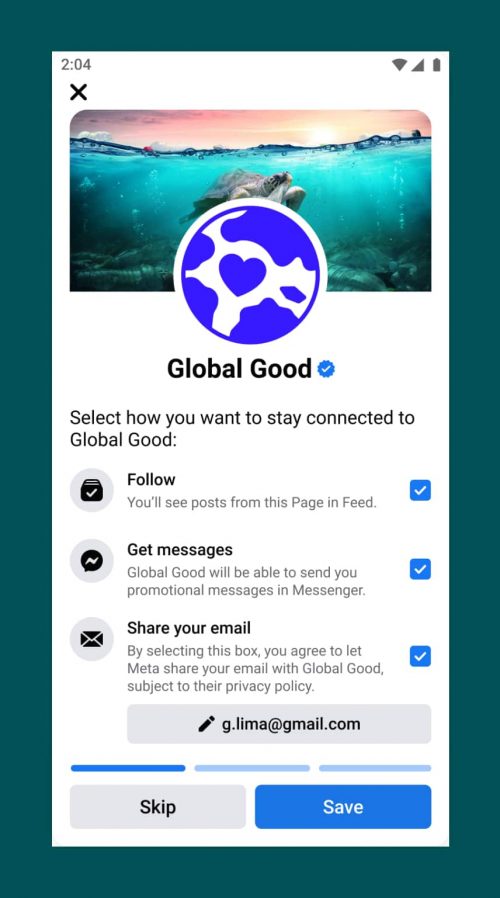 Now, the options for page follow, email sharing and even Messenger (if you have this enabled for your organization) are all turned on by default. So your supporters simply have to click "Save" and you will be able to communicate with them directly.
So, what does this mean? Well, you can expect your page follows to start jumping up as more fundraisers and donors are default opted-in to follow your page. So dust off those content calendars and get creative with your organic content to make sure you engage them and tell them amazing stories about your cause or mission.
You'll also expect to receive more opted-in email addresses from your fundraisers and donors, so you can engage them in supporter journeys "beyond Facebook". If you're not sure where to start with this, check out our case study with Mental Health Foundation for tips and best practice on how to put into place an effective "beyond Facebook" messaging strategy for all of your new supporters.
But, beware! Whilst fundraisers themselves have chosen to support your cause directly by setting up a fundraiser specifically for you; the donors who have given to those fundraisers have not. In truth, they are more likely to be supporting their friends or family members rather than your cause. So we would recommend erring on the side of caution when it comes to direct outreach to those donors who have not given to your organization directly.
Automated thanking
With Facebook's automated thanking, you can now set up specific thanking messages for your birthday and generic fundraisers. So, what once was a laborious task of manually going through each individual fundraising page and donation, is now able to be done from one area within your Nonprofit Manager.
"But we've been thanking our organic fundraisers forever", I hear you cry. Well, the good news is that with this new feature, if you are a small nonprofit with low volumes of organic fundraisers and limited resources, we would recommend you enable this tool and start using it. However, if you are generating a reasonable amount of organic fundraisers and want to generate significant return on investment, you need more advanced tools.
Did you know that for large volumes, GivePanel offers a service where we can do advanced, personalized, on-page messaging for you. Get in touch to find out more.
Native Facebook Challenges
And lastly, just in case you missed it or haven't got round to exploring them yet, Facebook Native Challenges are here for nonprofits who are brand new to Facebook Challenges and want to do some initial testing.
Fundraiser Challenges is Meta's first peer-to-peer fundraiser product built natively within the Facebook platform, and is inspired by the existing Facebook Challenge model used by GivePanel customers all over the world; harnessing the incredible collective fundraising powers of Facebook Ads and Groups.
Meta's Fundraiser Challenges are built to:
Attract new supporters to your organization
Let you easily connect with many supporters at once
Let supporters connect with each other and share experiences within a Facebook Group
GivePanel worked with the team at Meta to help shape a comprehensive playbook which can guide you through lots more information and best practice on Fundraiser Challenges, as well as the step-by-step process of creating and connecting a Fundraiser Challenge page and cultivating your Challenge's associated Facebook Group.
You can read more about Facebook Native Challenges in our recent blog article.
But hey, what about the Meta layoffs?
Unless you've been living under a rock, you will have seen in the news this month that Meta have had to let go of around 11,000 members of staff globally. You can see this open letter from Mark Zuckerberg on the Meta Newsroom.
So you may be wondering what this means for the future of Facebook fundraising and giving tools. GivePanel Founder CEO, Nick Burne, says:
"People may have seen on social media that Meta let go of their Social Impact team in the recent layoffs. This is only partly true. Most of the Social Impact Product team remain and so, as one of our Meta contacts put it, 'The donate button lives on and will be supported'. In addition there are still partnerships staff in the Ads team that will continue to support nonprofits with their campaigns.As such, we remain very positive about the future of Facebook Giving Tools and are looking forward to continuing to work with our nonprofit customers, partners and close contacts at Meta, and build Facebook fundraising as a long-term, scalable income stream for nonprofit organizations around the world."

Nick Burne - GivePanel Founder CEO
Need support with your Facebook Fundraising?
If you're a GivePanel customer looking to get ahead of the game with your Facebook fundraising, contact your dedicated Customer Success Manager who will be happy to help shape your 2023 plans.
Want to find out more about how GivePanel can support your nonprofit? Book a demo with one of our Facebook Fundraising specialists today!
Related resources