Blog 5 reasons why you should continue to invest in a Facebook fundraising strategy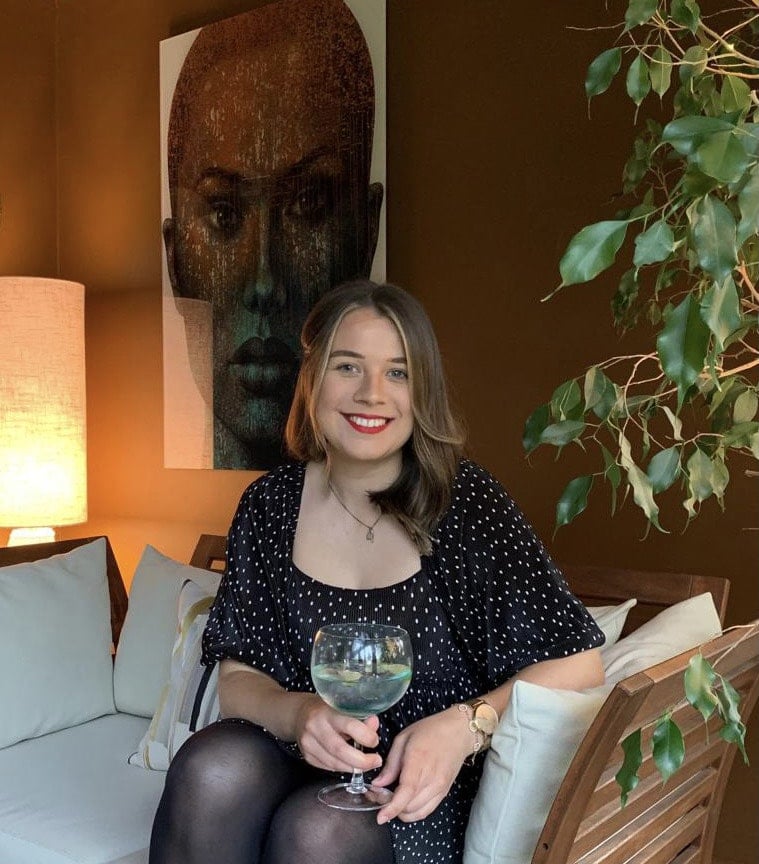 Alex Stuart
March 28, 2023
5 reasons why you should continue to invest in a Facebook fundraising strategy
Despite economic uncertainty and changing supporter behavior, social media platforms like Facebook remain essential tools for nonprofits to engage with their audiences and drive fundraising efforts. With over 2.9 billion active users, Facebook presents a unique opportunity for organizations to reach a wide and diverse audience and engage them with their cause.
Even in the current climate where nonprofits face unprecedented challenges in their ability to fundraise, social media fundraising should not be underestimated. The boom of Facebook Challenges during the Covid-19 pandemic showed how people are still eager to give to causes they care about, even during difficult times.
From the platform's unparalleled reach and targeting capabilities to its ability to generate leads and foster supporter relationships and the fact that social media's popularity and usage is here to stay, we'll consider the top 5 reasons why your nonprofit should continue to invest in a Facebook fundraising strategy.
All hands on deck? Let's begin.
Reason 1 - It's where your supporters are (still!)
Let's kick things off by dispelling one very big myth – people are not (we repeat, NOT) leaving Facebook. In fact, according to the most recent figures, the platform continues to grow and has just under 3 billion users.
What has shifted is our consumption of social media in general which was largely affected by the Covid-19 pandemic in 2020. During this time, daily usage of social media platforms increased and while this plateaued as lockdown eased, Facebook became the most used platform in 2021, with users in the United States spending an average of 33 minutes on Facebook, surpassing the likes of TikTok, Instagram, and Twitter.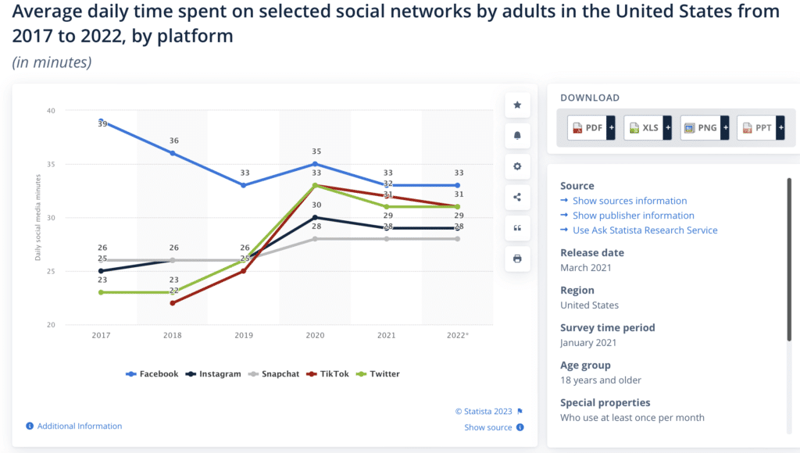 So whilst other networks like TikTok have recently seen a sharp rise in popularity, this hasn't detracted from Facebook's audience. Not only that, but Facebook's demographics might surprise you; despite its reputation as an 'older' platform, users aged 25-34 years in the United States represent Facebook's largest audience.
29% of online donors also say that social media is the communication tool that most inspires them to give, making it a powerful tool for nonprofits to engage with their supporters and encourage donations. This is especially true for younger generations who are more likely to engage with causes online and via social media platforms.
It's important to also note the convenience and accessibility that fundraising on Facebook offers your supporters. Social media allows people to connect with others from anywhere, anytime. Whether it's sending a quick message or sharing a photo or video, social media platforms provide an easy and convenient way to stay in touch with friends, family, and acquaintances. It also provides a more accessible option for supporters who may not be able to attend in-person events, ensuring you can engage them from the comfort of their own home.
But if your nonprofit is still considering walking the plank over investing in Facebook, think about it this way – if your presence isn't felt on Facebook, which charity will your supporters give to instead?
Reason 2 - An ad platform like no other
Okay yes, other social media platforms do offer advertising abilities but if you really want to get the wind behind your sails when it comes to return on ad spend, Facebook is still top dog, and here's why:
Keeping a close eye – one of the biggest advantages of Facebook fundraising is the ability to monitor results in real-time. Nonprofits can easily track their fundraising campaigns and quickly turn off ads that are not working. This means that adjustments can be made on the fly, improving the effectiveness of campaigns and maximizing ROI.
Budget friendly – in the current climate, nonprofits may feel the need to watch their spending closely, so utilizing a platform that doesn't take any fundraising fees seems like a no-brainer. Not only that, Facebook's ad platform allows nonprofits to run campaigns from as little as $1 a day and you can make adjustments quickly, enabling you to get the most out of your advertising spend.
Test the waters – Facebook offers sophisticated testing abilities, including A/B testing, which allows nonprofits to test different ad versions and adjust their campaigns accordingly. This can help organizations to refine their message and improve their ad effectiveness, ultimately leading to more successful campaigns.
Reason 3 - Cost-effective lead generation at scale
In today's digital age, social media platforms like Facebook have become essential tools for nonprofits to engage with supporters and drive fundraising efforts. One of the key reasons why nonprofits should continue to invest in Facebook fundraising is the cost-effective lead generation it provides at scale.
We've already mentioned the budget friendly nature of Facebook's ad platform but when you combine that with the Facebook Challenge model, the network becomes a powerhouse for lead generation. Through Facebook Challenges, organizations can bring in thousands of new contacts and opt-ins to their nonprofit and up to 75% of these are likely to be new to the organization.
And in comparison to traditional methods like direct mail, social media generates leads much faster and at a lower cost. Whilst direct mail acquisition rates range from only 0.5% to 2.5%, Fundraiser acquisition for Facebook Challenges can be as high as 70-80% when using GivePanel's Registration Form with 1-Click Fundraising Activation.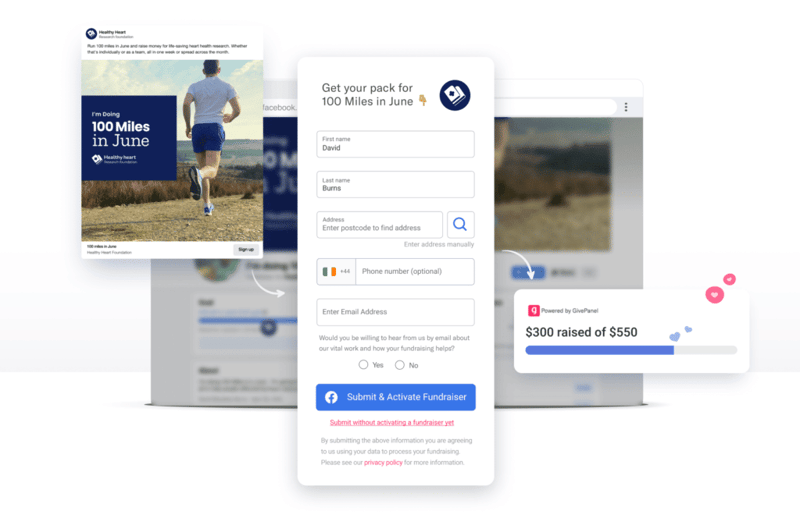 Where we think the real excitement lies though, is in the opportunities that this lead generation offers nonprofits beyond Facebook. By investing in social media, nonprofits can develop leads that have already expressed interest in their cause and are more likely to contribute to their fundraising efforts. These leads can then be developed further in other areas of fundraising, such as regular giving or legacy, leading to increased lifetime value and greater support for the organization's mission.
Our top tip is to take the conversation to teams across your nonprofit to help develop these leads into other areas of fundraising and support of the charity.
Reason 4 - Data-driven decision making
When it comes to nonprofit fundraising, data is the sunken treasure and thankfully, it's never been easier to get the information you need.
Facebook has made significant improvements to its tools for providing data to nonprofits. Firstly, it has updated its default response options for supporters in North America who make donations or create fundraisers on the platform. Now, the options for page follow, email sharing, and Messenger are all turned on by default, making it easier for supporters to stay connected with your organization. This change is expected to increase page follows and opted-in email addresses, providing nonprofits with more opportunities to engage with their supporters beyond Facebook.
Secondly, we all know that maximizing the lifetime value of recurring donors is crucial for nonprofit organizations as they tend to give more overall, have higher retention rates and provide valuable insights into the community of supporters. To support this, Meta is offering enhanced recurring giving tools to help nonprofits in the US engage more with their recurring donors. These tools include recurring donation insights, tagging and filtering options, and automated welcome messages. With this feature, organizations can gain more insights into donors' giving behaviors, segment donors for personalized stewardship, and save time with automated outreach.
And ahoy, GivePanel customers! With our latest update, you can now filter for recurring donations within the GivePanel platform, making it easier to keep track and actively respond.
Reason 5 - You don't have to do it alone
If you're a small one-man team or if you've experienced technical issues with Facebook in the past, you'll know that the social media platform does come with its own set of problems (some bigger than others). It's understandable then, that you might still have concerns about investing your teams' valuable time in Facebook fundraising... but that's where we step in.
Think of GivePanel as your right hand man when it comes to Facebook fundraising. Not only can we help address concerns around technical issues and communicate directly with Meta, our suite of fundraising tools, like our JustGiving integration, can help expand your Facebook fundraising efforts off platform, giving you more control and the ability to connect with supporters whichever way they want.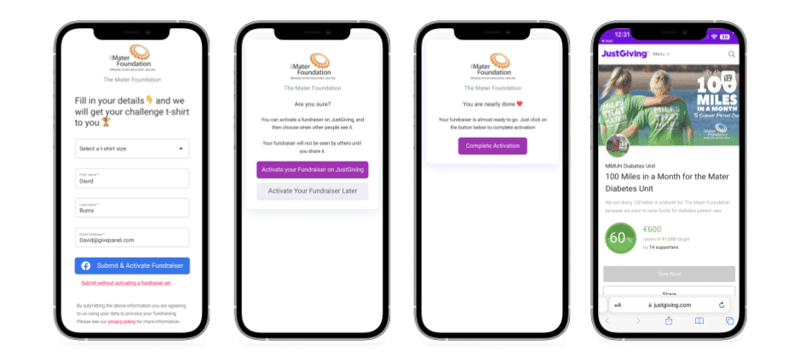 It may also be tempting to consider going it alone and using internal resources and budget to create a similar standalone experience for your supporters but we'd warn against such a venture. Firstly, remember our first reason at the beginning of this blog? Your supporters are already there and having fundraising capabilities on-platform means a seamless experience for them. And secondly, the platform has also been around for a while (almost two decades!) so whilst we don't recommend putting all of your treasure in one chest, having a presence on Facebook provides your nonprofit stability in its digital fundraising strategy.
And don't let the size of your nonprofit's fundraising team hold you back! Whether you're running the ship solo or have a fully-fledged crew, GivePanel's Managed Services can support communicating with your donors, so you can focus on the bigger picture. Or, if you're ready to go the extra mile, our partnership with Bluestep provides a full-service solution for supercharged Facebook Challenges. If that's not enough reason to pull anchor and set sail, we don't know what is!
Book a Demo
If you're ready to earn your sea legs and climb aboard Facebook fundraising, book a demo with one of our fundraising specialists and learn how GivePanel can support your organization to take your social fundraising to the next level.
Related Resources