Blog New GivePanel Feature: Segmented Email Journeys for Facebook Challenges

Jill O'Herlihy
May 25, 2023
New GivePanel Feature: Segmented Email Journeys for Facebook Challenges
Ready to discover GivePanel's latest feature? Segmented Email Journeys for Facebook Challenges leverages the power of personalized email, taking supporter engagement to dizzying new heights and allowing you to connect with supporters on a deeper level by tailoring content to their individual needs. With a channel they already know, Segmented Email Journeys will help to amplify your impact and boost return on investment by targeting the right audience, at the right time, with the right message.
Unleash the potential of personalized communication and elevate your supporter experience in 3, 2, 1…
Watch the webinar
If reading ain't your thing and you missed our live webinar, why not catch up with the recording below where we take you through our latest Beta feature of Segmented Email Journeys for Facebook Challenges.
Otherwise, keep scrolling for the juicy deets on why we think this updated tool could help boost your fundraising ROI and engage supporters.
Why email?
When it comes to effective communication channels, email stands out as a powerful tool for engaging supporters and driving action. Here's five reasons why:
Widespread

–

Email has achieved widespread adoption, with over half of the global population (that's 4.3 billion people!) utilizing it regularly. It has become an integral part of everyday life and most supporters will have an active email account which means you can be sure they're receiving your content.
Accessible and easy to use

–

One of the key advantages of email is its accessibility and user-friendly nature. With a simple and intuitive interface, email allows organizations to effectively communicate their message to a diverse audience without any technical barriers. This means your Facebook Challenge updates and calls-to-action can easily reach supporters across different demographics.
Scalable

–

No matter the size of your Facebook Challenge, email provides a scalable communication channel that can accommodate any number of supporters. Whether you're managing 300 participants or 3000, email enables you to effectively communicate with your supporters, ensuring that everyone stays informed, engaged, and motivated to participate.
Inspiring action

–

Email marketing has consistently demonstrated a strong return on investment, making it a powerful tool to inspire action amongst supporters. According to Omnisend's 2022 report, email campaigns generate an average return of $40 for every $1 spent, surpassing the impact of other marketing strategies. So, by leveraging Segmented Email Journeys, you can drive supporters to take desired actions

–

whether that's signing up for the Challenge, fundraising, or providing feedback.
Capturing attention

–

The first email in a campaign holds significant potential to capture supporters' attention and generate engagement. As mentioned in GetResponse's 2022 report, the average open rate for a welcome email is an impressive 68.6%. This highlights the opportunity for email to make an immediate impact, hooking supporters' interest from the start and getting them invested in your Facebook Challenge right from the outset.
But, it wasn't just us thinking that email was a communication channel worth investing in…
You said, we did
At GivePanel, we pride ourselves on building our platform in our customer's best interests, and that means listening to your feedback. We asked the question, "what's missing from the current GivePanel email tool that you would love to see?", and here's what you had to say:
More audience segmentation options
Additional reporting would be helpful
Some more variation options - people who have raised over X amount
I wish that you could send triggered emails to just zero-dollar fundraisers
It would be useful to get instant stats about open rates, click through rates etc
The resounding message was clear: our customers wanted triggered emails that could be set up to respond to key milestones, such as reaching a fundraising target, and have the stats to support decision-making and planning.
So, without further ado, let's dive into GivePanel's latest Beta feature, Segmented Email Journeys for Facebook Challenges.
Segmented Email Journeys for Facebook Challenges
Just like it says on the tin, our new and improved email tool allows customers to segment their email communications to specific audiences more than ever before. But how does it work?
Segmented email journeys are automated journeys that utilize GivePanel's real time donations capability and are activated based on specified fundraising goals. This feature seamlessly integrates with GivePanel's Registration Form with 1-Click Facebook Fundraiser Activation for Facebook Challenges, enabling charities to enhance the customization of their Challenge communications.
Here's a quick overview of the main features:
Trigger emails based on either the Challenge timeline or fundraising targets
Target triggers include:

No amount raised
£50 raised so far
£100 raised so far
£500 raised so far
Custom amount raised so far

Clear label display to view set triggers per email
Triggers are matched to your account currency
View additional reporting for your email campaigns, including emails sent, emails delivered, emails opened, and email click rate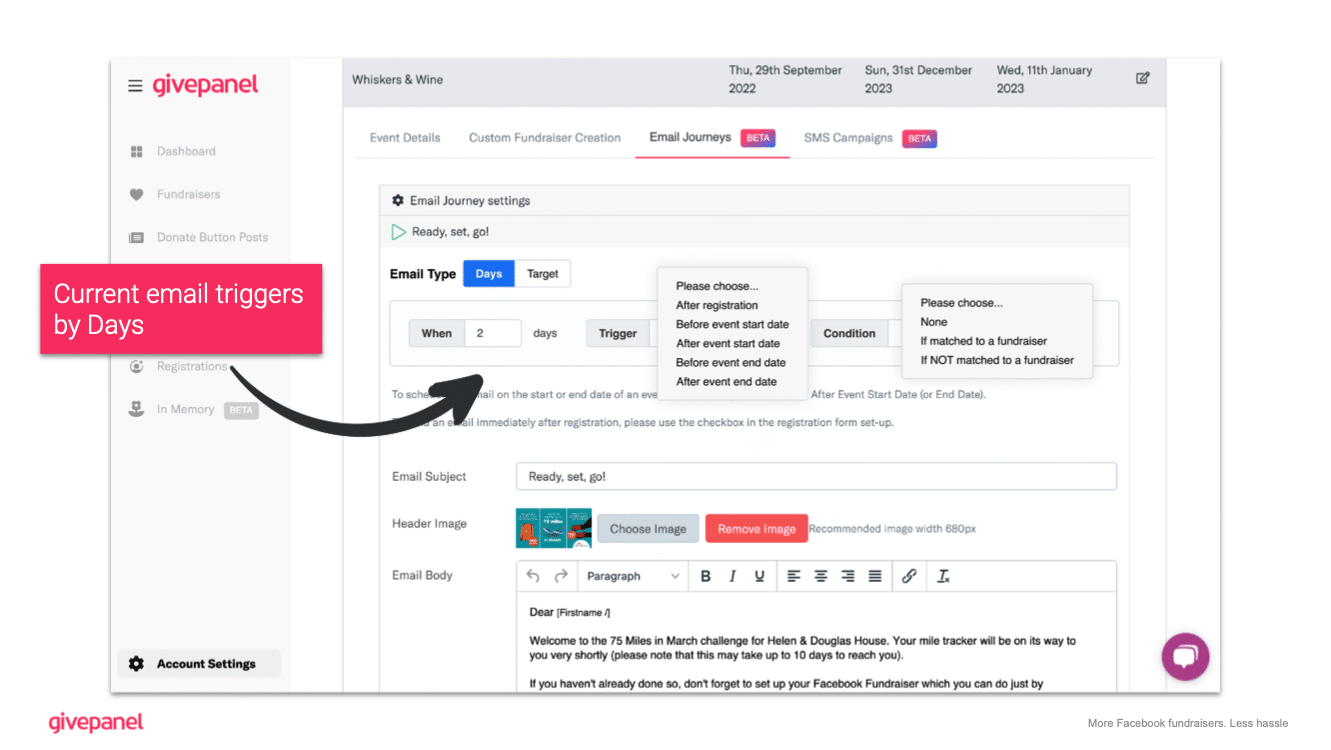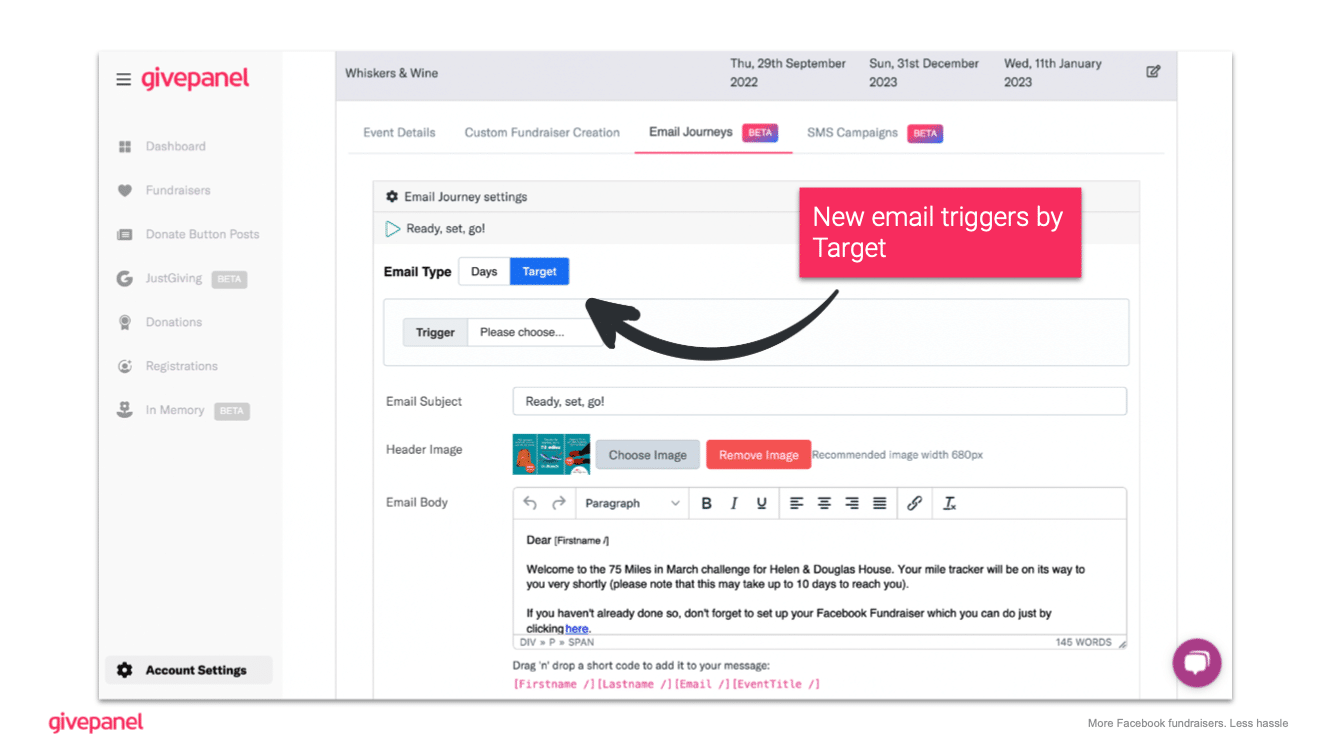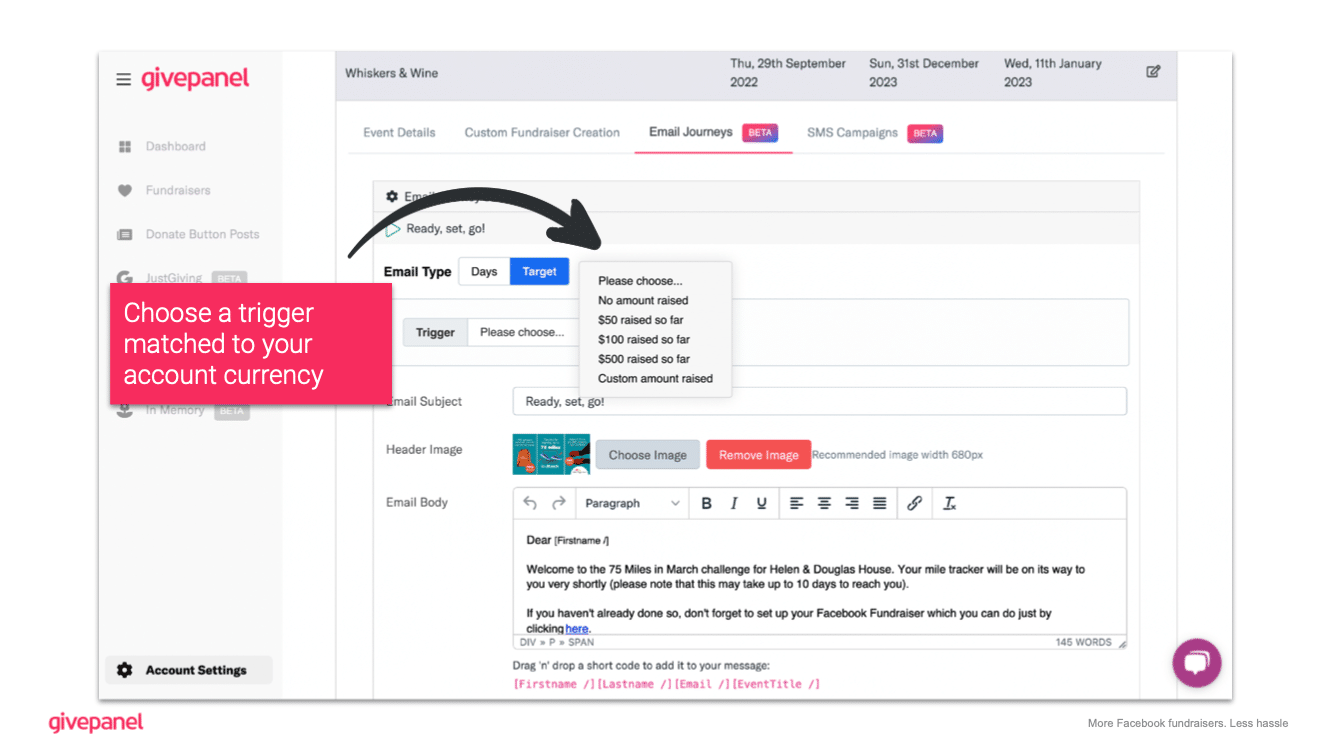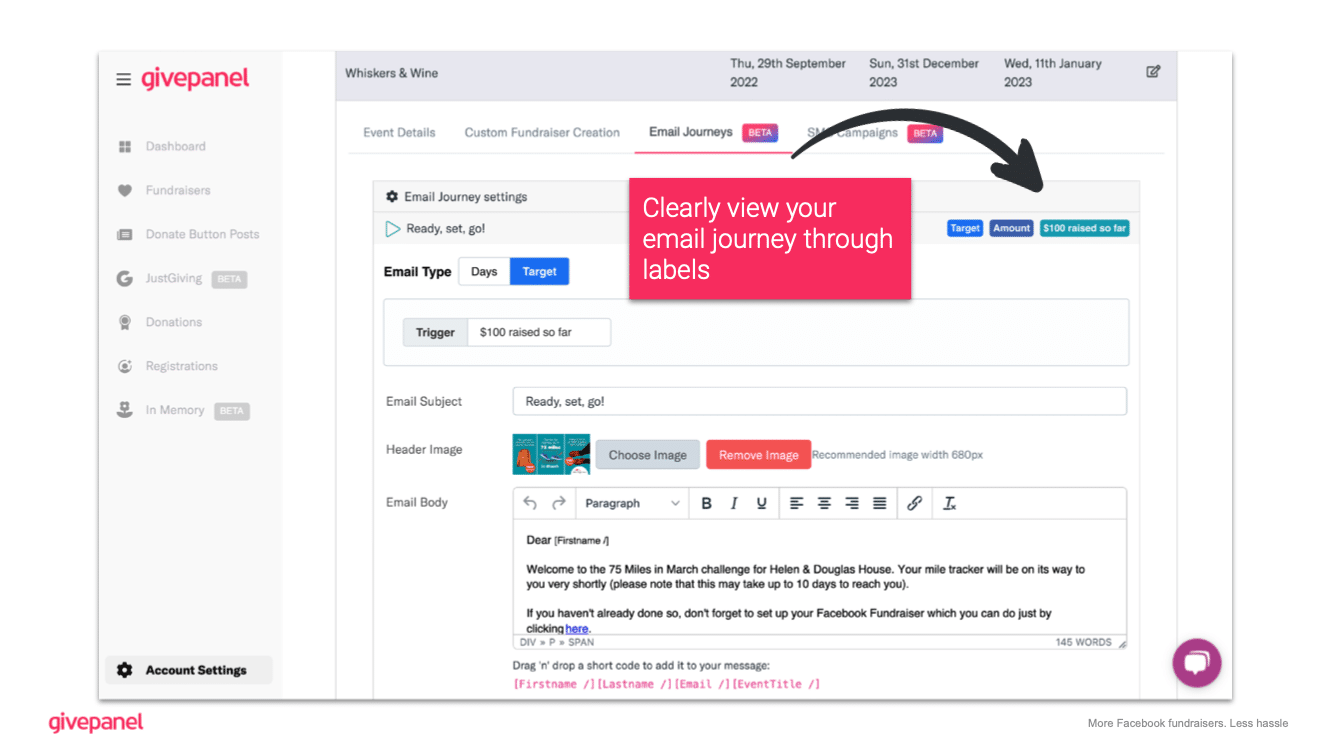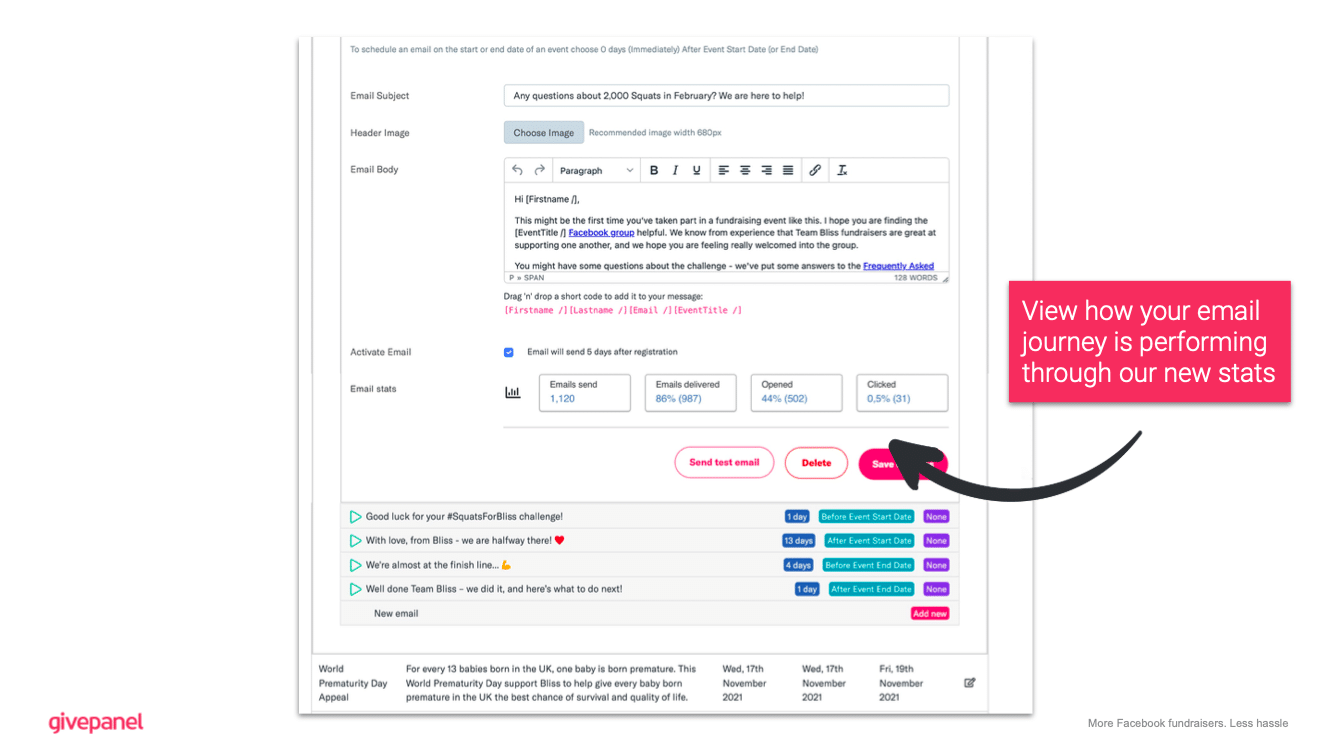 What can I use it for?
Now for the really juicy bit – how will Segmented Email Journeys for Facebook Challenges support your nonprofit in increasing your ROI and connecting you with supporters? Here are three potential use cases to get the cogs turning:
Celebrate
Celebrate and recognize the achievements of a supporter when they successfully reach their fundraising target by sending a personalized email. By tailoring the content, charities can create a sense of celebration and help not only foster a deeper connection between the nonprofit and the supporter, but also act as a powerful motivator to continue in their fundraising efforts in the Challenge and beyond.
And why not go one step further and capture the supporter's success story to share with other fundraisers and inspire other participants to reach their goals?
Encourage
Encourage and empower zero raised fundraisers to kick start their fundraising efforts by making a self-donation. By strategically utilizing this feature, nonprofits can effectively reach out to these participants and provide them with personalized messages that inspire them to take that crucial first step.
Picture this: you're a zero raised fundraiser feeling uninspired and unmotivated – unsure of how to kickstart your fundraising journey. You receive an email from the nonprofit you're trying to support and they speak to your situation, providing testimonials from past successful fundraisers who have started with their own donation and went on to make a big impact. This storytelling approach helps to inspire you and show that the simple act of an initial self-donation can act as a catalyst for further fundraising success. Game-changer…
Advise
Segmented Email Journeys for Facebook Challenges can also provide a powerful avenue for advising and guiding supporters on how they can reach their next fundraising target or reward goal. You can offer practical tips, strategies and encouragement tailored specifically to their individual progress.
And importantly, nonprofits can use the tool to inform supporters about specific rewards achieved by reaching specific fundraising targets, helping to drive up the average raised per fundraiser and ultimately, boost ROI.
I'm in! Where do I sign up?
While we know our customers will be eager to get their hands on our new and improved email tool, Segmented Email Journeys for Facebook Challenges is currently in Beta. To apply for access, just get in touch with your Customer Success Manager who can provide you with the form to apply.
Not sure how to get in touch with your Customer Success Manager directly? Don't worry! You can use our quick contact form.
In the meantime, check out our help article on the GivePanel Knowledge Base for everything you need to know!
Let's Talk
Some say they couldn't do Facebook fundraising without us but, if you want to see how it works for yourself, book a call with one of our fundraising specialists who can show you the impact GivePanel could have on your nonprofit.
Related resources