Blog 8 digital tools to make fundraising easier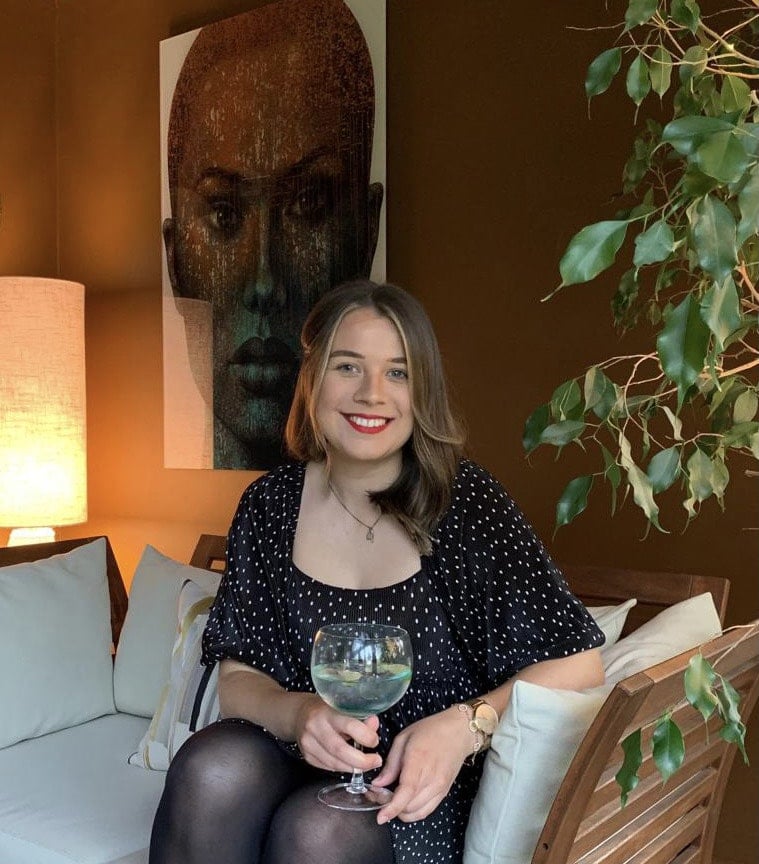 Alex Stuart
January 5, 2023
8 digital tools to make fundraising easier
Working in fundraising can be difficult and the sector has had to adapt quickly in recent years to changes in how we communicate with supporters and how they, in turn, fundraise.
Whether it's getting to grips with the online fundraising journeys your supporters are taking, or adapting to working remotely with your team, you may be looking for an extra helping hand in the delivery of your fundraising strategy.
Well, fret no more, because we've come up with a list of 8 digital tools to make fundraising (and your lives) that little bit easier. Take the first step to fundraising bliss and read on to find out which tools made the cut.
1. Google Analytics 4
It may seem like an obvious choice to some, but having the ability to track and analyze your website traffic is vital to understanding fundraiser journeys. You'll want to know when and why supporters are making that all-important decision to donate and optimize for that action.
Google Analytics has been around for some time now and many nonprofits are familiar with the platform – but change is a'coming. In just a few months' time, Google will be retiring the current 'Universal Analytics' tool and replacing it with Google Analytics 4. From July 1, 2023, standard Universal Analytics properties will no longer process data. So now is the time to dust off the analytical cobwebs and get up to speed with the new setup.
Jean O'Brien, Founder of Digital Charity Labs, is an expert on tracking digital fundraising activities. She lists why nonprofits should install this free tool and top tips to using it in her blog, 3 practical things you can do right now to track your digital fundraising activities.
And if the world of analytics seems a little daunting, fear not. The Google Analytics Academy offers a variety of free courses to help you learn how to use the measurement tool and take your digital activities to the next level.
2. Zapier
Zapier describes itself as "the glue that connects thousands of web apps" and this is one sticky situation that you do want to find yourself in.
At its essence, Zapier is an automation tool that lets you easily create workflows by linking productivity apps and services together with sets of if/then commands. This can be used to create automated journeys for your supporters to lead them toward the action you want them to take.
For example, you could create a Facebook lead form ad that captures the user's email. On completion of this form and by linking Zapier, you could then trigger a series of emails to send to the user explaining your mission, how their support can help, and ways they can get involved. Since Zapier works with more than 2,000 apps and services, the possibilities for fundraiser journeys are endless.
And good news for GivePanellers! Our app also integrates with Zapier to allow customers to automatically populate a Google sheet with data from an event. So if you need to send Facebook Challenge incentives and want all of your registration data in one place, our Zapier integration will help you do just that. Nifty, huh?
3. Canva
You might not have a degree in fine art or graphic design but with Canva, you don't need one. Canva is an easy-to-use, online graphic design tool that helps you create a variety of designs with thousands of free templates, photos and fonts.
And there are a thousand use cases for the tool as well. Need a new social media banner image? Use Canva. Looking to design a promotional flier for an event? Canva. How about a blog image filled with photos of dogs jumping in the air? You guessed it, Canva.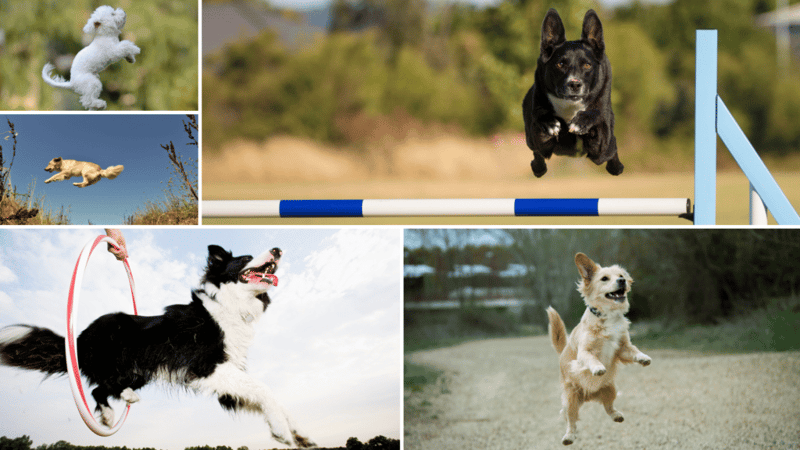 On a more serious note, Canva is also an awesome find for charities looking to create and edit videos in-house on a limited budget. With a surge in authentic video content on social media, nonprofits can include a range of visuals for their fundraising campaigns or Facebook Challenges in a matter of minutes using Canva's video editing tool. And with our complete guide to Facebook image and video specifications, you can't go wrong…
Steven Spielberg, who?
4. Trello
When you've got a million things on the go and your fundraising portfolio has more legs than a caterpillar, you need to have an organizational tool nailed down and pronto.
Welcome to Trello – the platform that brings, in their words, all your tasks, teammates and tools together. This tool has become a necessity since more workplaces have shifted to remote working and here's why.
First up, project management. It can be difficult at the best of times to keep track of everyone and keep things moving forward, but when you're not sitting side-by-side in the office, that task becomes that little bit harder. With Trello, you can keep track of tasks and deadlines and ensure everyone is on the same page.
Secondly, innovation. Struggling to come up with your next Facebook Challenge idea? Or what next year's corporate fundraising campaign should be? Gather the team on Trello to brainstorm ideas asynchronously, using their virtual whiteboard feature to capture ideas and notes.
Remote working never felt so easy…
5. Hootsuite
More than half of the world's population is now reported to use at least one form of social media, so if you're looking to connect with your supporters and encourage fundraising, then social media is a good place to start.
A tool like Hootsuite can support your nonprofit to plan social media posts, stay on top of trends, listen to conversations relevant to your cause, post content and report on how your social media profiles are performing. In fact, Hootsuite says that over 11,000 nonprofits are already using their platform to support their social media marketing and offer a discount to those still looking to join.
So whether you're focused on building a community, providing accessible information, or keeping an eye out for opportune fundraising moments, a tool to support your nonprofit's social media is a must.
6. Everywhere+
Whilst in-person events are great and come with their own set of benefits, virtual events allow you to connect with a wider audience at a lower cost, providing an accessible and inclusive experience for your supporters.
And where better to look than Everywhere+ – the platform that focuses on delivering "great virtual events for people that do good." Their tool provides online event hosting for third-sector organizations around the world, allowing nonprofits to host a range of events from fundraising campaigns to corporate webinars, and everything in between.
The Everywhere+ platform gives nonprofits the tools to communicate and interact with their supporters including functions for breakout rooms, chats, polls, and live subtitles. Plus, it can be customized with your branding so your supporters get a consistent end-to-end experience.
7. Facebook's Giving Tools
Okay, we held off mentioning these next two until the end, but you didn't really think we were going to make a list of digital tools and not include these, right?
Facebook's Giving Tools are a must for any nonprofit. Whether you're looking to grow your Facebook fundraising through Facebook Challenges or happy to watch the organic fundraisers tick by, it's a tool that can act as either a passive or active income stream for your nonprofit.
And it's not just income that makes this tool special. The platform also allows you to connect with supporters where they already are, grow your supporter database, and create communities built around your cause. Plus, the team at Meta are constantly looking to build on their existing tool and bring out new features to further support fundraising on the platform.
If you're already sold on Facebook fundraising and want to take it to the next step – well, that's where we come in.
8. GivePanel
Oh, hey! Fancy seeing you here. Don't mind if we partake in a humble brag for a hot second…
GivePanel makes Facebook fundraising easier. There, we said it. Because Facebook's Giving Tools are great but they can be a frustrating experience for nonprofits.
Our tool helps you unlock Facebook by giving you a proven way to acquire more contact data, build custom imports for your CRM, thank all your fundraisers, track and optimize campaigns and drive new fundraisers. Simply put, you can raise more, build long-lasting supporter relationships and run Facebook Challenges, all in one place.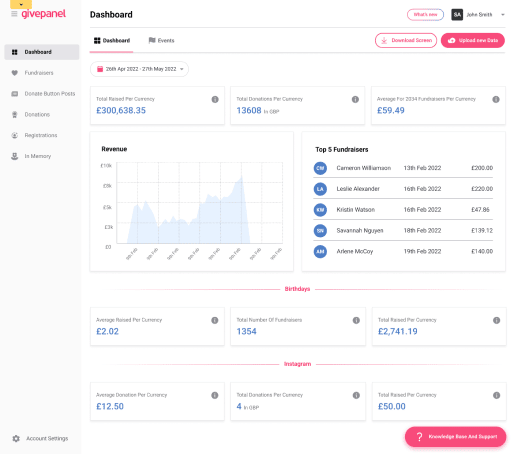 And that's not even the best bit. At GivePanel, we build our tool with you, the nonprofit, in mind. So that means we're constantly evolving and releasing new features such as our SMS for Facebook fundraising to help connect you to those all-important supporters.
Sound too good to be true? Get a demo with one of our fundraising specialists to find out how GivePanel can help you take your Facebook fundraising up a gear.
Related Resources